–

Hitachi FrostWash

Healthier and more hygienic indoor air, like never before.
Freeze. Melt. Clean. Our 'coolest' innovation that keeps the inside of your air conditioner cleaner and fresher
While most conventional air conditioners require periodic maintenance to ensure optimal performance, we saw the potential to create the technology that takes care of it for you. That's why we developed Hitachi FrostWash™, our new feature that helps your unit's interior stay cleaner, provides healthier air and keeps running costs lower.
FrostWash removes hidden impurities, safely & effortlessly - improving your indoor air quality
Our FrostWash technology minimises the amount of dust, mould and bacteria that builds up inside your air conditioner's heat exchanger. FrostWash can reduce the presence of these impurities from within your unit by up to 93%*, promoting a healthier indoor experience and keeping unpleasant odours at bay.
To do so, FrostWash traps the dust and dirt that lands on the heat exchanger by freeing it in the moisture that's generated during normal operation. The frost is then thawed and flushed hygienically out of the unit, carrying dust, mould and bacteria with it.
Hitachi FrostWash is an innovation that helps guard the performance of your air conditioner and the quality of air you breathe at home.
The self-cleaning tech that thinks before it acts.
The FrostWash cleaning cycle is automatic, starting after a specific number of operating hours have been accumulated. To do so, the unit needs to temporarily cease its cooling function. But no one wants their air conditioner to clean itself while in operation.
That's why, before initiating, sensor technology will ensure there are no people present in the room to avoid interruption to the comfort of any occupants.
In the instance that a user wishes to initiate the cycle manually, a simple press of the FrostWash button on the S-Series controller is all that's required.
A combination of convenience & premium comfort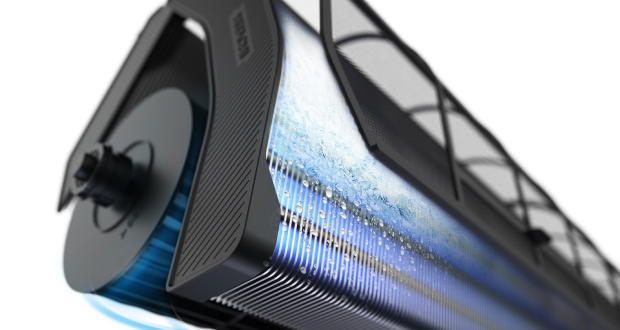 FrostWash integrates into Hitachi Cooling & Heating's latest generation of premium wall mounted air conditioners, offering a unique experience of comfort and convenience - and one that keeps your unit and home cleaner and healthier.
If you're interested in FrostWash and how it can contribute to a healthy home environment, contact your local Hitachi Authorised Dealer to confirm availability in your local area.
* Used model:RAS/RAC-S35YHAB. Tested by Kitasato Research Centre of Environmental Science. Test #2019_0154. Reduction effects of bacteria & mould were observed by operating Frost Wash once.