–

airHome 400
Wall Mounted Inverter Heat Pump AC
–

airHome 400
Wall Mounted Inverter Heat Pump AC
Home AC that's easy to use, makes daily life more convenient, and comes with integrated self-maintenance technology that help to improves the long-term performance of the unit. It is the ideal air conditioner for people who don't want to think about AC.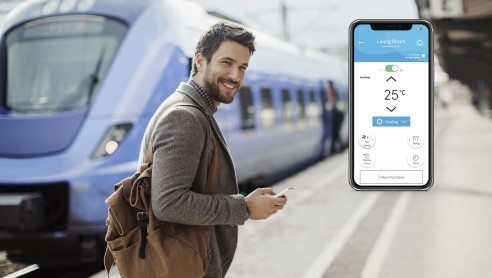 –

Adjusts temperature as you arrive home or leave the house*

Use the airCloud Go smartphone app to set up location awareness and temperature profiles, for example, detecting when you are on your way home and automatically adjusting the temperature for your arrival.

With the airCloud Go app, you can sync your air conditioner with your smart speaker (compatible with Amazon Echo and Google Home), allowing you to operate your system using voice commands and set a weekly schedule and other timer functions.

*Wifi access and airCloud Home Adapter (available as an optional accessory) required to pair airHome 400 and airCloud Go app.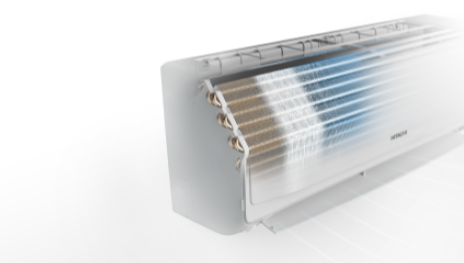 –

3X better at maintaining the performance of your AC

Over time dust and dirt can build up in your AC, reducing the amount of air that can flow through it and making it less powerful over time.

Hitachi FrostWash self-clean technology helps maintain your system's performance for years by freezing dust and dirt, melting it and washing it away. Our tests show that systems with FrostWash are 3X better at maintaining airflow performance than those without this technology[1].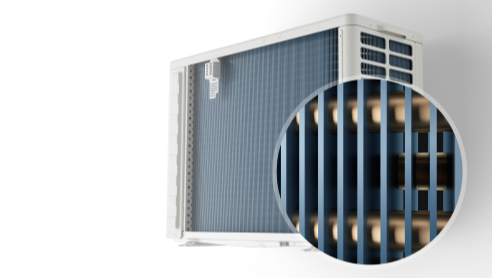 –

Japanese quality, built to last

Heat and freezing shock, extreme humidity, torrential rain, voltage surges, lightning strikes, impacts and more… every air conditioner we sell has been tested to the extreme. In addition, our unique SafeGuard System combines electrical and mechanical systems to protect the outdoor unit from extreme weather and voltage fluctuation.


These protections include a 3-minute delay circuit to prevent damage caused by multiple fast re-starts in the event of power cuts, an ODU valve cover to channel water and condensation safely away from the outdoor unit, anti-rust paint and heat fins, and a metal fireproof electrical enclosure to protect electronics inside the outdoor unit.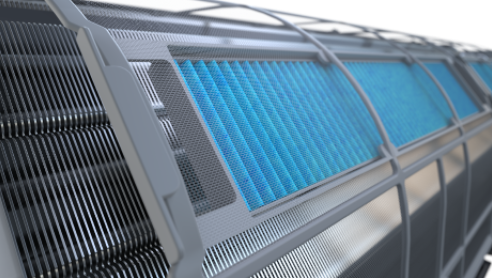 –

Helps to purify your indoor air

Combining 3 different air purification technologies for enhanced effectiveness against pollutants including viruses and bacteria and even odours.

The washable pre-filter filters larger dust and dirt particles. FrostWash automatically cleans the heat exchanger, reducing mould, viruses and bacteria on the heat exchanger. The ViroSense Z1 air purification filter* is effective at neutralising most viruses and bacteria with up to 99.0% effectiveness on viruses[2], up to 99.0% effectiveness on bacteria.[3]

*All claims only refer to air that passes through the ViroSense Z1 air purification filter.
–

Vector DC Inverter technology

Our Cascade Vector DC Inverter System is equipped with a microchip to control the compressor's speed. A split rotor with displaced electrical poles enables electromagnetic noise suppression and optimizes low-speed energy efficiency.

With inverter technology, an air conditioner cools with maximum capacity at start-up, then automatically slows down and operates at a minimal capacity to maintain the room temperature comfortably. Non-inverter models can only operate with simple on-off controls. Trying to maintain the desired temperature by repeatedly switching power on and off consumes much more electricity, resulting in bigger temperature fluctuations.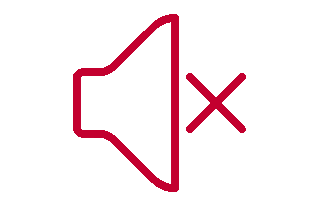 Silent Mode
Specially curved fan blades reduce the buffeting noise of them cutting through the air at slower speeds.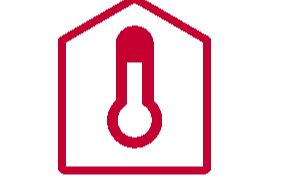 0.5°C temperature control
Set temperature in increments of 0.5°C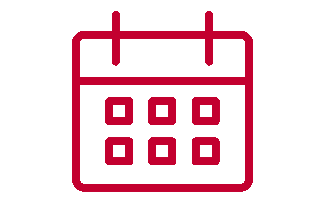 Multiple Timers
6x On/Off time and temperature settings for each day of the week (using airCloud Go). Set a specific time interval for power off, up to 12 hours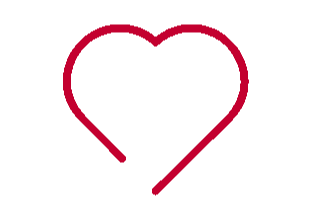 Save your favourite settings
Quickly activate your most-used combination of mode, temperature and fan speed with a dedicated button on the remote control
–

Documentation

Manuals, brochures and other product literature. If you need any more information, please get in touch.