–

Top Flow VRF

Large capacity VRF systems for projects that require high standards of energy efficiency, and easy installation, commissioning and maintenance.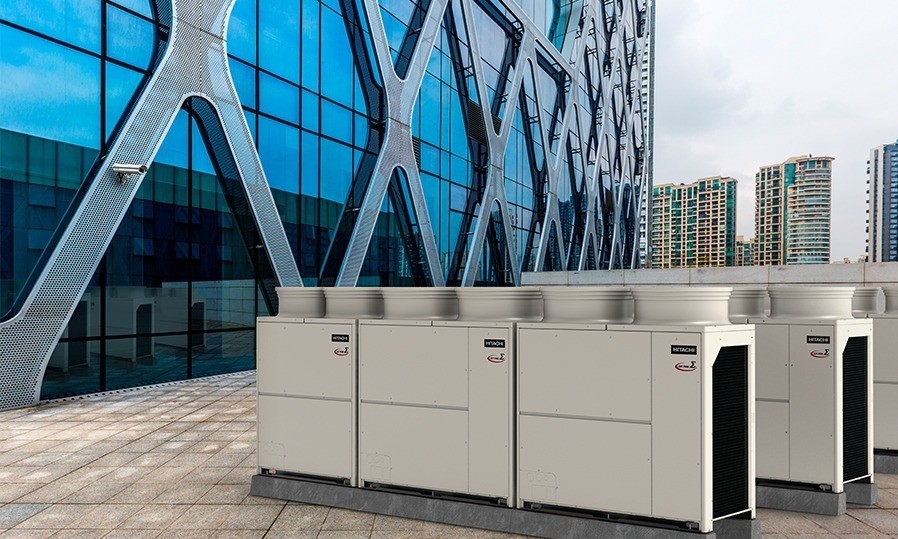 –

Choose from 2 different system types

Cooling Only for buildings which require cooling all year round, while Heat Pump systems can operate in either Heating or Cooling mode – suitable for new builds and refurbs replacing fossil fuel heating with renewables.
–

Create efficient & reliable VRF systems up to 96HP capacity

The proprietary Sigma-shapes heat exchanger and DC Inverter Scroll compressor offer best-in-class efficiency and uninterrupted comfort. Now, save space with a compact ODU footprint that gives combination module up to 96 HP and single module up to 24 HP. Standardize the running time of the individual outdoor units and distribute the load by rotating the order of operation of the compressors of the outdoor units.
–

Save space and lower delivery & installation costs

Enables more rooftop space for on-site renewables or greening by using fewer and smaller outdoor units, with each outdoor unit easily fitting inside an elevator. The use of fewer outdoor units is possible because you can connect indoor unit capacity totaling up to 130% of the outdoor capacity. Flexibility to install outdoor units out of sight with support for piping lengths of up to 165m and 110m height difference. Multiple steps of External Static Pressure enable installation in well-ventilated plant or machine rooms which have open louvres to the outside, reducing impact on the external façade of buildings.
–

Easy to operate & automate with airCloud Pro

Remote monitoring and energy optimization using airCloud Pro web-based software or smartphone app. Group indoor units into custom zones to control with a single touch, visualize and save energy. Automate operation based on business hours with advanced timers, automatically notify a HVAC professional in the event of a system failure, and much more besides.
–

Sigma-shaped (Σ) heat exchanger – 100 years in the making

With more than 100 years expertise in heat exchanger design, our latest high-performance sigma-shaped (Σ) version has around 6000 pieces of aluminum fins, each with a complex surface structure, around 350 copper tubes with textured inner structure, and a new 3-way path structure through the entire HEX. These designs all work together to increase the heat-transfer area and therefore the efficiency of the unit.
–

DC Inverter scroll compressor

Since inventing the world's first scroll compressor back in 1983, our DC Inverter Scroll compressor enables precise by 0.1Hz (990 steps) control driven by a DC inverter motor, and has an extended operating range for increased heating/cooling capacity at a wider ambient temperature range.
6000
aluminum fins, each with a complex surface structure, inside the sigma-shaped (Σ) heat exchanger
39%
more energy efficient under the part-load conditions that regulatory energy efficiency ratings do not account for with SmoothDrive 2.0 technology[2]
96HP
Modular systems of up to 96HP capacity
–
Choose your Hitachi Cooling & Heating System: