–

Cassette Air Conditioners

Ceiling mounted high efficiency Air Conditioners for your home and office need.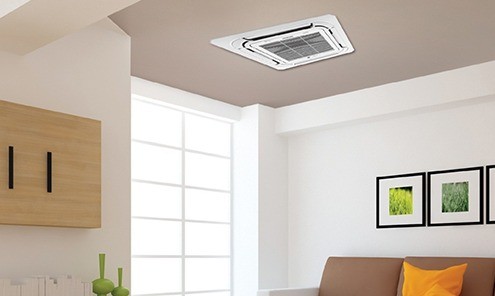 Stylish Ceiling ACs for your home
Hitachi Cassette Air Conditioners come with one way, two way and four way power throw. You can select from our Inverter series and Fixed Speed series for your next ceiling air conditioner.
–
Choose from our range of cassette air conditioners, designed to make you feel at home.
–

Hitachi Cassette Air Conditioners for Residential Spaces

With over 80 years of experience, we are confident that our range of cassette AC products provides households and businesses with the leading climate control technology to create and maintain the perfect indoor environment. Meeting the evolving requirements of our clients means that we are constantly innovating our systems, resulting in a collection of elegant and efficient cassette air conditioners that are designed to adapt to you and the spaces they inhabit. We cater to all types of projects and offer an extensive range of cassette aircon solutions so that you can find the system right for the job.
FAQ
What is a cassette AC?
A cassette ac is a type of air conditioning unit that is designed to be installed in false ceilings, so that only a console can be seen in it, making it a very aesthetic installation that is barely visible to the eye.
Is cassette AC good for home?
The cassette air conditioner is ideal for hotels, cafes, offices, and many more, maintaining a comfortable temperature for your guests, and colleagues no matter what the temperature is outside. However, it fits perfectly in homes with false ceilings, where it plays a less prominent role than wall-mounted air conditioners.
How does cassette ac work?
The unit draws air through the central grid grille, where the air filter is located, then passes through the expansion or condensing gas coil, which cools or heats it, and exits through the side flaps.
The fact that it is apparently bigger than a wall split does not mean that it has to be more powerful, we can find cassettes from 2.5kW refrigerators.