–

Wall Mounted Non Inverter AC

Hitachi Cooling and Heating offers a wide range of Wall Mounted AC units for different room sizes, with advanced technologies designed for convenience.
Discover Hitachi's Wall Mounted AC units for your home
Hitachi's Wall Mounted Non-Inverter AC units are made for homeowners looking for affordable air conditioning solutions. Quick and easy for a professional to install, they are built to the highest quality standards you'd expect from one of the world's leading Japanese air conditioning manufacturers.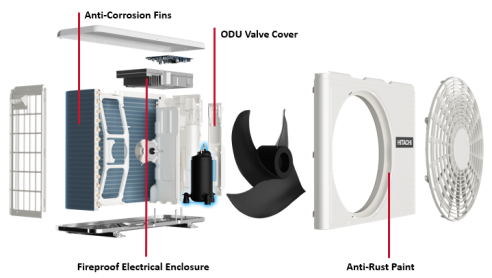 –

Japanese quality, built to last

Stress-tested
Heat and freezing shock, extreme humidity, torrential rain, voltage surges, lightning strikes, impacts and more… every air conditioner we sell has been tested to the extreme.

SafeGuard System
Our unique SafeGuard System combines electrical and mechanical systems to protect the outdoor unit from extreme weather and voltage fluctuation. It includes...
Fireproof Electrical Enclosure - the metal box protects the PC board from the risk of fire spreading
ODU Valve Cover - protects from water damage caused by condensation or leaking, channeling water safely away from the unit.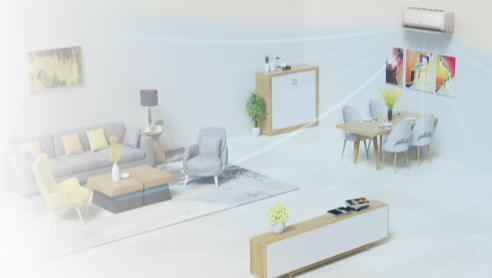 –

Long air throw

A cooling that is far reaching and uniform in nature. An airflow up to 24 meters covers long spaces.
–

Additional benefits at a glance
Filter alert
A discrete light on the indoor unit automatically signals when it is time to clean the filter, helping you to reduce energy costs and improve indoor air quality.
0.5°C
Have the flexibility of adjusting the temperature in increments of 0.5°C[1]. Take advantage of this precision to find the temperature perfect for you.
–

What is fixed speed AC?

While an

inverter air conditioner

regulates the operation of the compressor so that it works at a more constant speed, in a non-inverter air conditioner the compressor runs at 100% of its power. Once it reaches the desired temperature it stops and then restarts, repeating this same cycle over and over again. This process of continually stopping and starting affects the performance of the non-inverter unit.
–
Choose from our range of non inverter ACs, designed to make you feel at home.
–

Notes:

[1] Not available on all models. See individual products for further details on compatibility.