–

Hot & Cold Air Conditioners

Conditions the air of your home throughout the year.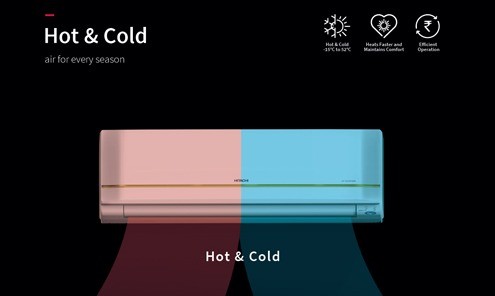 All weather AC: comfortable around the year
The Hot & Cold Technology maintains the desired indoor temperature across a wide working temperature range from -15℃ to 52℃. This ensures faster heating during winter while maintaining the right comfort level. The AC with heater also provides uniform heating and retains moisture even during peak winters. Its energy-efficient operation ensures that wherever you are in India, you will always be comfortable in your home no matter the weather.
–
Choose from our range of hot & cold inverter ACs
–

AC with heater by Hitachi Cooling & Heating

With over 80 years of experience, we are confident that our range of air conditioning with heater solutions provides households with the leading climate control technology to create and maintain the perfect indoor environment. Our products cater to all types of homes, including detached houses, semi-detached, flats, and apartments, lofts and attics, as well as for specific spaces like garages, workshops, home offices, kitchens, and more. Select from our range of all-weather air conditioners, all of which are designed with your comfort in mind.
Can we use AC as a heater in winter?
When the cold weather approaches, it is time to think about how to deal with the issue of keeping the home or office warm.
Buying an air conditioner for your home with hot and cold functions is always a good decision. Thanks to advances in technology we can combine in a single unit the perfect solution for all year round in our home and business, as Hitachi Cooling & heating's hot and cold ACs can also be used as heating during the winter.