–

Side by Side (2 Door)

2 Door Side By Side Refrigerators by Hitachi enable energy-optimized cooling for your foods and beverages.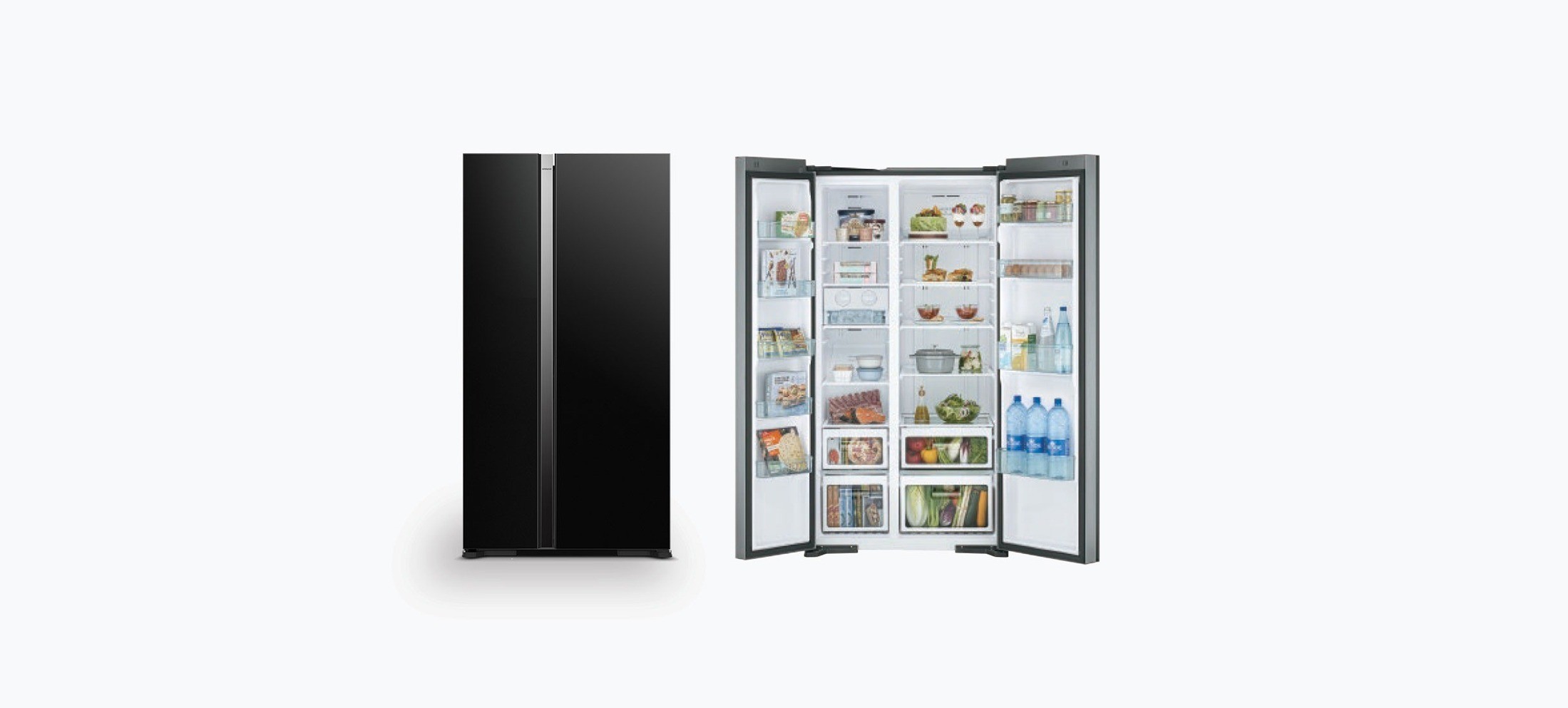 The interior space of the side by side refrigerator are meticulously designed for easy and convenience. Comes with an energy saving LED light.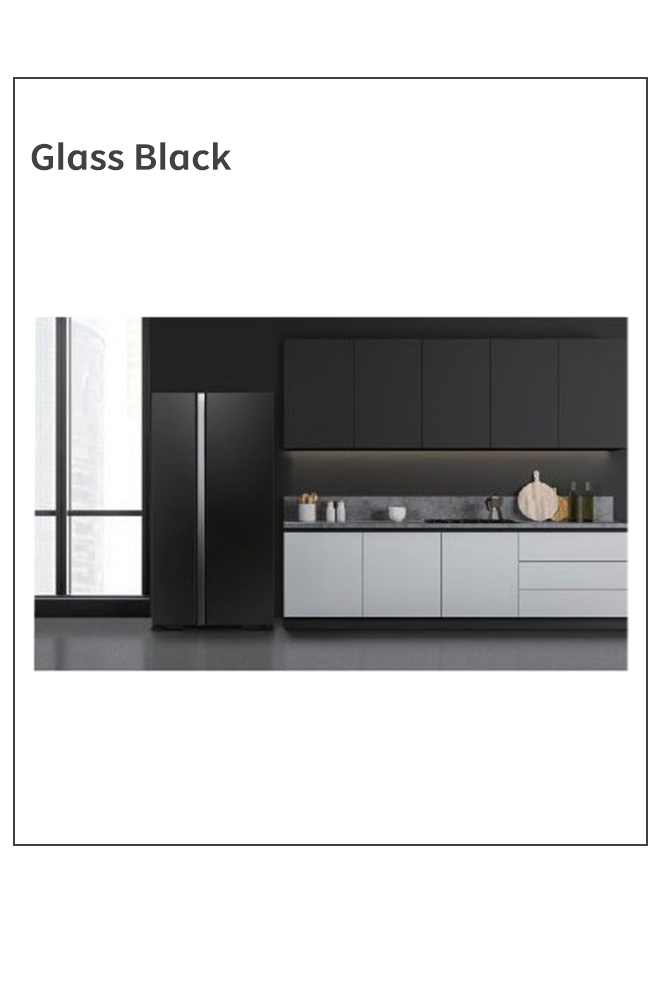 –

Frameless Glass Design

Add a touch of elegance to your kitchen with the new full glass frameless door design.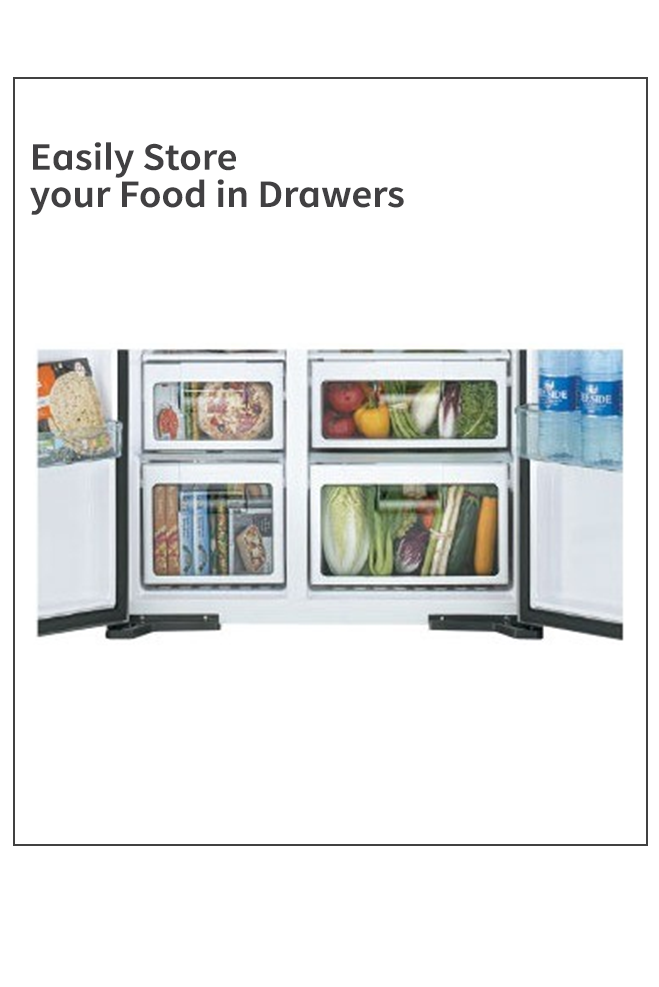 –

Easily Store your Food in Drawers

The drawers provide a continent space to store find the items at one glance.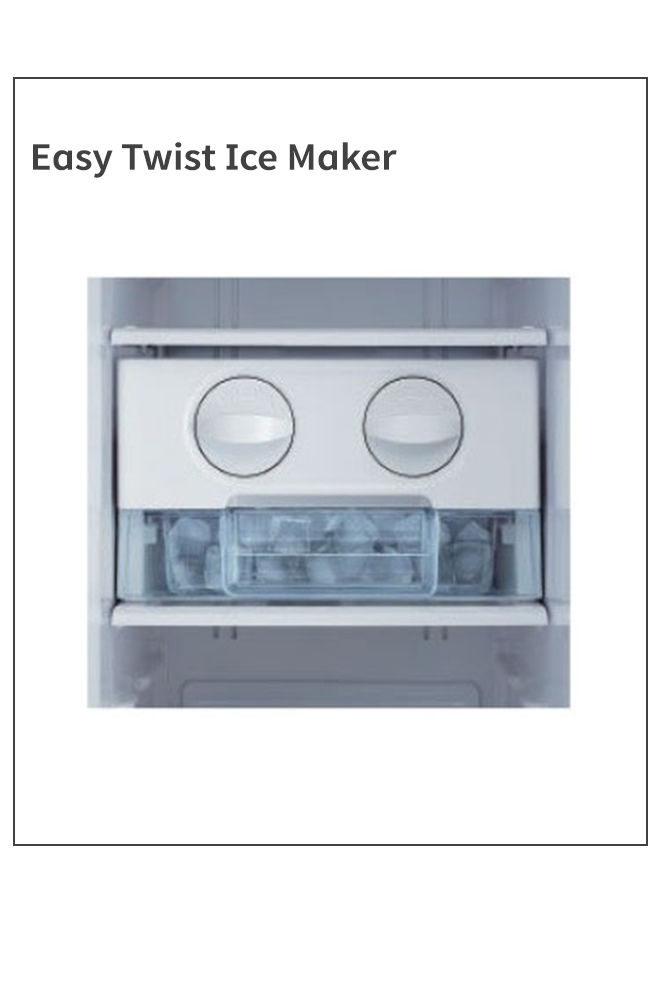 –

Easy Twist Ice Maker

Just twist the lever of the ice maker, the ice can be made easily. When you want to make ice quickly, switch the Quick Freezing mode ON.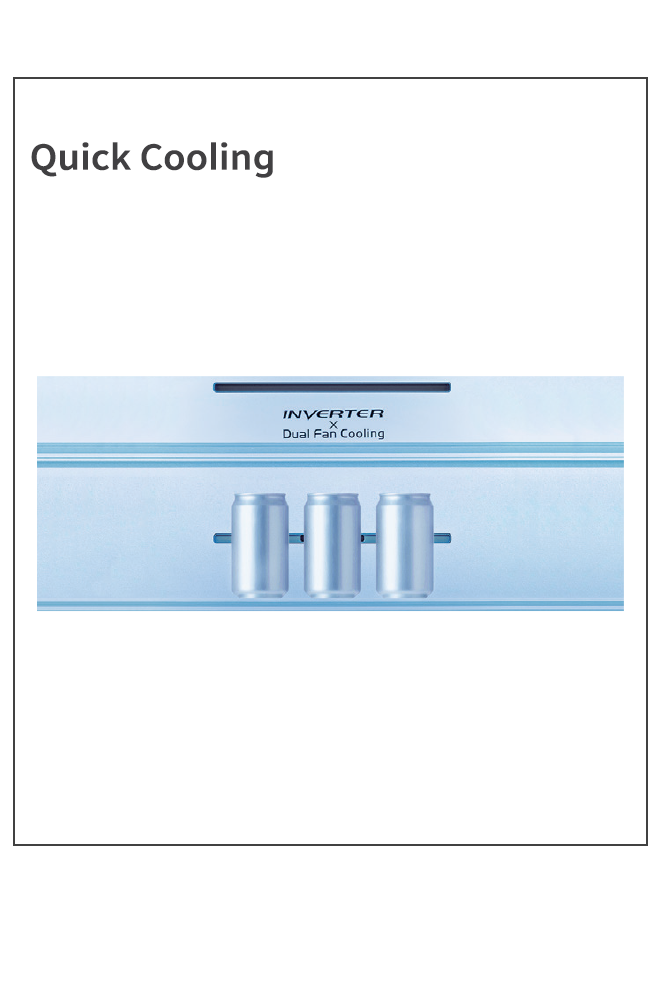 –

Quick Cooling

When you want to cool items quicker and more powerfully, switch the Quick Cooling mode ON. This cools items approx. 8%* faster.

* Tested by Hitachi. Comparison between Quick Cooling mode ON and OFF.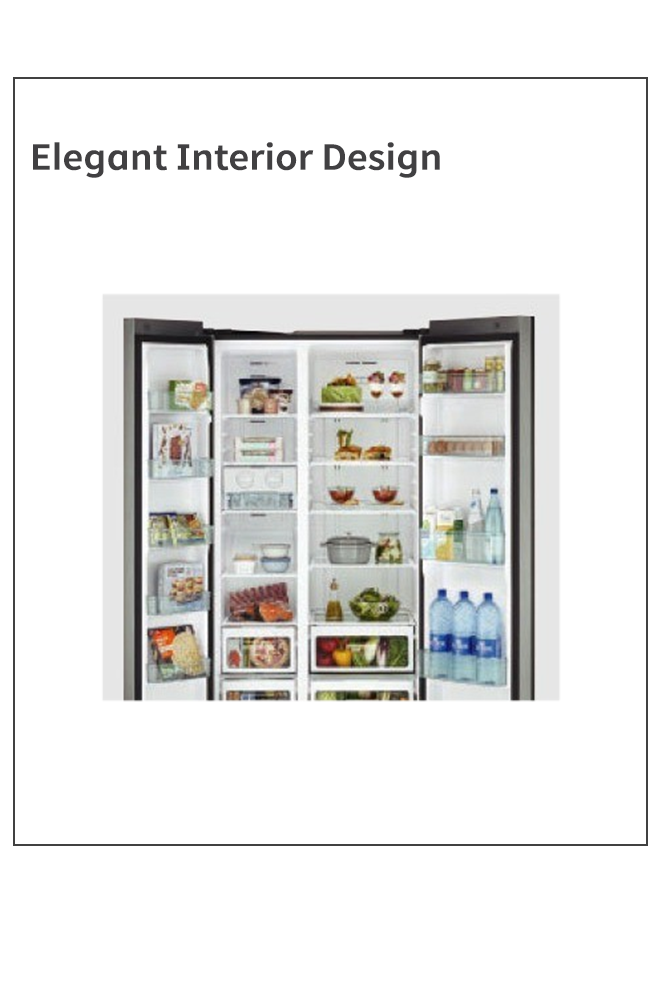 –

Elegant Interior Design

The interior space of the side by side refrigerator are meticulously designed for easy and convenience. Comes with an energy saving LED light.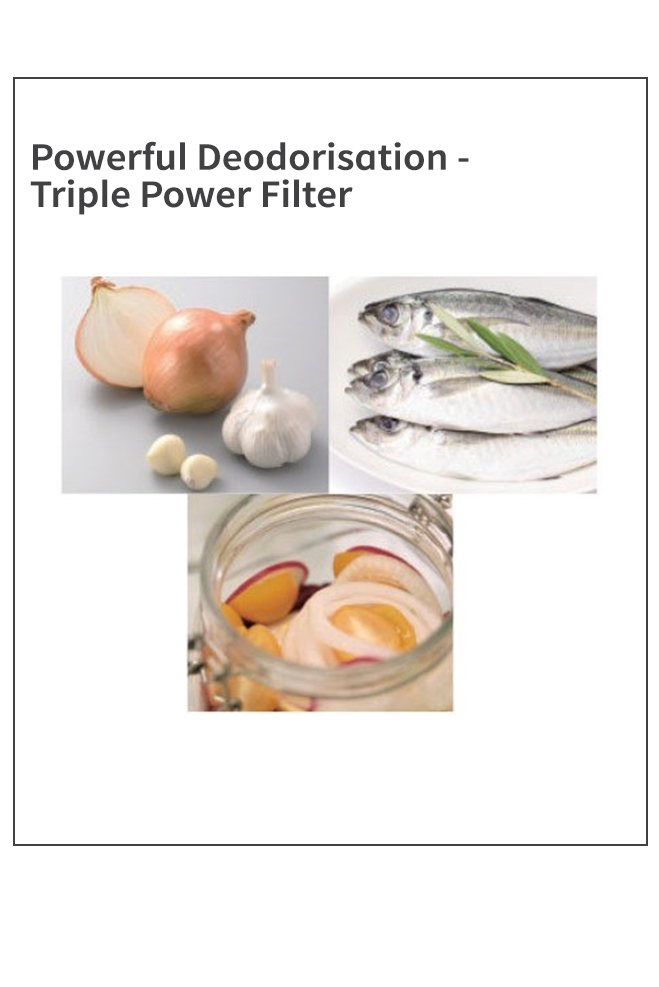 –

Powerful Deodorisation - Triple Power Filter

Triple Power Filter removes odour components*1 and removes bacteria 99%.*2
*1 Triple Power Filter that catches and removes 7 odour components (Tested by Hitachi. The type of odours : Methyl Mercaptan, Ammonia, Acetaldehyde, Trimethylamine, Propanal, Hexanal and Acetic Acid).
*2 Thus also provides a sterilising eect. Combining the properties of Activated Carbon, Zeolite and Manganese Oxide (catalyst), the filter greatly reduces the percentage of odours present over time. Testing organisation : Boken Quality Evaluation Institute. Testing method : Film adhesion method (JISZ2801). Name of processing component : Filter. Sterilisation method : Application of oxidation catalyst to filter. Subject : Bacteria trapped in filter. Test results : 99% sterilised after 24 hours, achieved using the filter alone. No eect on the environment and food inside the refrigerator.





–

Key Features

Tempered Glass Shelves
Vegetable Compartment
Super Moist Drawers
Triple Power Filter
Dairy Pocket

Dimensions (mm)
Width
Height
Depth with Handle
Depth without Handle
| | | |
| --- | --- | --- |
| Cooling System | Dual Fan Cooling | |
Refrigerator Compartment
Water tank with Filter
Selectable Mode Compartment
Fresh Select (Vege. / Dairy)
Bottle and Wine Shelf
Tempered Glass Shelves
Dairy Pocket
Door Pocket
Quick Cooling
LED Light
Vacuum Compartment
Vacuum Compartment
LED Light
Vegetable Compartment
Super Moist Drawers
Aero-Care Vege Compartment
Open Assist Handle
Smart-open Vege Compartment
LED Light
Freezer Compartment
Automatic Ice Maker
Easy Twist Ice Maker
Movable Twist Ice Tray
Quick Freezing
Tempered Glass Shelves
Drawers
Double Slide Case
Extra Wide Case
Slide Type Double Deck Drawer
LED Light
General Features
Separate Vege Compartment
Ice and Water Dispenser
Water Dispenser
Inverter Control
VIP (Vacuum Insulation Panel)
Auto Door
Eco Monitoring Sensor
Eco Thermo-Sensor
Touch Screen Controller
LED Control Panel (Inside)
ECO Lamp
Dual Fan Lamp
Blue Digital Display
Cool Power Display
Door Alarm
Triple Power Filter
Nano Titanium Filter
R-S700PND0
641
920
1795
720
-
y
-
-
-
-
-
y
y
y
-
y
-
-
2
-
-
-
-
-
y
y
y
y
2
-
-
-
y
-
-
-
y
-
-
-
y
-
y
-
-
y
-
y
y
-
Refrigerant R-600A/CFC Free/HFC Free/No Frost/Moldproof Door Gasket
GBK
141300
–

Documentation

Manuals, brochures and other product literature. If you need any more information, please get in touch.

Dimensions (mm)
Width
Height
Depth with Handle
Depth without Handle
| | | |
| --- | --- | --- |
| Cooling System | Dual Fan Cooling | |
Refrigerator Compartment
Water tank with Filter
Selectable Mode Compartment
Fresh Select (Vege. / Dairy)
Bottle and Wine Shelf
Tempered Glass Shelves
Dairy Pocket
Door Pocket
Quick Cooling
LED Light
Vacuum Compartment
Vacuum Compartment
LED Light
Vegetable Compartment
Super Moist Drawers
Aero-Care Vege Compartment
Open Assist Handle
Smart-open Vege Compartment
LED Light
Freezer Compartment
Automatic Ice Maker
Easy Twist Ice Maker
Movable Twist Ice Tray
Quick Freezing
Tempered Glass Shelves
Drawers
Double Slide Case
Extra Wide Case
Slide Type Double Deck Drawer
LED Light
General Features
Separate Vege Compartment
Ice and Water Dispenser
Water Dispenser
Inverter Control
VIP (Vacuum Insulation Panel)
Auto Door
Eco Monitoring Sensor
Eco Thermo-Sensor
Touch Screen Controller
LED Control Panel (Inside)
ECO Lamp
Dual Fan Lamp
Blue Digital Display
Cool Power Display
Door Alarm
Triple Power Filter
Nano Titanium Filter
R-S700PND0
641
920
1795
720
-
y
-
-
-
-
-
y
y
y
-
y
-
-
2
-
-
-
-
-
y
y
y
y
2
-
-
-
y
-
-
-
y
-
-
-
y
-
y
-
-
y
-
y
y
-
Refrigerant R-600A/CFC Free/HFC Free/No Frost/Moldproof Door Gasket
GBK
141300