–

New French Bottom Freezer (4 Door)

The refrigerator comes with an Extendable Vegetable compartment to enable quick and easy access to your foods and beverages while offering plenty of storage space.
The Selectable Zone feature allows you to customize 4 different modes based on your storage and lifestyle needs. Expand the space as you need with convertible storage option.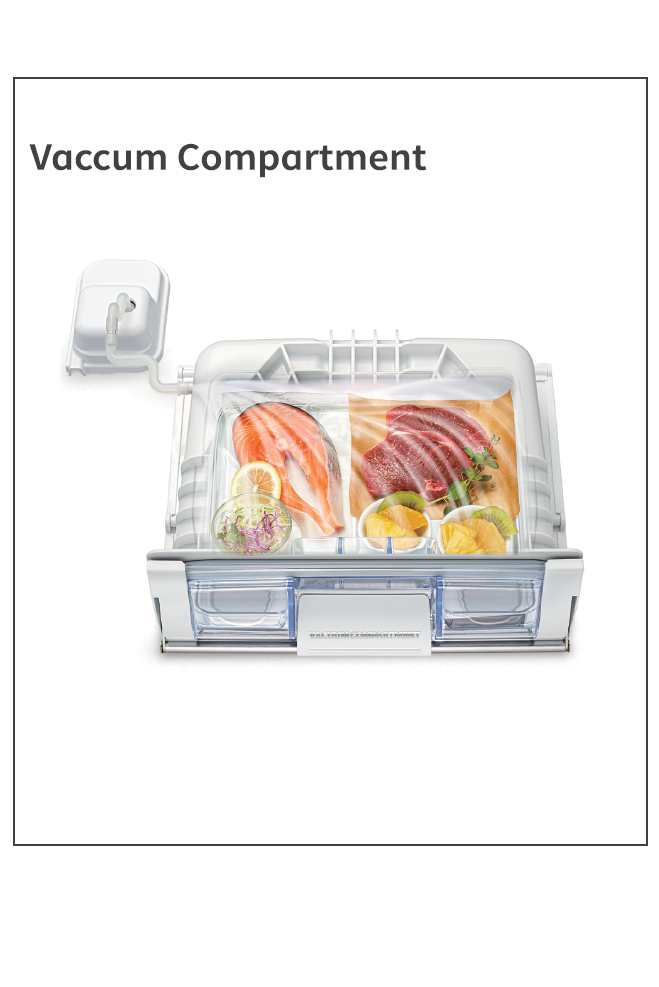 –

Refreshing Technology Maintains 0.8 atm Vacuum*

Hitachi innovation at its finest and most consistent: the sealed pressure-resistant vacuum realises and maintains the vacuumed environment. A vacuum pump extracts air and reduces oxygen to achieve approx. 0.8 atm (atmospheric pressure) throughout usage.
*Applied to the Deluxe Model

Extracts Air & Reduces Oxygen to keep Food Fresh and Nutritious
Preserves Freshness- Select a suitable temperature for your stored items to maintain freshness for a long time.
Retains Nutrients- Prevent oxidization and retains nutrients inside the food.
Retains Moisture- Retains moisture inside the food and prevents dryness without wrapping.
Faster Permeation- Realizing a short cooking time with high penetration effect.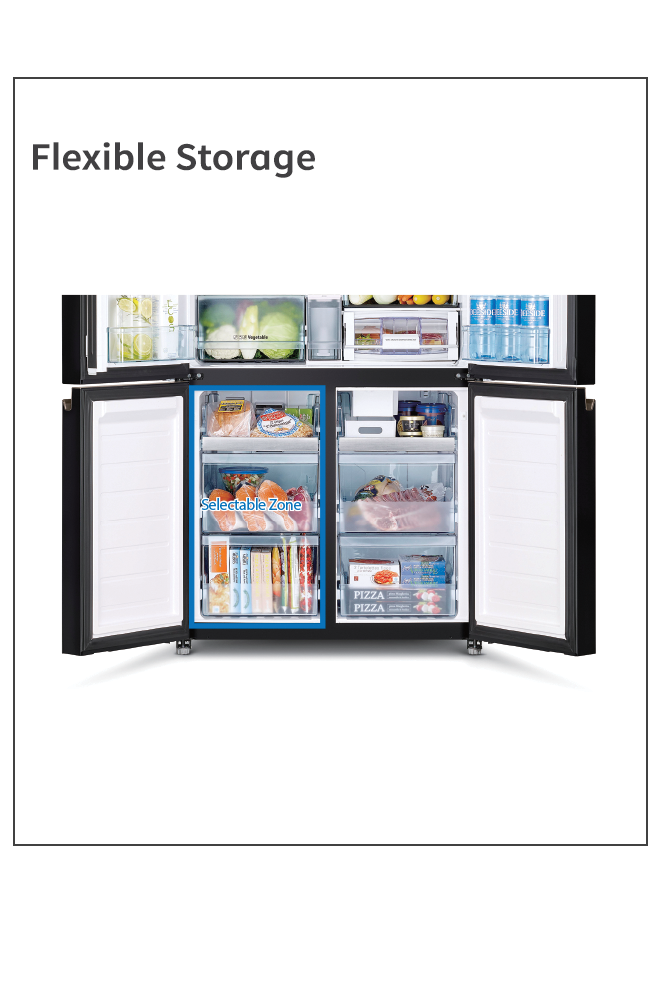 –

Selectable Zone

The Selectable Zone feature allows you to customise mode settings based on your storage and lifestyle needs.

Convertible Storage Option: Expand the space you need!
Temperature switch compartment helps you customize 4 different modes depending on the purpose of use.

Ice Cream & Frozen Items (Freezer -18°C to -20°C)
Wish to separate your frozen savoury food from your ice cream and ice? Now you can with an additional storage option of the Freezer setting.

Meat & Fish (Soft Freezer -3°C)
Choose the Soft Freeze setting to keep meat and fish fresh; you can easily cook them instantly without the need to defrost.

Dairy & Meat (Chill/Meat 1°C)
Keep your dairy, meat and fresh food in ideal 1°C in the Chill/Meat setting.

Drinks & Foods (Refrigerator 3°C)
Running out of space for your drinks and food? You can now have extra storage refrigerator space at 3°C.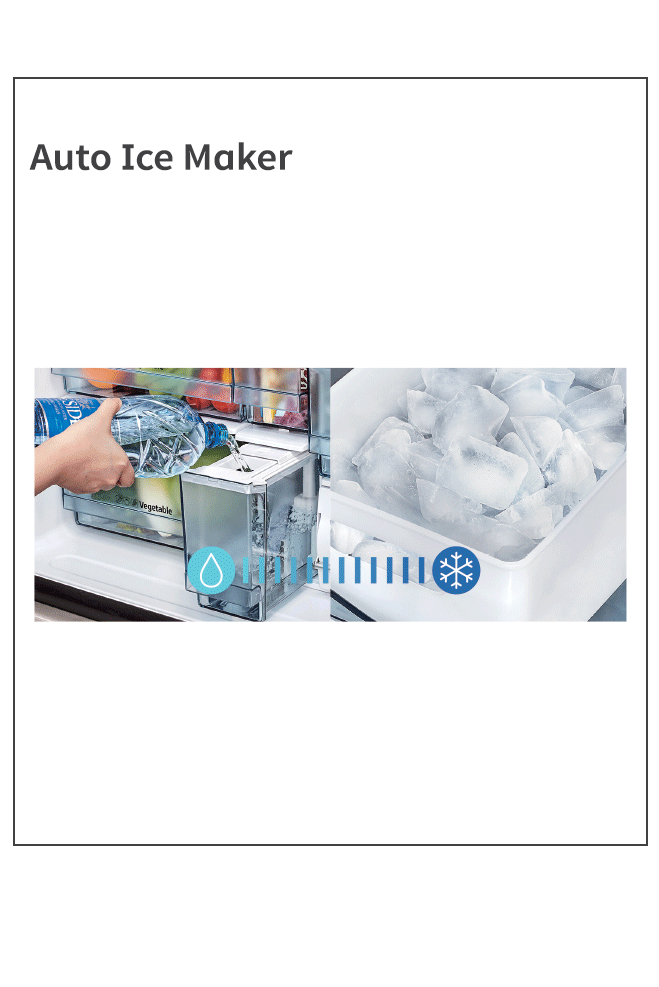 –

Clean Ice Automatically Made for You

Ice cubes can be made automatically and continuously simple by filling the tank with water. When you want to make your ice quickly, switch the Quick Freezing mode ON which can make the ice approx. 24% faster.

Effort-free, easily makes large amount of ice.
Add water 1 time, can keep on making ice automatically for about 30 times until water tank runs out.
With Quick Freezing ON, one ice making takes only 66 mins. (This time is 24% faster than mode OFF).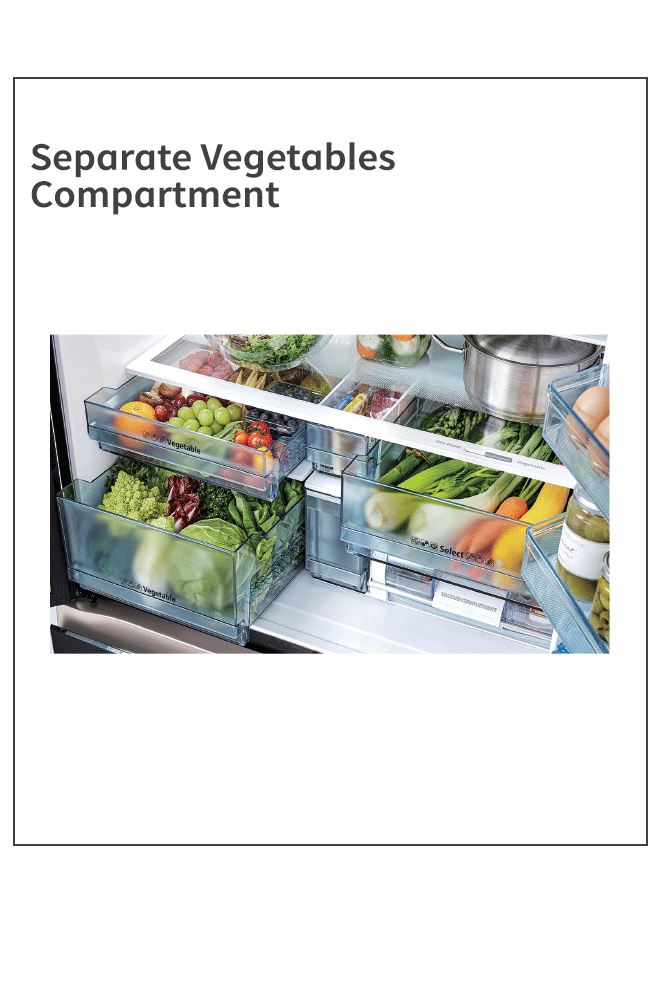 –

Fresh Vegetables with Organised Storage

Separate Vegetable Compartment
For long-lasting freshness, each of the cases maintains the moisture of the food at the optimum level of approx. 90% with indirect cooling. And the completely separate compartments are always full of clean air with no transferred odours thanks to the Triple Power Filter.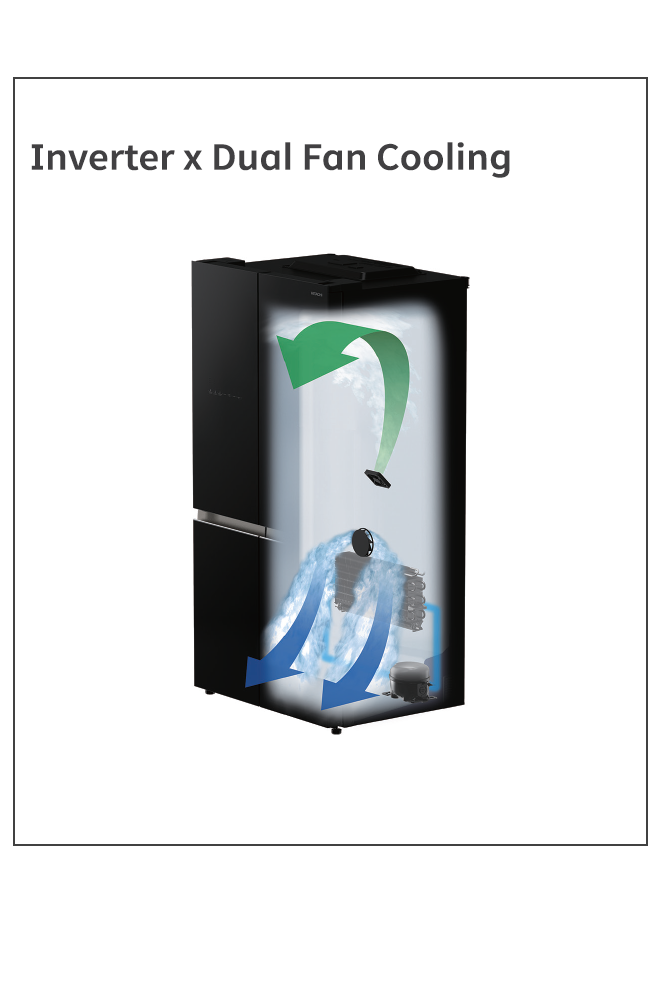 –

New French Bottom Freezer (4 Door)

Provides optimum cooling in both the freezer and refrigerator compartments, something a single fan cannot do. Improved Dual Fan Cooling with dedicated fans for each compartment ensures energy saving and powerful cooling. This is supported by the Eco Thermo-Sensor in each compartment that detects any temperature change separately to enable the ideal temperature change to be maintained in each of the compartments at all times.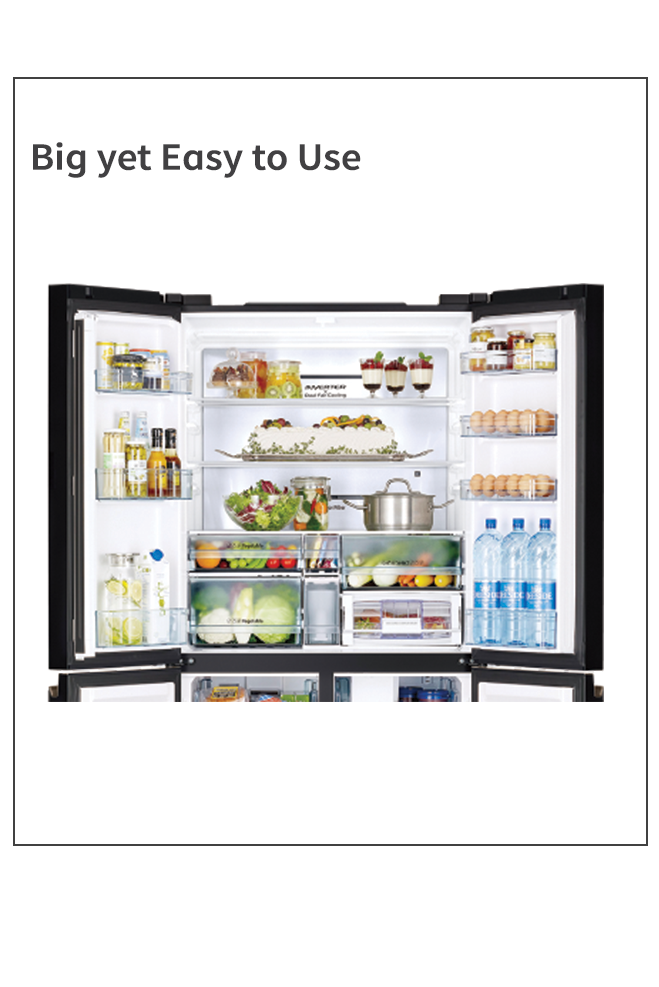 –

Big yet easy to use

The often-used refrigerator compartment is positioned at the top for easy use and offers a wide field of vision. Even with a lot of food stored, with the neat storage compartment, a glance is all you need to see everything, so it's easy to put in and take out items.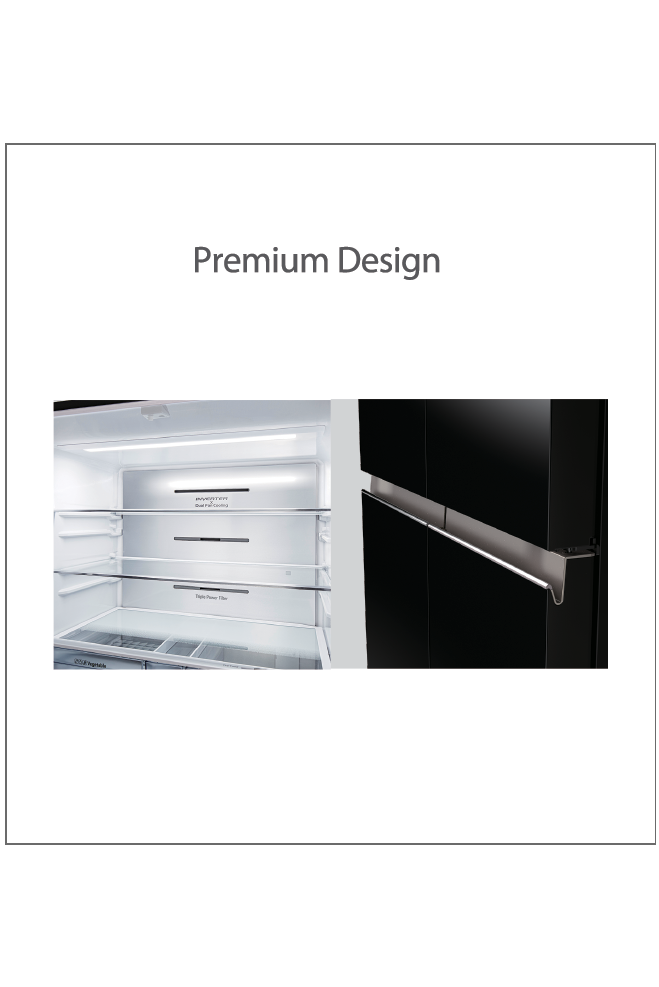 –

Premium Design

Designed with luxury in mind, aluminium is used for the interior back panel for a touch of elegance and comes with an energy-saving wide bright ceiling LED light.
Sleek refined flat doors with recess handles, seamlessly blends into your home interior for an elegant harmonious look.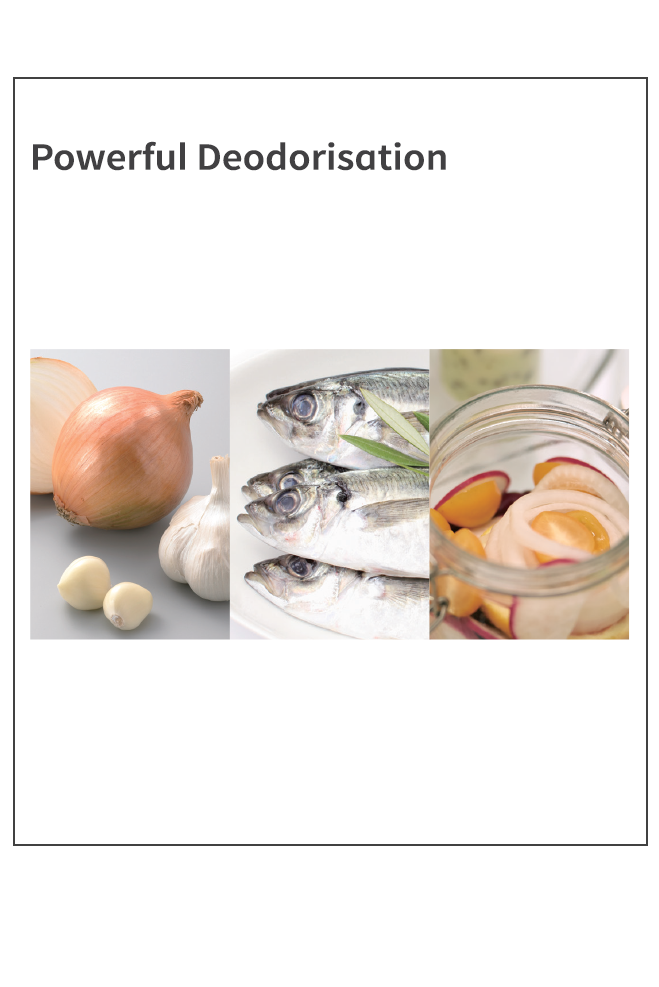 –

Powerful Deodorisation

Triple Power Filter
Triple Power Filter removes odour components and removes bacteria 99%.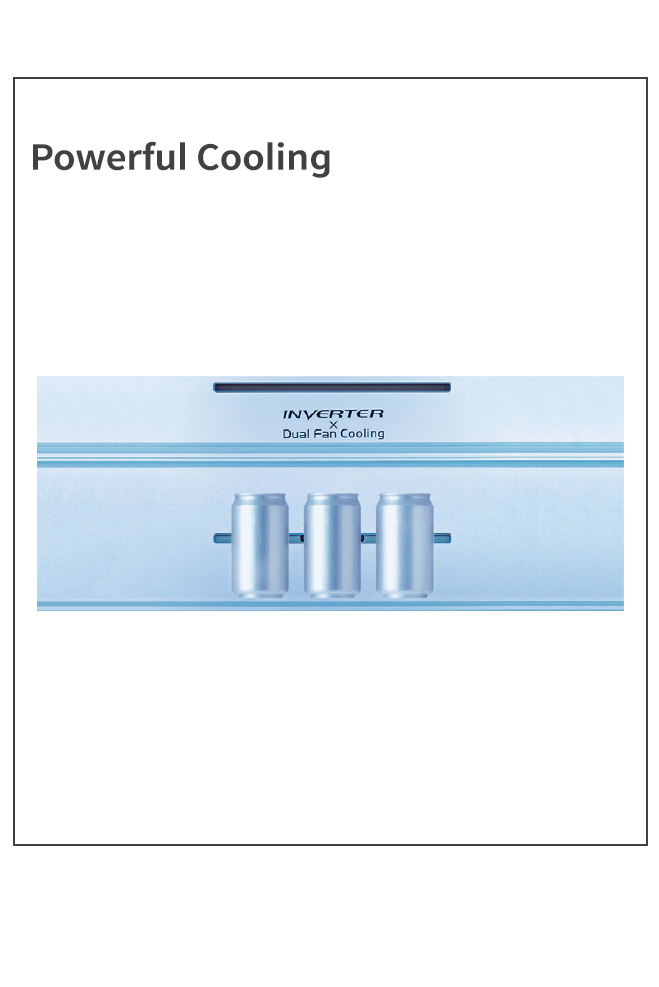 –

Powerful Cooling

When you want to cool quickly and powerfully, switch the Quick Cooling mode ON which cools approx. 29% faster.
–

Key Features

Vacuum Compartment
Selectable Zone (-18°C/-3°C/3°C)
Select Case
Water tank with Filter
Automatic Ice Maker
–

NEW FRENCH BOTTOM FREEZER (4 DOOR)
SERIES
| French Bottom Freezer(4 DOOR) | French Bottom Freezer(4 DOOR) | French Bottom Freezer(4 DOOR) |
| --- | --- | --- |

Dimensions (mm)
Width
Height
Depth with Handle
Depth without Handle
| | | |
| --- | --- | --- |
| Cooling System | Dual Fan Cooling | |
Refrigerator Compartment
Water tank with Filter
Selectable Mode Compartment
Fresh Select (Vege. / Dairy)
Bottle and Wine Shelf
Tempered Glass Shelves
Dairy Pocket
Door Pocket
Quick Cooling
LED Light
Vacuum Compartment
Vacuum Compartment
LED Light
Vegetable Compartment
Super Moist Drawers
Aero-Care Vege Compartment
Open Assist Handle
Smart-open Vege Compartment
LED Light
Freezer Compartment
Automatic Ice Maker
Easy Twist Ice Maker
Movable Twist Ice Tray
Quick Freezing
Tempered Glass Shelves
Drawers
Double Slide Case
Extra Wide Case
Slide Type Double Deck Drawer
LED Light
General Features
Separate Vege Compartment
Ice and Water Dispenser
Water Dispenser
Inverter Control
VIP (Vacuum Insulation Panel)
Auto Door
Eco Monitoring Sensor
Eco Thermo-Sensor
Touch Screen Controller
LED Control Panel (Inside)
ECO Lamp
Dual Fan Lamp
Blue Digital Display
Cool Power Display
Door Alarm
Triple Power Filter
Nano Titanium Filter
R-WB640VND0X
638
900
1840
720
-
y
y
-
y
-
-
y
y
y
y
y
y
-
-
-
-
-
-
y
-
-
y
-
4
y
-
-
y
y
-
-
y
-
y
-
y
-
y
y
-
-
-
y
y
-
Refrigerant R-600A/CFC Free/HFC Free/No Frost/Moldproof Door Gasket
MIR
321000
R-WB640VND0
638
900
1840
720
-
y
y
-
y
-
-
y
y
y
y
y
y
-
-
-
-
-
-
y
-
-
y
-
4
y
-
-
-
y
-
-
y
-
-
-
y
y
-
-
-
-
-
y
y
-
Refrigerant R-600A/CFC Free/HFC Free/No Frost/Moldproof Door Gasket
GBK
197700
R-WB640PND1
638
900
1840
720
-
y
y
-
y
-
-
y
y
y
y
y
-
-
-
-
-
-
-
y
-
-
y
-
4
y
-
-
-
-
-
-
y
-
-
-
y
-
y
-
-
-
y
y
-
Refrigerant R-600A/CFC Free/HFC Free/No Frost/Moldproof Door Gasket
GCK
178500
–

Documentation

Manuals, brochures and other product literature. If you need any more information, please get in touch.
–

NEW FRENCH BOTTOM FREEZER (4 DOOR)
SERIES
| French Bottom Freezer(4 DOOR) | French Bottom Freezer(4 DOOR) | French Bottom Freezer(4 DOOR) |
| --- | --- | --- |

Dimensions (mm)
Width
Height
Depth with Handle
Depth without Handle
| | | |
| --- | --- | --- |
| Cooling System | Dual Fan Cooling | |
Refrigerator Compartment
Water tank with Filter
Selectable Mode Compartment
Fresh Select (Vege. / Dairy)
Bottle and Wine Shelf
Tempered Glass Shelves
Dairy Pocket
Door Pocket
Quick Cooling
LED Light
Vacuum Compartment
Vacuum Compartment
LED Light
Vegetable Compartment
Super Moist Drawers
Aero-Care Vege Compartment
Open Assist Handle
Smart-open Vege Compartment
LED Light
Freezer Compartment
Automatic Ice Maker
Easy Twist Ice Maker
Movable Twist Ice Tray
Quick Freezing
Tempered Glass Shelves
Drawers
Double Slide Case
Extra Wide Case
Slide Type Double Deck Drawer
LED Light
General Features
Separate Vege Compartment
Ice and Water Dispenser
Water Dispenser
Inverter Control
VIP (Vacuum Insulation Panel)
Auto Door
Eco Monitoring Sensor
Eco Thermo-Sensor
Touch Screen Controller
LED Control Panel (Inside)
ECO Lamp
Dual Fan Lamp
Blue Digital Display
Cool Power Display
Door Alarm
Triple Power Filter
Nano Titanium Filter
R-WB640VND0X
638
900
1840
720
-
y
y
-
y
-
-
y
y
y
y
y
y
-
-
-
-
-
-
y
-
-
y
-
4
y
-
-
y
y
-
-
y
-
y
-
y
-
y
y
-
-
-
y
y
-
Refrigerant R-600A/CFC Free/HFC Free/No Frost/Moldproof Door Gasket
MIR
321000
R-WB640VND0
638
900
1840
720
-
y
y
-
y
-
-
y
y
y
y
y
y
-
-
-
-
-
-
y
-
-
y
-
4
y
-
-
-
y
-
-
y
-
-
-
y
y
-
-
-
-
-
y
y
-
Refrigerant R-600A/CFC Free/HFC Free/No Frost/Moldproof Door Gasket
GBK
197700
R-WB640PND1
638
900
1840
720
-
y
y
-
y
-
-
y
y
y
y
y
-
-
-
-
-
-
-
y
-
-
y
-
4
y
-
-
-
-
-
-
y
-
-
-
y
-
y
-
-
-
y
y
-
Refrigerant R-600A/CFC Free/HFC Free/No Frost/Moldproof Door Gasket
GCK
178500