–

VRF systems

Relax in a comfortable airflow with your centralized air conditioning VRF system and advanced controls that complement your modern lifestyle.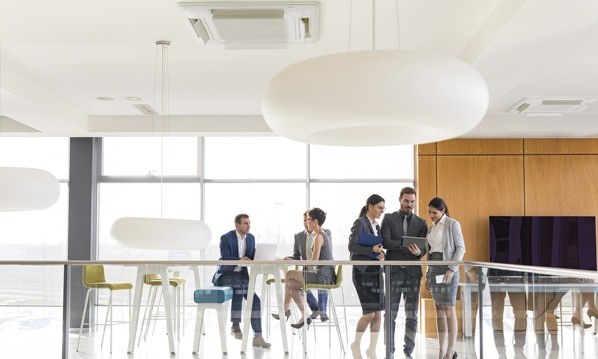 VRF air conditioning to lead with technologies
"Hitachi Cooling & Heating VRF systems are the perfect match for indoor environments that constantly change and require climate control technology that easily adapts and maintains an optimal level of comfort.
Our VRF systems allow operators to control the comfort of an entire building using premium technologies that offer a superior level of flexibility and energy efficiency.
From commercial properties to modern apartment blocks, we cater to different types of projects that require multi-zone management. The operator can adapt the comfort of each zone, individual rooms or a whole floor, from anywhere, anytime thanks to our selection of user-friendly customisation features and controller options.
The versatility of VRF air conditioning means multiple indoor unit types - including but not limited to wall-mounted, cassette, and ducted air conditioners - can be connected to one outdoor unit and operated via the same control system. You can enjoy flexible configuration options that adapt to architectural and design needs.
Our innovative Set Free Mini VRF unit is a world-first product that offers 3 pipe heat recovery in a slim, sideflow design from 8 to 12 hp, making it the right choice for many projects, especially those where space is limited. Furthermore, our standard top flow outdoor units range from 5HP to 96HP making it easier to choose the right one for your project.
Hitachi Cooling & Heating VRF Systems are packed with industry-leading energy-saving technology to keep operational costs low and help minimise your carbon footprint. This is made possible with our exclusive scroll compressor control feature SmoothDrive. It allows our VRF systems to operate with greater efficiency and comfort at partial load operation, making it one of the most adaptive and energy-saving solutions on the market.
Features like our patented communication system H-LINK and the ability to adapt to various piping layouts mean that initial installation costs are lower and smarter investment in the long term.
Managing VRF Systems is made simple with a selection of centralised controllers that include fixed and mobile options, and our suite of innovative airCloud apps allows remote operation and makes monitoring the status of your equipment simple.
From maintaining the perfect indoor climate all year round to developing new technology to address the needs of our evolving cities, we're committed to solutions that help people adapt to tomorrow."
–
See which VRF system matches your needs
–

Variable Refrigerant Flow HVAC to unlock new perspectives

Our range of cooling and heating solutions provides households and businesses with the leading climate control technology to create and maintain the perfect indoor environment. Our advanced VRF solutions for multi zone cooling and business applications offer the versatility that each project requires, as well as unbeatable efficiency and reliability. Our collection of elegant and efficient options are designed to adapt to you and the spaces that they inhabit.
What is a VRF system?
VRF (Variable Refrigerant Flow) is a "direct expansion" air conditioning system, meaning that air is cooled directly by the refrigerant in or close to the area being conditioned. VRF differs from most other types of "direct expansion" systems because it can send different amounts of refrigerant to various indoor units located throughout a building - in doing so it is possible to manage different temperatures simultaneously in different parts of a building. A VRF system consists of one or more Outdoor Units (ODUs) and multiple Indoor Units (IDUs).
How does VRF system work?
Based on the ambient temperature in a room or space, algorithms determine the optimal amount of refrigerant that needs to be sent from one or more ODUs to each individual IDU to achieve the required temperature at any given moment. For this reason, VRF systems are normally more energy efficient than installing multiple 'single split' systems (consisting of multiple pairs of ODUs and IDUs which operate independently of each other) especially in 'part load' conditions, where the system does not need to work at full capacity.
Each IDU can be controlled by both a remote or individual room controller and a centralized controller (covering many rooms or zones), which makes monitoring easier and efficient in terms of total energy optimization operation.
Where are VRF systems used?
They are particularly suitable for multi-room or multi-zone spaces which may have different levels of exposure to sunlight (and therefore different ambient temperatures) in the same building, therefore individual comfort (temperature/mode) is appreciated