–

Commercial DX AC

Our DX Systems range is designed to provide small and medium businesses with reliable climate control solutions that excel in comfort and efficiency..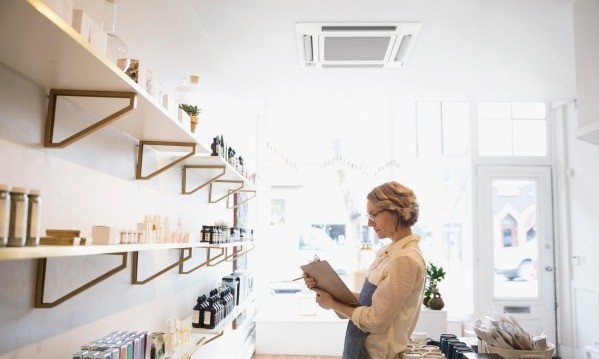 The right DX air conditioner to create welcoming environments
Whatever your business, comfort is one of the keys to success. Our commercial range helps you create a welcoming environment in which occupants are comfortable and at ease without increasing running costs.
Each business requires a system tailored to its needs. That's why our solutions are flexible, from the selection of indoor type and outdoor unit capacity right through to installation possibilities to suit your building and business best. The easy-to-use controllers of our commercial air conditioning systems let you operate and manage your climate as well as monitor energy usage.
The lack of space that many businesses encounter today means that climate control options are often limited. We've solved that issue with a range of compact outdoor units that are reliable and offer design flexibility that means they are easily integrated into all types of spaces and architecture.
Smart and compact, our outdoor units use cutting-edge technology combined with performance features like the Dual PCB system* to provide high-performance climate control that is efficient and that can self-diagnose, resulting in more effective maintenance.
From retail, restaurants, hotels, commercial offices and more, our commercial air conditioning range is built to deliver adaptable solutions that offer the highest standard of Hitachi Cooling & Heating performance.