Wed 18 Dec 2019
–

Developing cost effective & energy efficient solutions for the tropical heat-A Case Study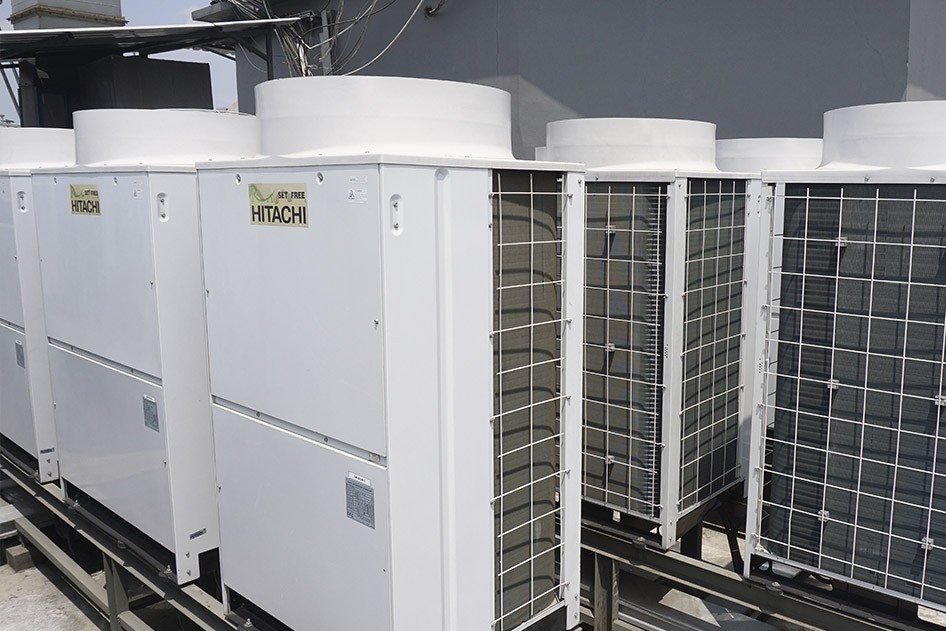 One of the challenges of the current Climate Crisis is finding more cost-effective and energy-efficient solutions, particularly where they are most needed.

This is particularly crucial in hot and humid tropical climates where up to 50% or 60% of energy consumption in commercial buildings can be attributed to air conditioning, according to Smart, efficient and sustainable energy solutions in Indonesia, Key opportunities for Swedish companies and technologies (June 2017).

One of such places is Jakarta, Indonesia, where an average annual temperature of 27.6 ºC (81.68 F) makes it essential to count on a cooling system throughout the year.

Hitachi Cooling & Heating partnered with The Graha Kencana office tower in Jakarta to find more sustainable and efficient air conditioning solutions. Up to that moment, the tower was using outdated water-cooled packaged units, with high maintenance costs due to poor energy efficiency and the need of constant maintenance (needing regular leak repairs in the water piping system, resulting in higher operations costs). Besides, the ozone-depleting R22 refrigerant was non-compliant with the Montreal Protocol, a global agreement to protect the ozone layer. The old equipment also generated a lot of disruptive noise, disturbing the building's occupants at work.
The owner of the building also needed the new system to be reliable and durable, to perform over many years.
What steps could be taken towards a more environmentally-friendly system that would also maximize cost efficiency?

-
Hitachi Variable Refrigerant Flow system: A multi-space custom climate control

One of the best ways to tackle air conditioning consumption in large building areas is VRF, Variable Refrigerant Flow system.

Hitachi's VRF air conditioning solutions allow for zoned climate control. Each area is independently controlled so it can be fully tailored to the work or commercial needs of the building. VRF HVAC systems have multiple indoor units operating on the same system with an easy centralized control unit from the building's management office, so they are ideal for large-scale projects

The outdated air conditioning solution at The Graha Kencana Tower was replaced by a flexible combination of top-flow (on the roof) and side-flow compact outdoor units (on the second floor balcony, connecting to the ground floor indoor units) from Hitachi's SET FREE range VRF system.

The most visible outcome: a 20% to 30% reduction in the building's annual electricity costs. It also proved to be more a greener solution as it uses less energy to fulfill the same demand for cooling and the refrigerant used doesn't generate ozone-depleting emissions.

The use of outdoor units, also freed up inner space for other applications and the ability to separately modulate the compressor speed (inverter) and refrigerant flow in each outdoor unit allows the system to adapt to the fluctuating energy demands throughout the day in the different spaces, fighting any unnecessary energy consumption.

Besides, the new equipment is exceptionally quiet so the tenants now enjoy a more satisfactory work environment.

Gustaf Stevanus Rotinsulu, Graha Kencana building owner, summarizes the project's end result as "A smart investment".

-
Cooler Classrooms during the Great Australian Summer: Another successful VRF Project

Hitachi Cooling & Heating's VRF systems also proved to be effective in the demanding Australian Summer, with average max temperatures of 30ºC (86ºF) or more during January.

New South Wales government was developing a Cooler Classrooms program to provide students with more healthy and comfortable learning environments.

North Kellyville Public School was initially built with limited air conditioning capabilities and was chosen to be provided with a complete reverse cycle refrigerated HVAC system. The catch: the new system had to be implemented before the start of the new school year. There were just two months left to meet the deadline.

Besides, the already existing range of suspended ceilings posed a challenge as they had to be removed in order to install the cooling units and refrigerant lines.

Hitachi Cooling & Heating and Fredon Air partnered to provide the most effective and efficient solution. Together they designed a VRF concept for the school that includes intelligent automation (human detection sensors improve efficiency by switching off classroom units when human activity is not detected) and a touch screen central controller.

The project was completed just in time for the students to enjoy the new cooling system from the beginning of their classes.
Video courtesy of Temperzone
For any enquiries, please contact your local Hitachi Cooling & Heating specialist by visiting www.hitachiaircon.com or contact us here