Thu 18 Feb 2021
–

From Appliance to Experience - The Evolution of Air Conditioner Design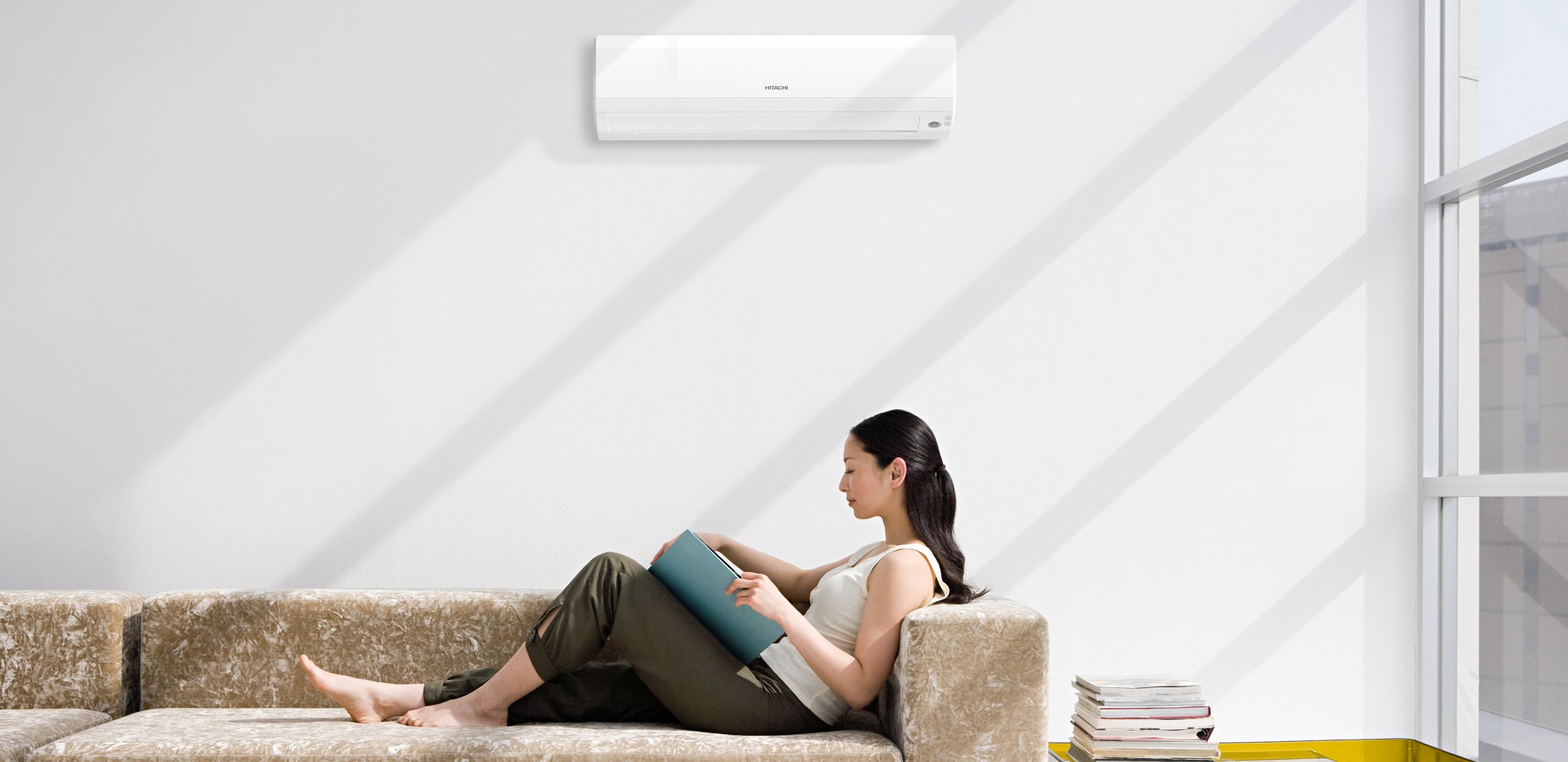 Hitachi Cooling & Heating has pushed the boundaries of industrial design and engineering for Air Conditioning for over 80 years, pouring our expertise, dedication and imagination into each project and product released.

During this time significant technological advancements in industrial design have propelled the expectations of consumers and, in return, have posed us with the challenge of fulfilling them or staying one step ahead.

As with most appliances, the way customers view technology has shifted from being something that merely a particular function, to an interactive product that instigates both a positive emotional reaction and a pleasant customer experience (CX). Hitachi Cooling & Heating has a legacy of transformational design and technologies, always aiming to give our customers cutting-edge solutions that work, and building on our reputation for unbeatable quality.

By evolving products that provide an emotional reaction and deliver a strong customer experience, brands can deliver high satisfaction and customer loyalty. We trace the journey of Hitachi Cooling & Heating air conditioners from an appliance to an experience and look at our products that exemplify our evolution.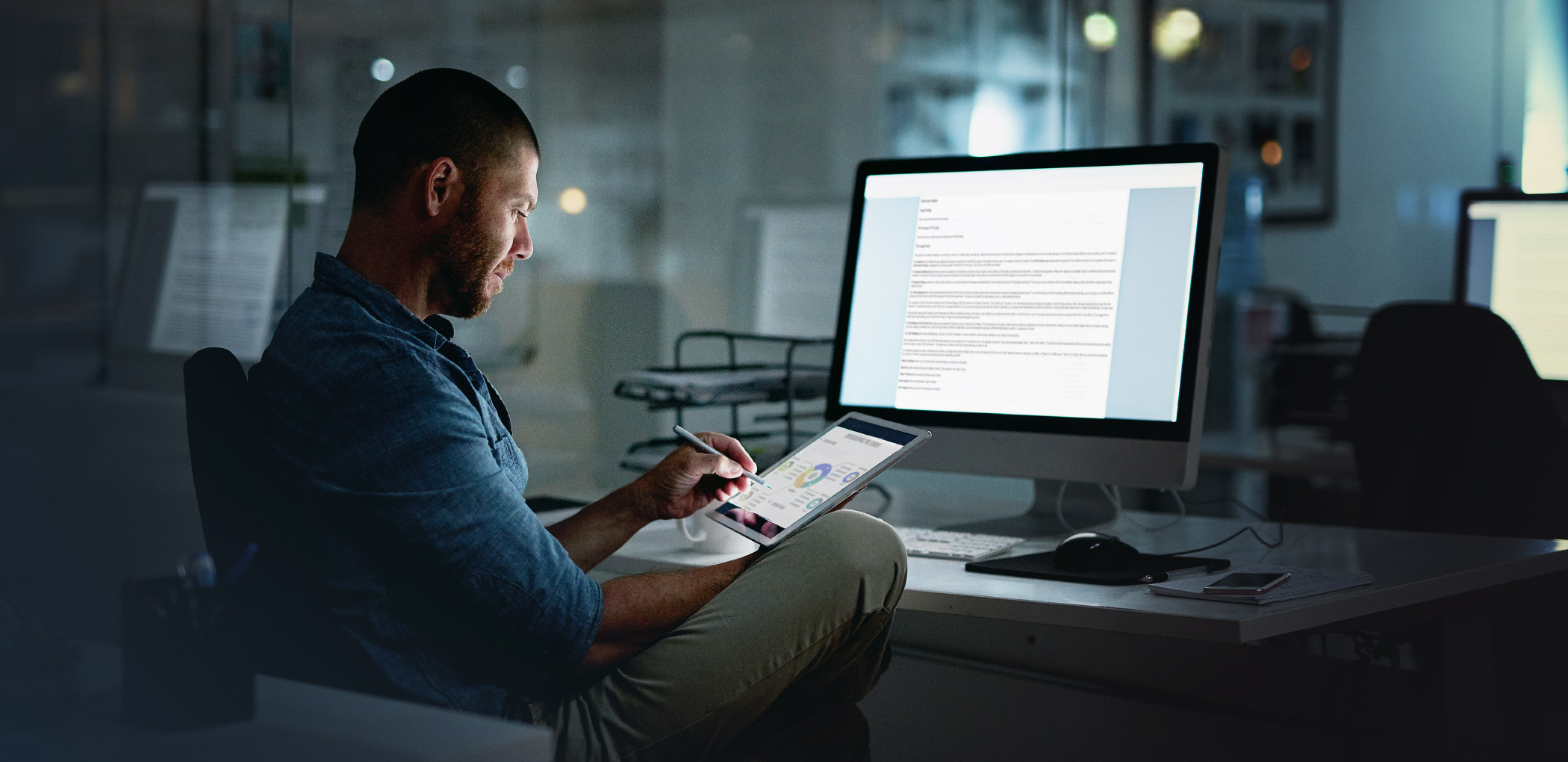 Form Follows What? Design Principles
When it comes to industrial design (or any other design discipline), designers use a set of principles to help them frame their decisions. Generally speaking, principles are the guidelines formed out of trial and error that can steer development away from failure. Of these principals, we have selected three.

Our first is the infamous "Form Follows Function", proclaimed by architect Louis H. Sullivan, known as the Father of the Skyscraper, who in his 1896 essay "The Tall Office Building Artistically Considered" said:

"Whether it be the sweeping eagle in his flight, or the open apple-blossom, the toiling workhorse, the blithe swan, the branching oak, the winding stream at its base, the drifting clouds, over all the coursing sun, form ever follows function, and this is the law. Where function does not change form does not change. The granite rocks, the ever brooding hills, remain for ages; the lightning lives, comes into shape, and dies in a twinkling." - Louis H. Sullivan

Beautiful imagery aside, Louis H Sullivan was expressing the idea that the exterior design of a skyscraper should reflect the function of its interior: form (the design) follows function (the purpose). This idea was adopted by industrial designer Henry Dreyfuss, a pioneer of his generation, who gave us the round thermostat, helping solidify "form follows function" as one of the leading design principles.
Form Follows Function
For this article, we begin our journey in 1981, with the Hitachi series of 'window' sitting air conditioning units. These required the back half of the unit to stick out of the window, exhausting the hot air out of the room it was being used in. This type of air conditioner grew in popularity rapidly from the 1960s onwards, particularly in the USA where it opened the HVAC market up to the 'average homeowner' and converted this exclusive technology into a home appliance.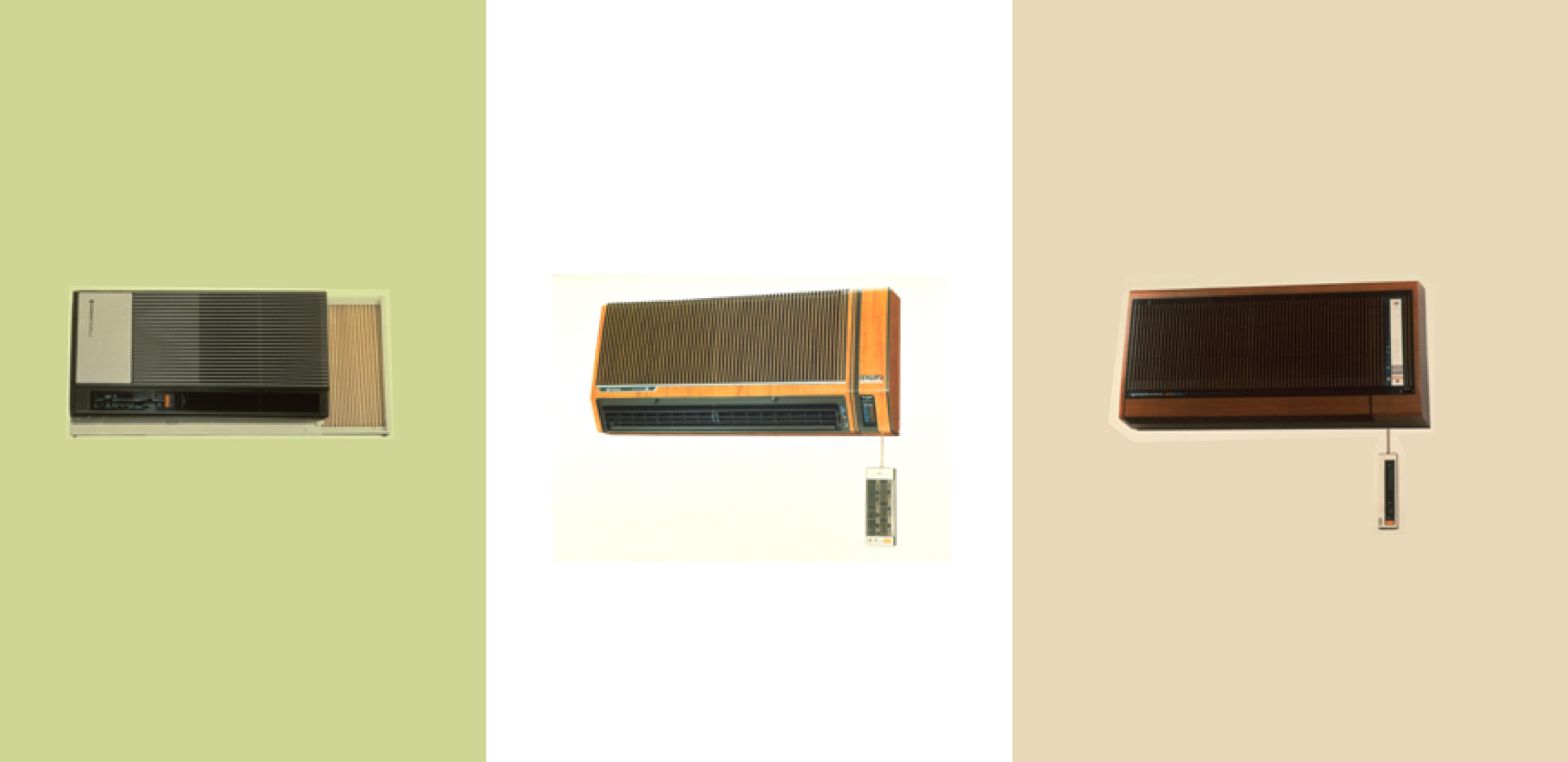 These Hitachi Cooling & Heating models were complex products with a simple set of functions engineered to do exactly what they were built for: offer cooling and dehumidification. The design of these window air conditioners was to communicate their purpose and easily direct the user to their functions.
Controls were conveniently placed on the front of the unit for immediate access or connected via a cord. These cords were the first steps towards a wireless remote control, something which we look at later. At the time, technology was driving the appeal rather than the aesthetics. In keeping with the style preferences of the time, the wood-grain effect was highly popular as were the relatively boxy, grey and white plastic units that made a feature of the air inlets and outlets, which you can see in the center model below.
Also, packaged air conditioners designed for use in commercial spaces were evolving. Clear and visible vents became the preferred design signature of these units, communicating air and circulation, as seen above in our suspended model from 1983. The floor type from 1984 also highlighted the vents so that people would easily match its design to its purpose whilst being less intrusive.
Towards the end of the 1980s and into the early 1990s, there was a transition in the form and architecture of residential air conditioning units. The functionality and purpose of air conditioners had been established on the market and engineers and designers were moving towards a product that communicated emotion.
Form Follows Emotion
Coined by German-American industrial designer Hartmut Esslinger, founder of design consultancy Frog Design Inc., "form follows emotion" marked the progression from Louis Sullivan's search for functional forms. Esslinger's career saw him work with Steve Jobs on Apple Computer's "Snow White" design language, which introduced the world to his approach to design. A language that was simple, functional and impressed the user.
"When you think about form following emotion, it's about not just creating a product that works or doesn't work, it's about getting to a product or service that evokes an emotional reaction, that evokes the 'Wow' in people." -Turi McKinley Executive Director frog, NYC
An example of "form follows emotion" is making a car 'feel' fast even when it's static. At Hitachi Cooling & Heating, we wanted our units to look and feel more integrated and modern. As technology advanced and the Split-System was introduced, the components previously housed in one unit were now split into an outdoor and indoor unit. This allowed the engineers to play further with the form of our air conditioners and their relationship with the space and the homeowner.
In 1996 our H-Series of wall mounted air conditioners we can see the beginnings of the transition from "form follows function" to "form follows emotion". The shape of the unit was slimmer and more elegant, the controls didn't interrupt the design and required less space, and the air inlets and outlets became more streamlined. However, looking at it, we still perceive it as an appliance as well as understand its function.
Jump forward to 2002 and the introduction of our air conditioner PAM Shirokumakun, a unit that follows the principles of "form follows function" but with a change in shape and use of decorative design elements, moving it closer to a design that generated an emotional reaction. We wanted our products to feel more integrated and with aesthetically pleasing shapes that let our units blend into their surroundings.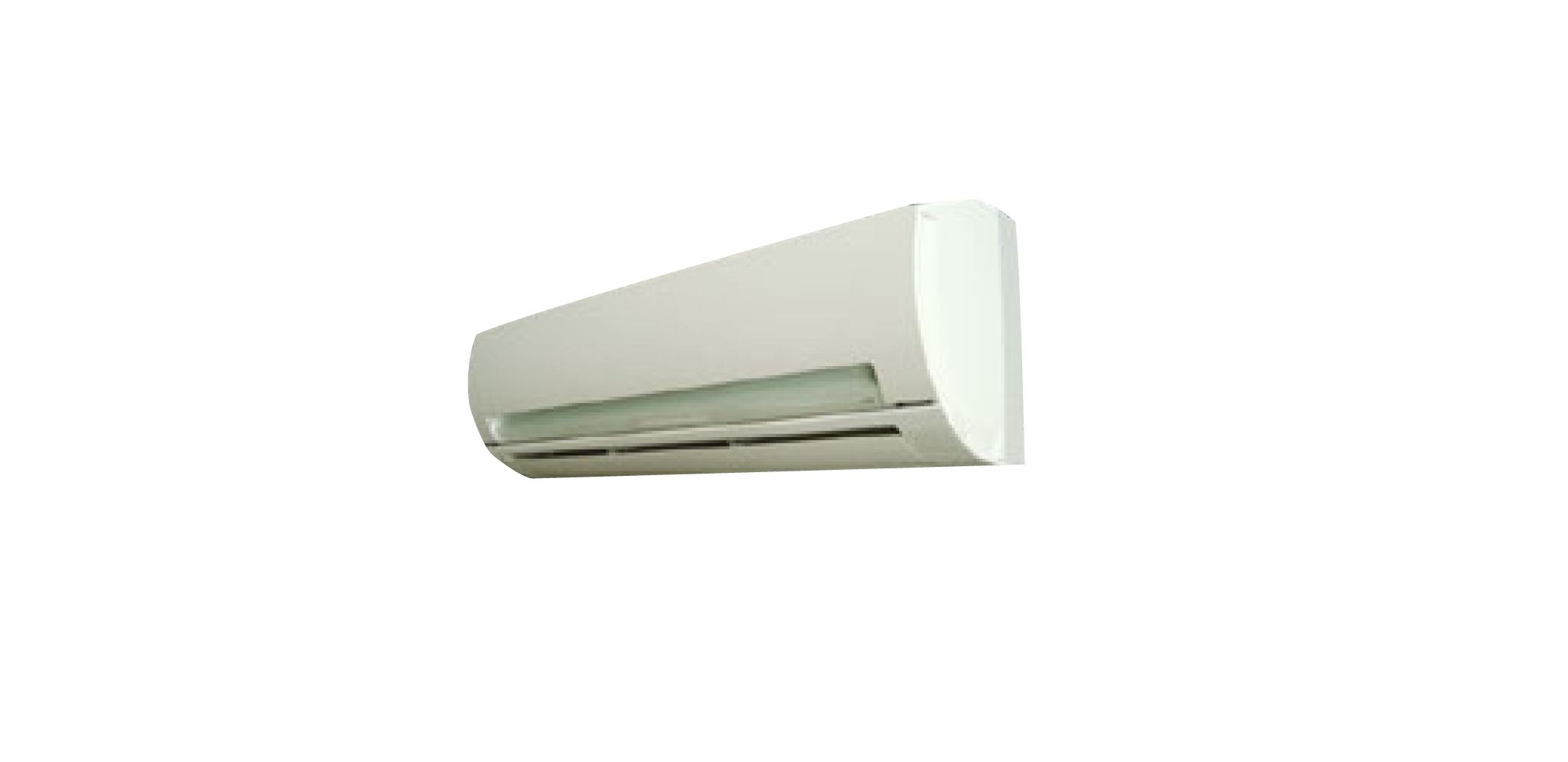 In 2007 and 2008 the SHIROKUMAKUN S series incorporated a clear use of emotion, the introduction of a metallic trim around the unit's user-facing surface. The sole purpose of this design element was to evoke an emotional reaction from the customer and make them see more than just a unit. We can also see the air vents are practically out of sight, moving the aesthetic of the air conditioner from one that communicates its function to one that appears more contemporary and premium.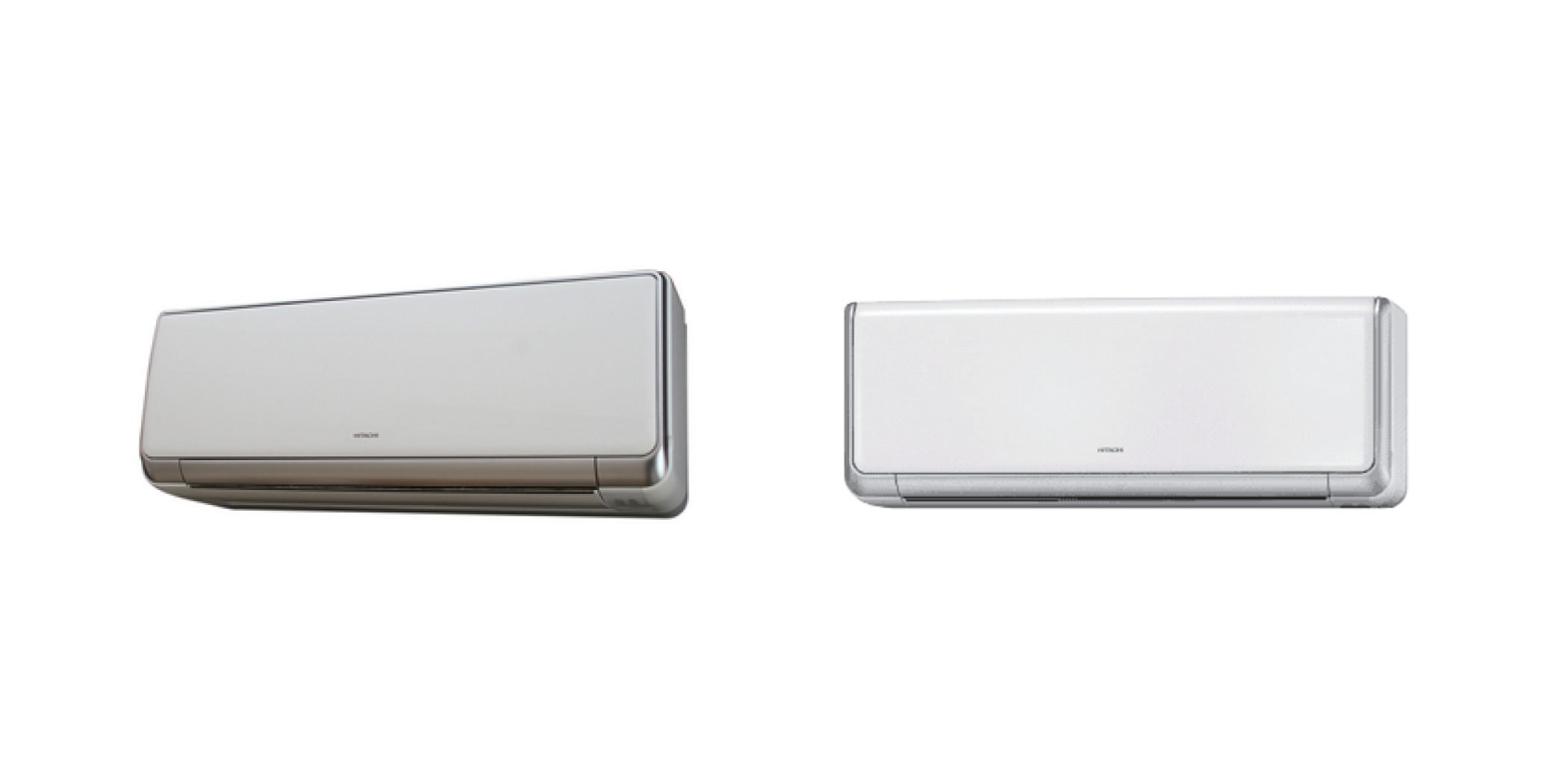 Form Follows Emotion - Digital Transformation
The end of the 2000s witnessed a surge in digital technology, and the impact it had on personal and professional lives is only just beginning to be understood. Not only did it revolutionize the way we communicate with each other and the way we work, but it also changed the way we interact with technology and the way technology interacts with us. The era of digital transformation propelled us into a world of connectivity, action and response.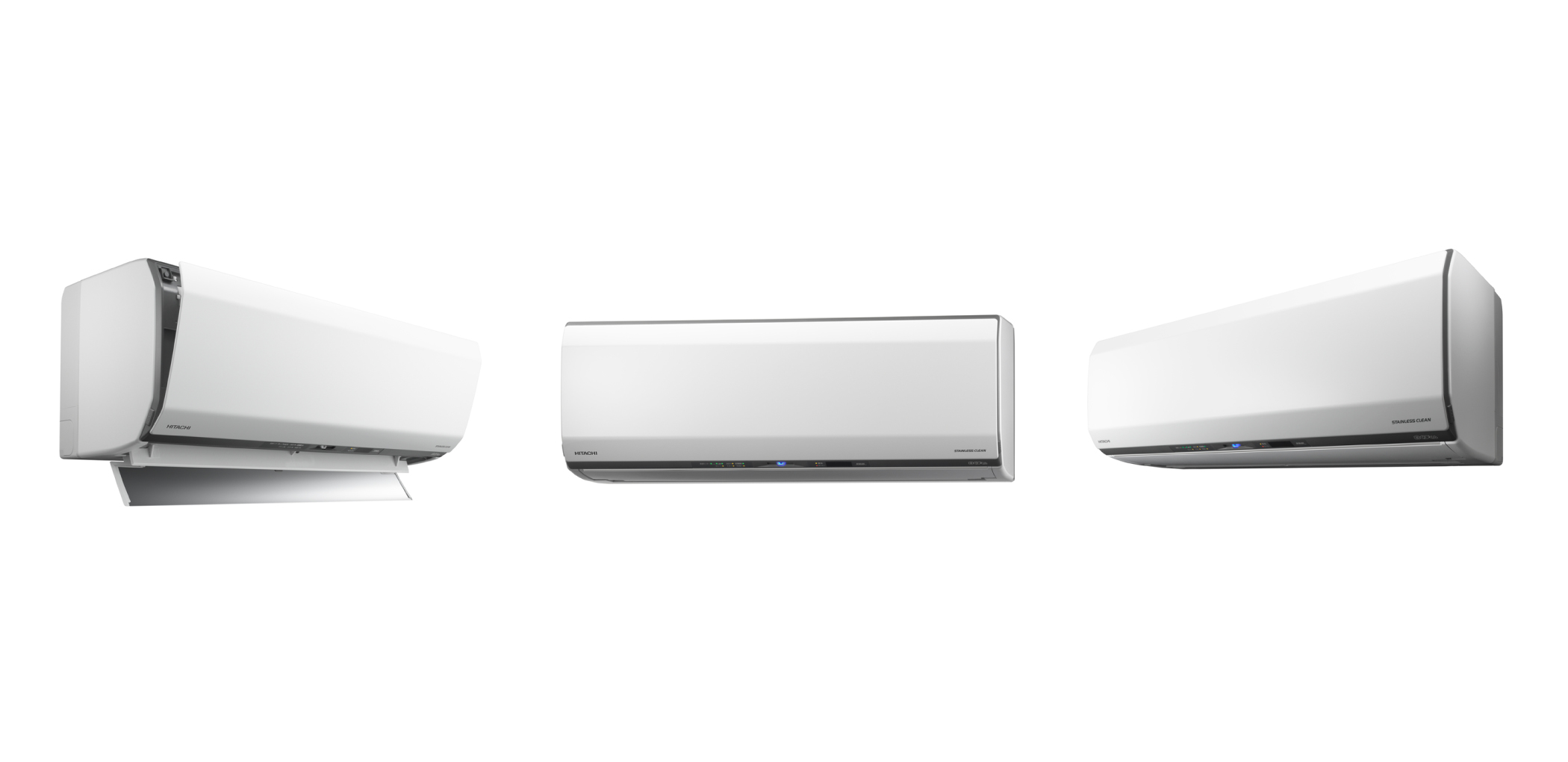 The SHIROKUMA-KUN S series released in 2012, seen above, exemplifies this digital transformation of our products, with the introduction of camera sensors, infrared technology and functions designed to respond to activity happening in the space it operates in.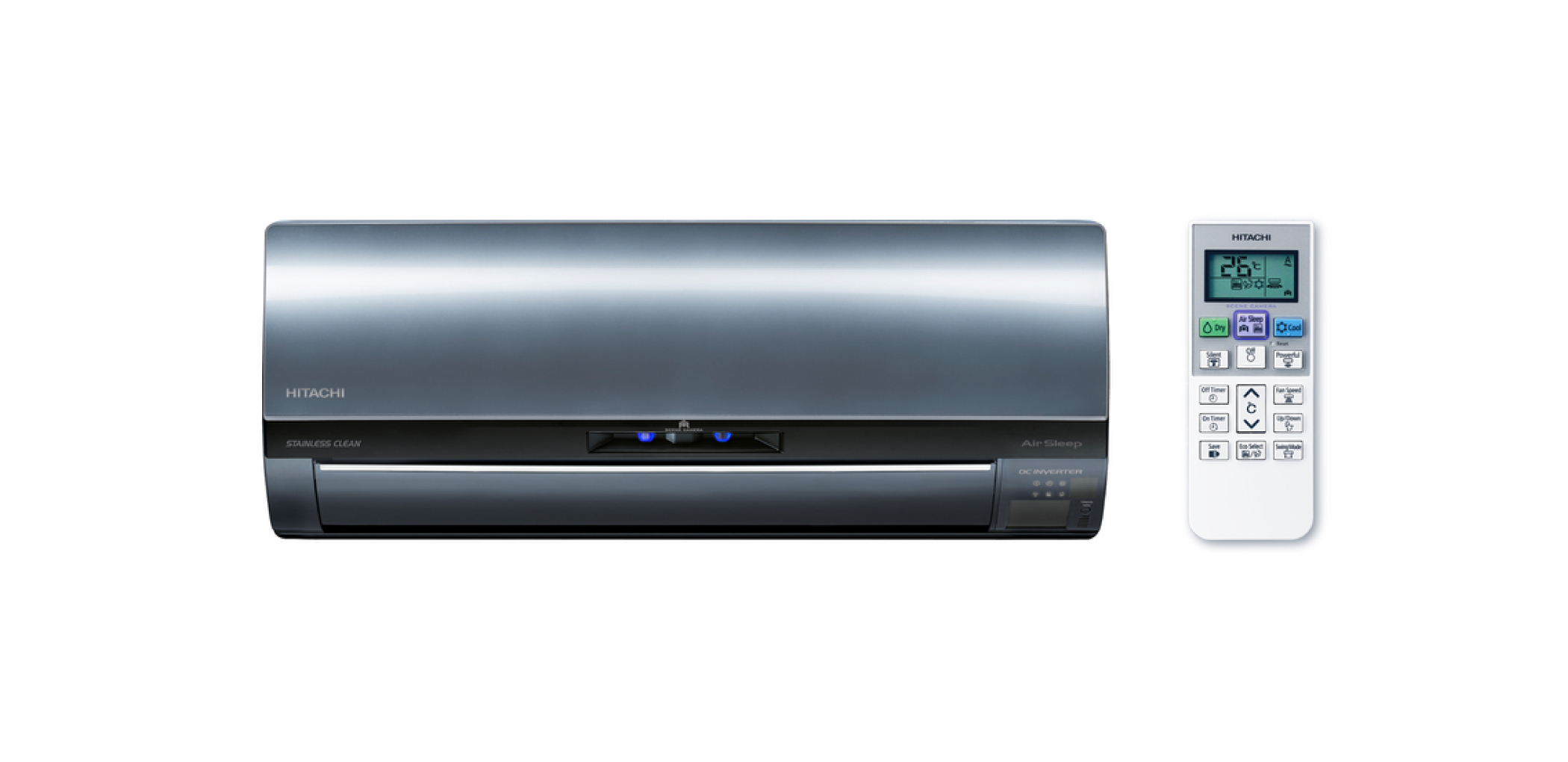 With the digital transformation of appliances and home technology advancing at a rapid pace, the color and technical features and functions of our residential air conditioners were explored further. The unit above from the S Series featured the award-winning Scene Camera Air Sleep that uses a human motion sensor to detect sleep conditions and offer higher levels of comfort whilst remaining energy efficient.
These possibilities that the digital transformation of home appliances and the rapidly evolving connectivity of smart technology are steering us towards a new era. Now that our devices are being interconnected via the cloud, engineers are looking for new ways to develop products that enhance the experience of our interactions with them and how they benefit us.
Form Follows Experience
Though not an official term used by industrial designers, the phrase "form follows experience" has been used throughout the digital transformation era of product design, looking at how spaces, products and digital connections create experiences based on intentional and unintentional interactions. The latest step in improving the experience of technology in the home and at work is through connectivity. The Internet of Things is leading the evolution of experience, incorporating different systems together that interact with each other, and this goes for HVAC technology, too.
To offer such an experience, we launched the suite of airCloud apps which change the way we operate and manage our products. From residential ac through to complete VRF air conditioning systems. We wanted to create a product that bridged the connection between unit and user, that not only offers all the functions one expects but a pleasurable experience. The airCloud app made for homeowners, airCloud Home expands on the smart experience of residential air conditioning units, making them compatible with smart speakers and voice command. Then, airCloud Pro supports a flexible management system which is easier to run and helps support a greener building. It's these small adjustments to the way we interact with technology that enhances our experience of them.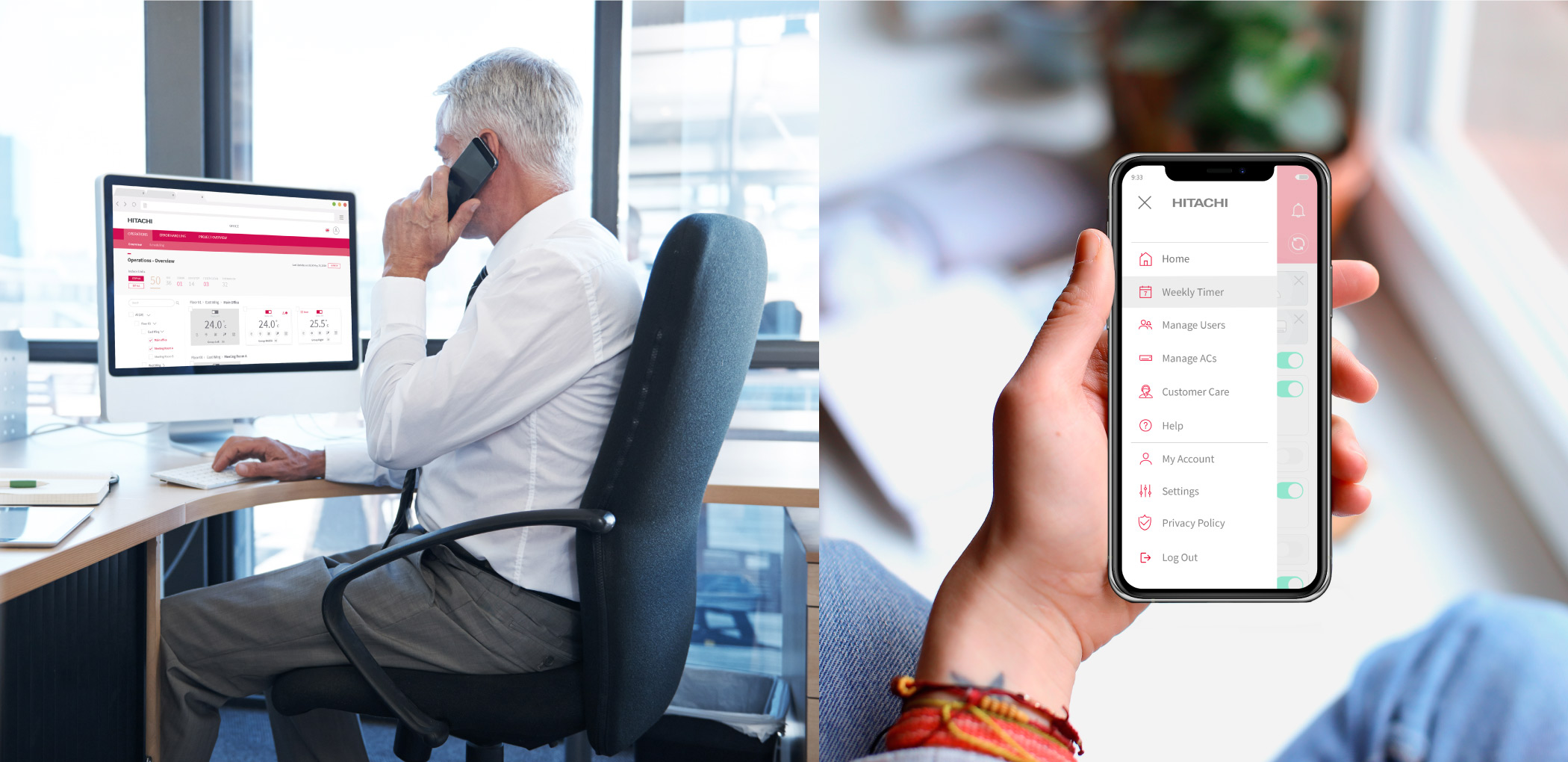 In tandem with exploring digital technologies and the tendency for complete integration, there has been space to revisit the form of 'classic' air conditioning design standards and accessories, and their aesthetics. Our award-winning Silent-Iconic is, in essence, a simple design panel but it has been designed to integrate almost seamlessly within the space it is used. We wanted to develop a product that is satisfying in its appearance and is functional yet 'silently' complements the interior design of a space. Read more about Silent-Iconic here.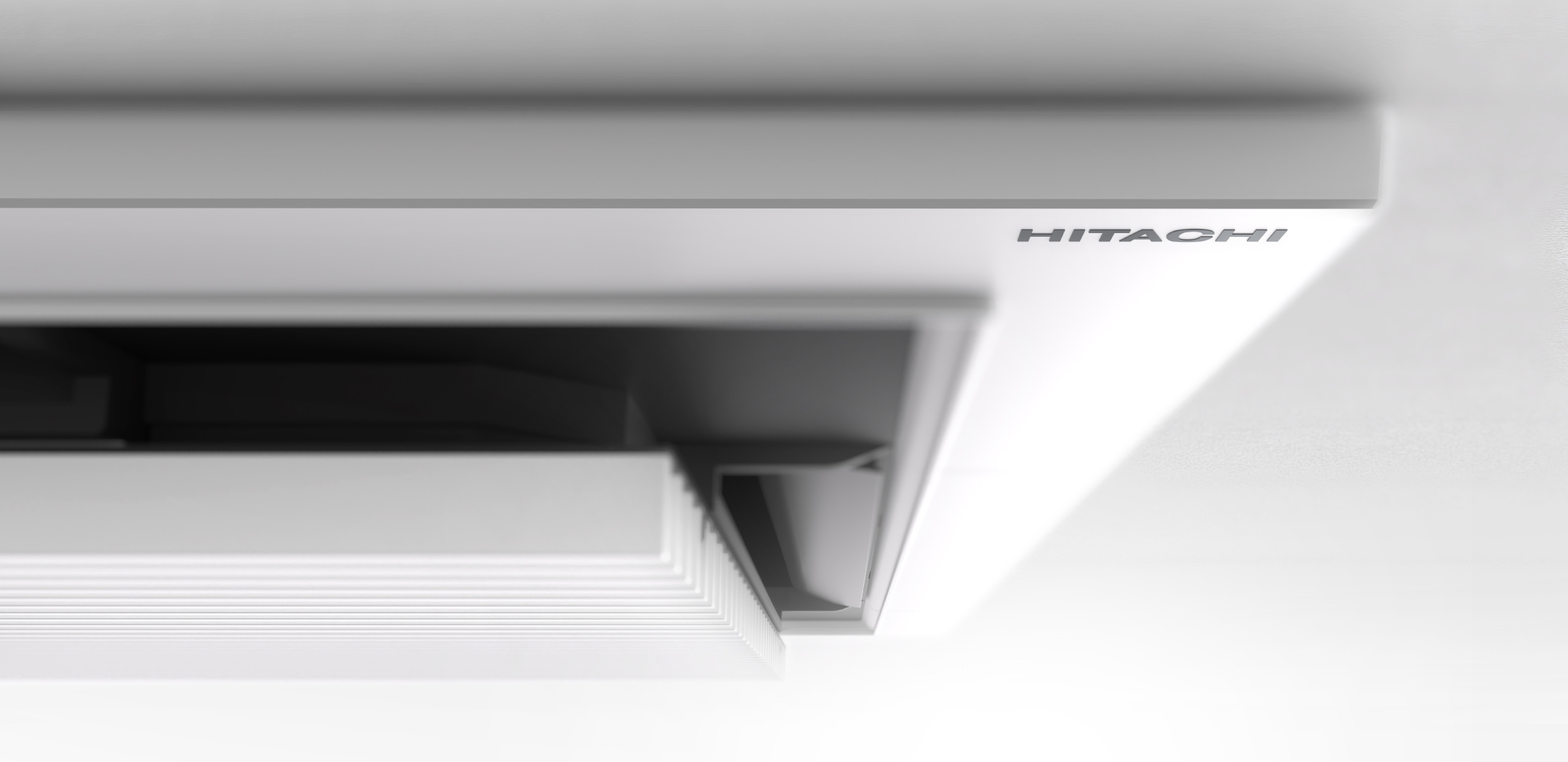 With the digital transformation of things fueling the expectations that customers have of new technologies, an appliance needs to offer much more than its fundamental function. We'll continue the search for new ways to evolve the relationship between the user and the unit and move further away from a mere appliance and towards great customer experience of Hitachi Cooling & Heating products and services.
If you would like to know more about our products, please visit our web or contact us here for more information.