Tue 17 Mar 2020
–

Hitachi Cooling & Heating opens its new Customer Experience Center at the Shimuzu factory (Japan)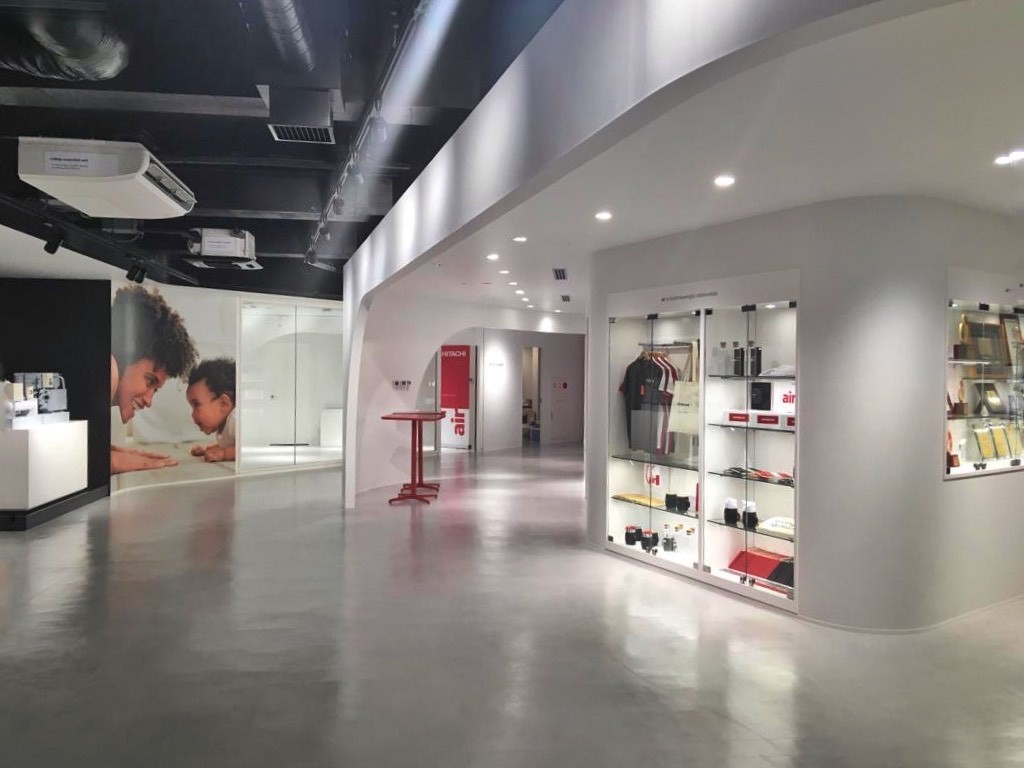 Innovation is often hard to share, because it tends to be invisible. Most of the cutting-edge technologies in Hitachi's Cooling & Heating range of products revolve around making them more efficient, less intrusive, more reliable and easier to manage, troubleshoot and maintain.
To give a new spotlight to the innovations of the Hitachi Cooling & Heating product range, Johnson Controls-Hitachi company opened a new Customer Experience Center (CEC) at its factory in Shimuzu, Japan. Franz Cerwinka (Chief Executive Officer), Shinichi Iizuka (Co-Chief Operating Officer), Shoji Akiyama (Co-Chief Operating Officer), Nick Reynolds (VP & Chief Marketing Officer) attended the opening ceremony on February 17, alongside special guests from Hitachi Global Life Solutions.
The center is built around an extensive 500 square meter showroom designed by the prestigious Japanese Space Creation Company, TANSEISHA Co., Ltd design firm. It will offer visitors the chance to see, interact and learn about the latest Hitachi Cooling & Heating products for the Japanese and worldwide markets.
The main concept is to allow visitors to immerse themselves in an environment that is inspiring and creative, with engineering as its center. By being able to see the design philosophy and choices behind the products, understand their main features, and talk with experts, they will develop discussions about the engineering solutions Hitachi Cooling & Heating offers, gathering ideas on how to implement then.
The Customer Experience Center currently has more than 40 Hitachi Cooling & Heating flagship products on display, both from Japan and overseas. Visitors can see some of the most premium air conditioning units available for the Japanese market, specifically designed for low energy consumption and ease of maintenance.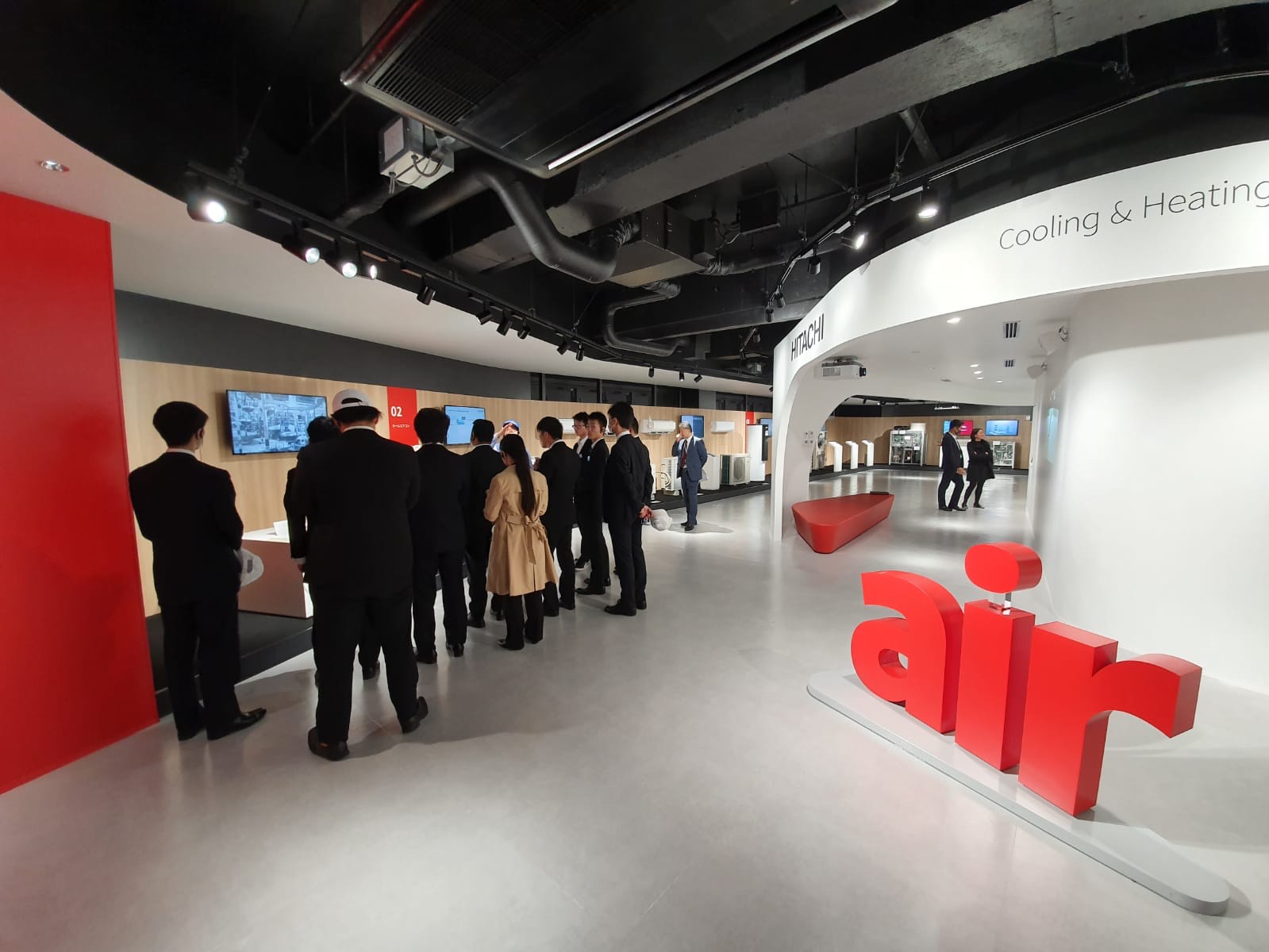 These award-winning systems include innovative self-cleaning technologies like FrostWash, FanRobo and KaliBuster, enabling the inside of the indoor unit (with its key components) to remain clean from dirt, mold and bacteria, thus keep clean air.
Other available products currently on display include a fully operational four indoor units Variable Refrigerant Flow (VRF) fully managed using a state-of-the-art Internet-of-Things software infrastructure. Visitors can see firsthand how multi-zone temperature set ups can easily be set and managed using a dedicated software client, hear its whisper operation, and understand the possible hardware installation options.
In a special tech space, Hitachi Cooling & Heating will showcase the very latest innovations. Currently, the exhibition includes the cutting-edge Stainless Clean Shirokuma-kun X Series air conditioning systems, equipped with the novel Kurashi Camera systems.The unit tracks each occupant presence, body temperature, indoor room temperature and humidity, as well as other characteristics of the environment so that the air conditioning can automatically adapt the speed and direction of the air flow greater comfort.

The exhibits are not just fully operational and ready to interact, but also are geared to showcase the engineering concepts behind the systems. FrostWash equipped indoor unit and outdoors on display, for instance, allow visitors to look at the system in actual operation. They can observe how the condensing unit's heat exchanger becomes covered in frost, and the process used to melt the ice, which eliminates up to 93% of mould and bacteria for cleaner healthier air.
The Customer Experience Center is geared towards Hitachi Cooling & Heating partners and customers. It is intended as a way not just to showcase and advertise products, but to develop a relationships with clients by giving them direct access to the most capable technology the brand has to offer.
"The new customer center in Shimizu is our world-wide flagship showroom in which we will exhibit Johnson Controls-Hitachi's broad product range, state of the art technology and innovation", says Franz Cerwinka, CEO. "Our customers from around the world will have an opportunity to truly experience Hitachi Cooling and Heating. I couldn't be happier with the way that the CEC turned out, with such a contemporary, fresh & professional image that clearly represents Johnson Controls-Hitachi as a company. I look forward to welcoming many customers and partners in the future!".
"It's exciting to showcase our Hitachi Cooling & Heating products and IoT solutions for business partners and end-customers at the Customer Experience Centre in Shimizu, Japan. Learn about our more than 100 years of history and how Hitachi Cooling & Heating solutions can enable your SmartHome and SmartCities", says Nick Reynolds, VP & Chief Marketing Officer.
Products will be updated periodically, on a three to six months rotation. The intention is to ensure that visitors are not just kept up to date with product changes and innovations, but to ensure that the CEC becomes a place where professionals can gather and talk about engineering solutions and product development.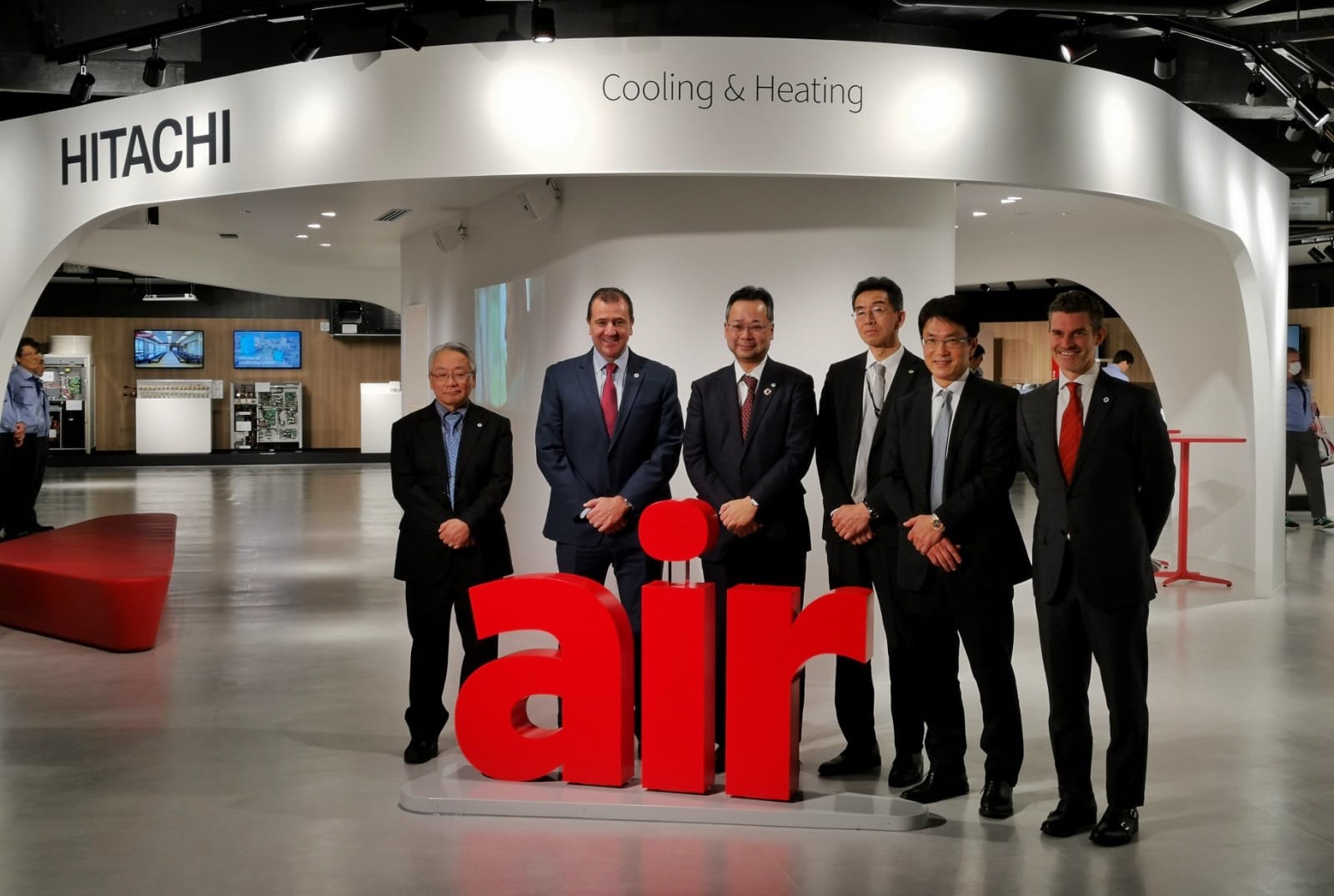 Following the experience from similar showrooms in Spain and China, the Shimizu center will help build new customer relationships in Japan and for visitors from across the world.

For any enquiries, please contact your local Hitachi Cooling & Heating specialist by visiting www.hitachiaircon.com or contact us here