–

airHome 600 Heat Pumps
airHome 600
–

airHome 600 Heat Pumps
airHome 600
Home heat pump that's easy to use – packed with smart automation technology to make your life easier, reduce energy consumption, and enhance sleep quality. Integrated self-maintenance technology helps to improves the long-term performance of the unit. airHome is the heat pump for people who don't want to think about heat pumps.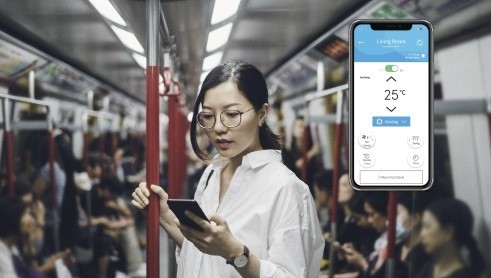 –

Adjusts temperature as you arrive home or leave the house

Use the airCloud Go smartphone app to set up location awareness and temperature profiles, for example, detecting when you are on your way home and automatically adjusting the temperature ready for your arrival.

With the airCloud Go app you can also connect to your smart speaker (compatible with Amazon Echo and Google Home), use weekly schedule and timer functions and see how much power has been consumed with the integrated Energy Cost Estimator.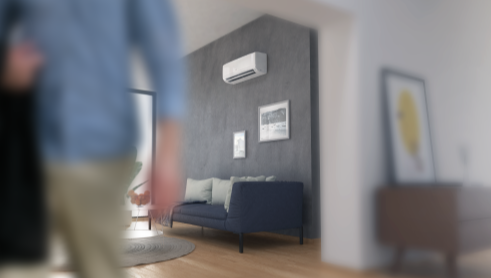 –

Helps to reduce energy bills

Smart Eco detects when nobody has been in the room for 20mins or more, and gradually increases the set temperature to reduce energy consumption. If the additional Auto-off feature is set, the unit will switch off after a preset time and not resume again until manually started.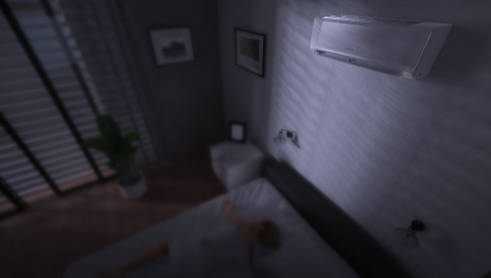 –

Contributes to sleep quality

Set a cooler temperature to help you fall asleep, knowing that SleepSense will automatically increase the temperature once it detects you are sleeping, preventing the room from getting too cold and reducing energy consumption.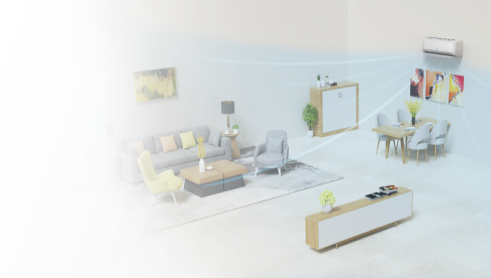 –

Distributes air across your room

Distributes air effectively across any room in your house, reaching up to 24metres away[1] and automatically distributing air across a 105º by 60º 3-dimensional arc.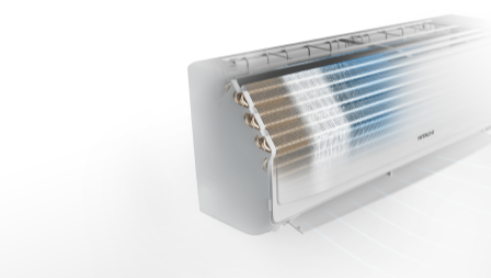 –

3X better at maintaining the performance of your heat pump

Over time dust and dirt can build up in your heat pump reducing the amount of air that can flow through it and making it less powerful over time.

Hitachi FrostWash technology helps to maintain the performance of your heat pump for years to come by freezing dust and dirt, melting it and washing it away. Our tests show that systems with FrostWash are 3X better at maintaining air flow performance than those without this technology[2].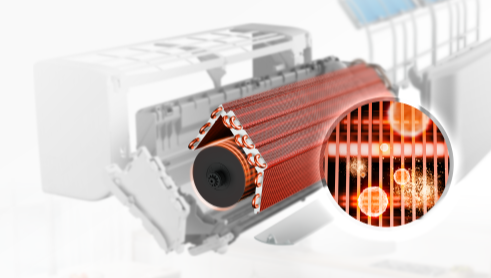 –

Stop the causes of heat pump odours

Whenever the unit is switched off, the mould guard function automatically blows air through internal components to prevent the build-up of mould – the primary cause of those nasty odours.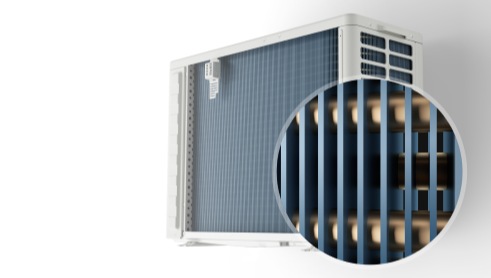 –

Japanese quality, built to last

Heat and freezing shock, extreme humidity, torrential rain, voltage surges, lightning strikes, impacts and more… every air conditioner we sell has been tested to the extreme. In addition, our unique SafeGuard System combines electrical and mechanical systems to protect the outdoor unit from extreme weather and voltage fluctuation. These protections include a 3-minute delay circuit to prevent damaged caused by multiple fast re-starts in the event of power cuts, an ODU valve cover to channel water and condensation safely away from the outdoor unit, anti-rust paint and heat fins, and a metal fireproof electrical enclosure to protect electronics inside the outdoor unit.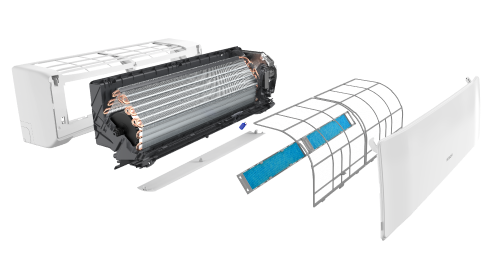 –

Helps to purify your indoor air

Combining different air purification technologies for enhanced effectiveness against pollutants including viruses and bacteria and even odours.


The washable pre-filter filters larger dust and dirt particles. FrostWash automatically cleans the heat exchanger, reducing mould, viruses and bacteria on the heat exchanger. The ViroSense Z1 air purification filter* is effective at neutralising most viruses and bacteria with up to 99.0% effectiveness on viruses[3], up to 99.0% effectiveness on bacteria.[4]


*All claims only refer to air that passes through the ViroSense Z1 air purification filter.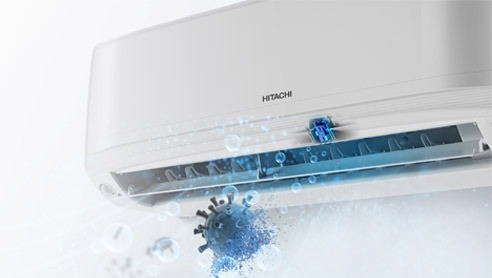 –

Improve indoor air quality with AQtiv-Ion

The AQtiv-Ion technology generates negative ions. When released into the air, these ions combine with the oxygen (O2) in the air. These newly-created oxygen molecules trap impurities, viruses and bacteria, deactivating them to create healthier air.

With a simple press of a button on the remote control, AQtiv-Ion can be activated and works independent of cooling and heating operations without generating extra noise.

The AQtiv-Ion ioniser emits negatively-charged particles in the air eliminating pollutants with up to 99.9% effectiveness on viruses including SARS-CoV-2[3], up to 99.0% effectiveness on bacteria[4], up to 90.0% effectiveness on odours[5] and up to 98.7% effectiveness on allergens[6].

Actual reduction levels of virus, bacteria, odour and allergens in the air conditioned space will vary depending on the concentration of negative ions. Negative ion concentration will be influenced by room size and overall air tightness of the space.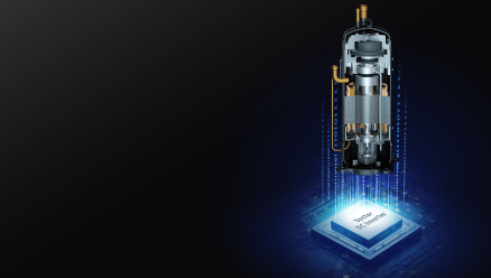 –

Vector DC Inverter technology

Our Cascade Vector DC Inverter System is equipped with a microchip to control the speed of the compressor. A split rotor with displaced electrical poles enables electromagnetic noise suppression and optimizes low-speed energy-efficiency.

With inverter technology, an air conditioner cools with maximum capacity at start-up, then automatically slows down and operates at a minimal capacity to maintain room temperature at a comfortable level. Non-inverter models can only operate with simple on-off controls. Trying to maintain the desired temperature by repeatedly switching power on and off consumes much more electricity and results in bigger temperature fluctuations.
–

Documentation

Manuals, brochures and other product literature. If you need any more information, please get in touch.