–

Centrifugal Chillers

Hitachi centrifugal chillers are designed for durability, resulting in an extended life cycle and reduced maintenance expenses.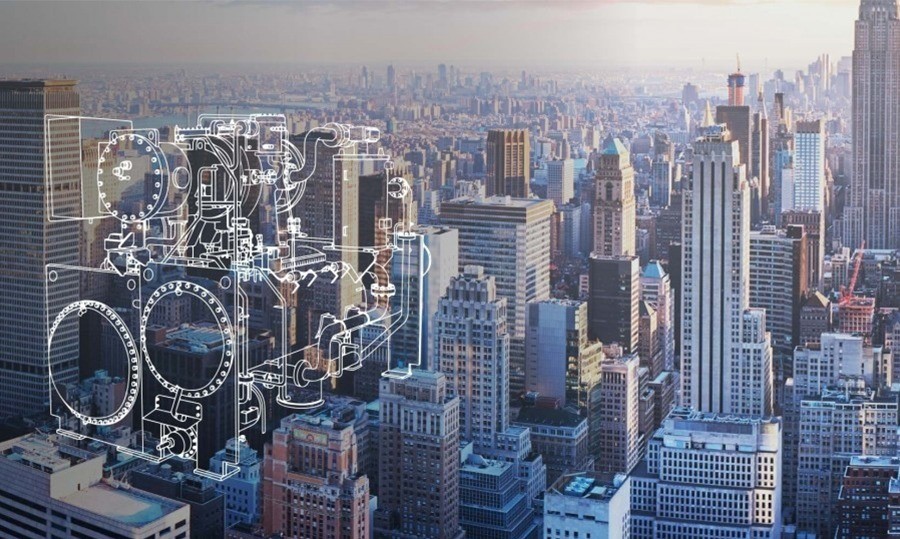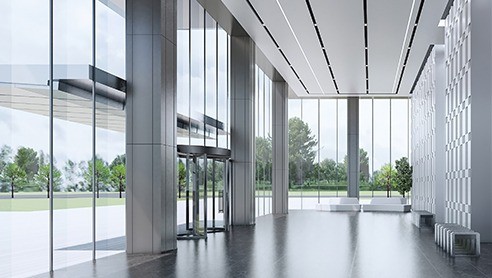 –

A wide range of systems for different business or building needs

A wide range of systems for different business or building needs

Hitachi offers a wide range of centrifugal chillers with capacities ranging from 300 to 3000RT

[1]

.


Gear drive models use a gearbox to drive the compressor and are available as fixed speed and VSD (Variable Speed Drive) models. VSD models are more efficient as they moderate the output of the system according to the required load.


Direct drive models offer enhanced efficiency and reliability because the motor directly drives the compressor speed without use of gears. We offer both Asynchronous Motor drive models (D-GXVG/D-GFVG) and Permanent Magnetic Synchronous Motor drive (M-GXVG/M-GFVG), with Magnetic Synchronous drive models offering greater energy efficiency when operating at lower speed and therefore lower capacity.


Magnetic bearing centrifugal chillers utilize the latest and most advanced technology in the industry - magnetic levitation technology achieves a frictionless, non-contact state for its components. Hitachi VM series use magnetic bearings to support the spinning rotor of the compressor and leverage centrifugal force to compress refrigerant gas. The compressed gas is then used to cool air or water, making the VM series an efficient and reliable cooling solution.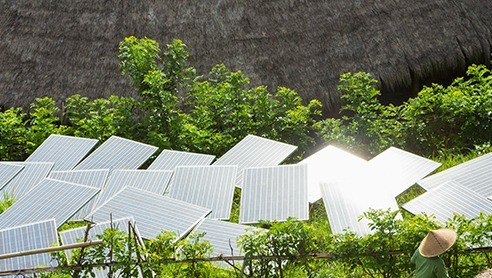 –

Top-tier efficiency ensures remarkable energy savings.

Hitachi's centrifugal chillers are known for their top-tier efficiency, providing customers with cost savings on their electricity bills while helping them achieve sustainability objectives. For instance, the gear-driven VSD model GFG-SITSC can achieve a COP of 22.4 and IPLV of 11.5 at partial load.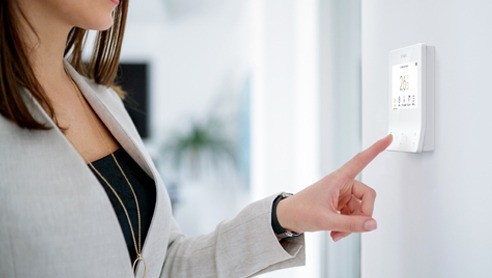 –

Centrifugal chillers are easy to operate

A 10.4-inch touchscreen shows key performance and operational metrics plus details of any failures and alarms of the latest six failures and alarms. The touch panel also includes a helpful user guide available in multiple languages.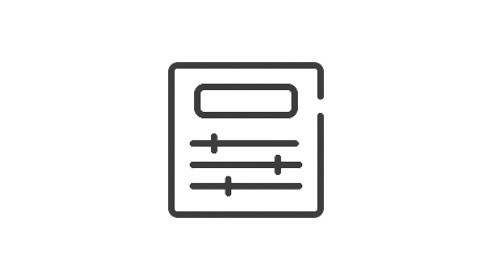 –

Integrate with BMS and VRF systems

Hitachi centrifugal chillers are equipped with a control panel that includes an RS485 communication port [1], providing seamless compatibility with Building Management Systems using the MODBUS RTU protocol. Additionally, they can be seamlessly integrated with a Hitachi VRF system through H-LINK wiring. This integration enables use of a single centralized controller and wiring network across both chiller and VRF systems, enhancing convenience and efficiency.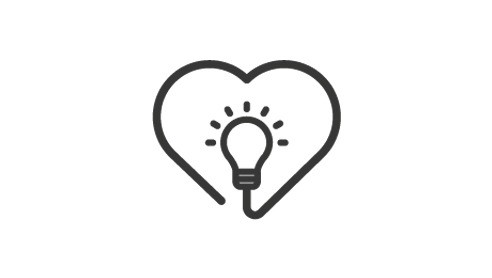 –

Excellent COP at part load even in winter conditions

The gear-driven VSD models can achieve a COP of 22.4 at part load. The high-efficiency economizer (cyclonic system), improvement of the oil supply temperature control and automatic oil recovery enables extension of the motor speed control range even when the inlet cooling water is at a very low temperature. Therefore, Hitachi centrifugal chillers are can provide reliable cooing operation throughout the year and in all ambient conditions.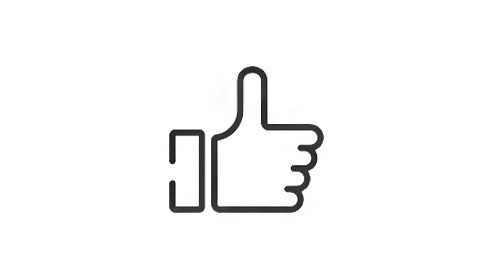 –

Discover the high reliability of our centrifugal chillers

Hitachi centrifugal chillers include a range of features to ensure high reliability including:


A refrigerant economizer added to the 2-stage compressor equipped with 2 impellers. Due to lower rotation speed of 2-stage compression cycle, the chiller can achieve higher compressor efficiency, lower noise and longer bearing life.


Direct refrigerant cooling of the lubrication oil in the oil cooler, without the need for cooling water piping.


Surge protection: 2-stage impeller enables stable operation even at low cooling load or under conditions where the water inlet temperature is high


Oil supply temperature control: the friction heat generated in bearings fluctuates based on the compressor speed. Therefore, refrigerant is used to maintain the oil at a consistent temperature, whatever the loading on bearings.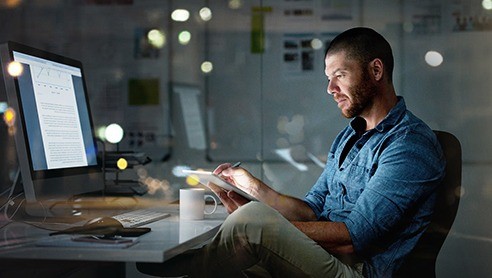 –

Quiet operation

When evaluating the impact of a chiller unit on the environment, noise is an important factor to consider. Magnet bearing chillers offer low operating noise at only 76dB(A) - 5-10 decibels lower than ordinary centrifugal chillers.
–

Hitachi's centrifugal chillers with enviroment-friendly refrigirant

Our centrifugal chillers use R134a refrigerant with zero GWP (global warming potential) making them suitable for projects with stringent sustainability requirements.
–

Notes:

1. Refers to Gear Driven centrifugal chiller GFG/GXG-S series