–

Heating & Domestic Hot Water Systems for homes

Hitachi's range of air to water heat pump solutions brings reliable space heating, cooling[1], and domestic hot water to homes.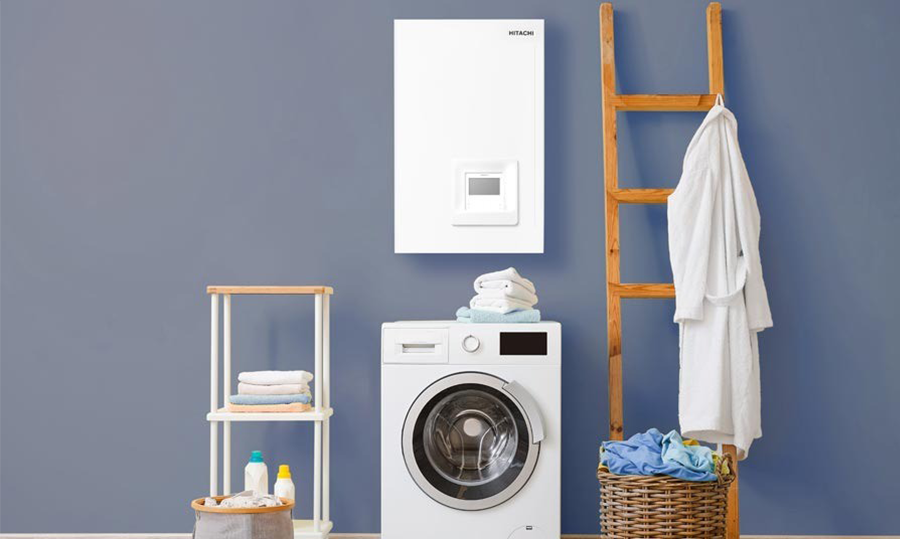 –

Explore Hitachi's heating & domestic hot water solutions

Our range of Yutaki air-to-water heat pumps transfer heat from the outside air to water, which is stored in a tank and distributed through radiators, underfloor heating, or fan coils.

Yutaki heat pumps, when connected to a hot water tank, can also be used to supply hot water showers, taps and domestic appliances. Homeowners can connect Yutaki to a separate DHW tank of any brand or choose from our Combi heat pump models which come with an integrated hot water tank.

We offer 3 types of air to water heat pumps

[2]

to cater to different needs:


Monoblocs system (Yutaki M series): Ideal for small spaces because all components, including an integrated boiler to generate hot water, are located in a single outdoor unit which can also connect to a DHW tank. This makes installation quicker without affecting the interior of the property, as no indoor unit is required.


Split system (Yutaki S & S80 series): Designed for seamless integration with any brand of water tank or by purchasing a separate Hitachi tank. This makes them ideal for replacing existing heating systems as an existing tank and pipework can be utilized.


Hydrosplits system (Yutaki H series): Suitable for plumbers to install as there is no need to handle refrigerant; the heat exchanger is located within the outdoor unit.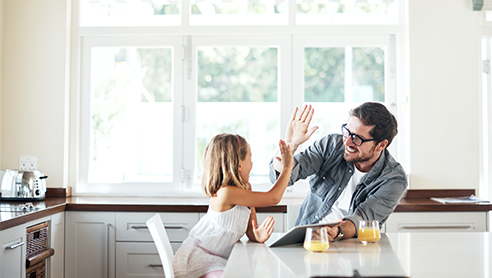 –

Lower environmental impact & more energy savings

Our heating and domestic water solutions offer reduced energy consumption and less environmental impact thanks to A+++ energy class on all models, with COP performance up to 5.25[3] Besides being better for the environment, our air to water heat pumps can also help you to accumulate energy cost savings.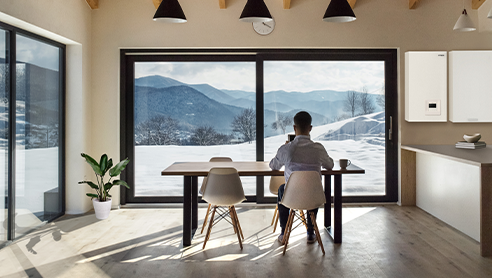 –

Heating & DHW systems for the harshest winters

Our air to water heat pumps can provide comfort and support hot water outlet temperatures of 52°C even in -25°C ambient, and maintain 60°C hot water output in conditions as low as -10°C. High-temperature heat pump models, such as the Yutaki S80 series, can maintain 80°C hot water output in ambient conditions down to -20°C.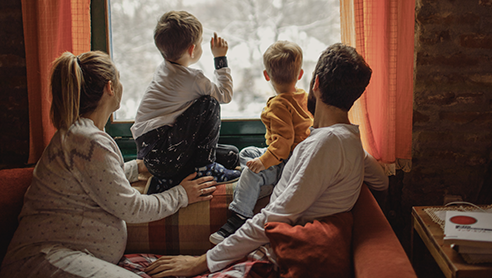 –

Efficient space heating & cooling with fan coil units

For homes without existing pipework or underfloor heating, or where it may be difficult to install underfloor heating, deliver space heating and cooling through our range of fan coil units which blow air over water pipes. The fan coils can be controlled from the wall remote control without the need to install an additional thermostat. Unlike radiators, fan coils they can be used for both cooling and heating and are effective for heating without need for a high-temperature heat pump. Fan coil units heat or cool spaces more rapidly than radiators and underfloor heating, so are a good choice for second homes which are not permanently used.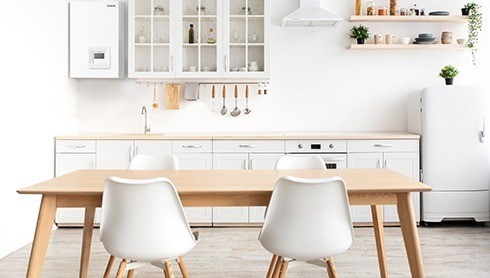 –

Modern and compact heating and DHW systems

Our Yutaki heating and domestic water solutions feature a compact wall-mounted design, fitting easily into a kitchen cupboard. The floor standing Combi models are also designed to be compact, occupying 70% less space compared to a separate boiler and hot water tank.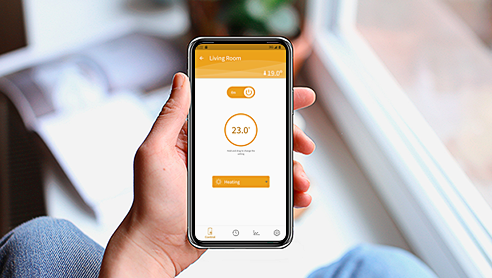 –

Manage your space heating & domestic hot water remotely

The CSNET Home app[4] is available on web and mobile, allowing users adjust operation modes, temperature, weekly timers remotely. Home users can also benefit from remote monitoring and maintenance services from qualified installers using the app to monitor system performance 24/7.
–

Additional benefits of Hitachi's Heating and Domestic Hot Water systems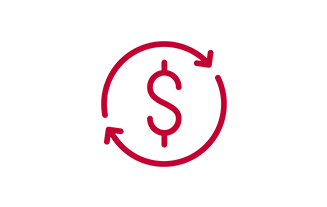 Cost savings
Set a weekly timer to pre-heat hot water when electricity prices are cheaper, accumulating significant savings over time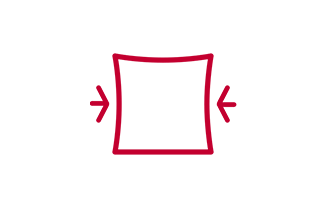 Compact design
Yutaki Combi units can be installed in the kitchen, taking up 70% less space compared to a separate boiler and hot water tank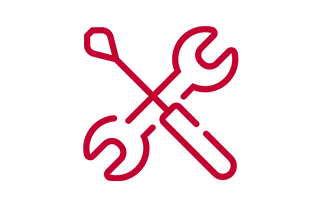 Easy installation
Designed to make installation & maintenance a breeze, our simplified pipe layout allows most components to be accessed from the front.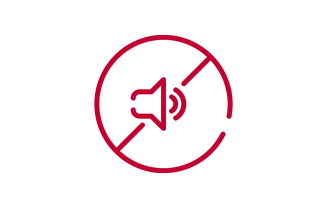 Low noise output
Operating at 37dB(A) noise output[5], our air to water system work softly in the background
–

Notes

[1] Cooling capability available on some models with additional cooling kit accessory
[2] Offering may differ by market
[3] Refers to Yutaki S Combi 4.3kW model based on 7°c ext/35°c water according to conditions set out in EN14511
[4] Requires separate Home Automation gateway ATW-IOT-01
[5] Refers to Yutaki S models – 4.3kW, 6kW and 8kW