–

Water Source VRF

Experience customized temperature control with Hitachi's modular Water Source VRF, providing exceptional energy efficiency.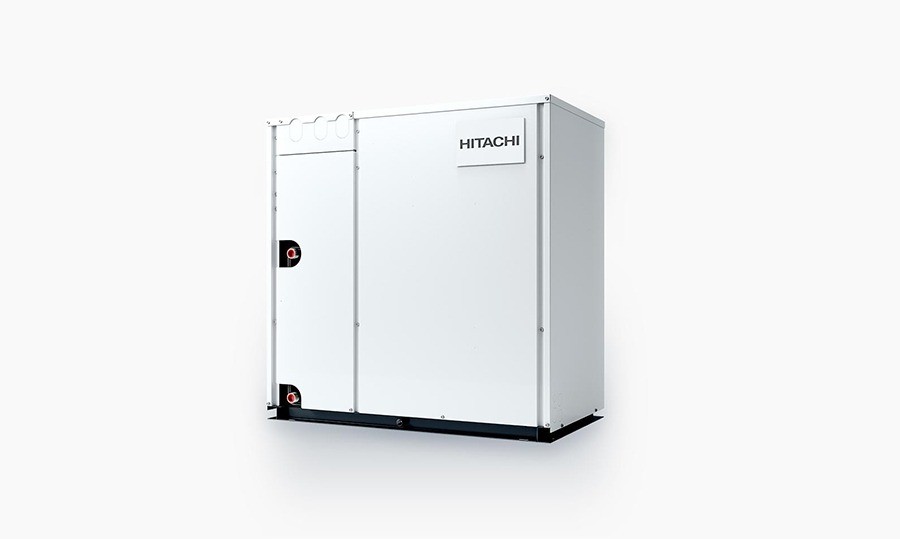 Water source VRF since 1954
Hitachi launched it's first water-sourced AC product in 1954 (the FF500-FF750) with 1.6ton (7.5HP) capacity at the time. Our latest models are up to 18ton (85HP) per module, with the possibility to combine 3 modules to a single system
–

Choose from Heat Pump or Heat Recovery Systems

Unified design and dimensions make it easier to deploy a mixture of Heat Recovery and Heat Pump units on a shared water loop, enabling the best balance of install cost and temperature control requirements for different zones.


Heat Pump type operates in either Heating or Cooling mode, making it suited for buildings where spaces share similar ambient temperatures, including both new buildings or refurbs looking for reliable winter heating solutions that can be based on renewables.


Heat Recovery type exchange heat energy in both the refrigerant circuit and the water loop, making them even more efficient than air-source heat recovery systems. They allow simultaneous cooling and heating in different zones; ideal where spaces have different levels of sun exposure and unequal occupancy – e.g. meeting rooms, public areas, classrooms, halls, etc.


–

Support your comfort & well-being

The water source VRF outdoor unit is designed to minimize operating noise, reducing it by up to 6dB for noise-sensitive areas, resulting in a low noise output of just 49dB. Additionally, with its indoor installation, heating operation is not interrupted by defrosting, ensuring continuous heating and optimal comfort.

In addition, we offer practical indoor air quality upgrades, such as the optional ViroSense Z filter for 4-way Cassettes, which provides 99.9% inhibition against SARS-COV-2(2), enhancing the air quality in your space.
–

Protecting electrical components from condensate

Uses a mini refrigerant circuit to cool the electrical PCB, preventing the build-up of condensate and therefore improving reliability.
–

Hitachi Water Source VRF Systems

Our range of cooling and heating solutions provides households and businesses with the leading climate control technology to create and maintain the perfect indoor environment. Our advanced VRF solutions for multi zone cooling and business applications offer the versatility that each project requires, as well as unbeatable efficiency and reliability. Our collection of elegant and efficient options are designed to adapt to you and the spaces that they inhabit.

To see more of our ranges, click here, and if you are interested in receiving more information from a professional installer, find your nearest one using our Partner Locator.