–

CAN/CGN Series
Direct Fired Gas High Efficiency Absorption
–

CAN/CGN Series
Direct Fired Gas High Efficiency Absorption
The EXH/EXS series is a direct-fired absorption chiller and heater made by Hitachi. This system directly utilizes natural gas or oil to heat water, which is then used to produce chilled water for cooling purposes, and hot water for heating. The systems are environmentally friendly and energy-efficient alternatives to traditional HVAC systems that use electricity.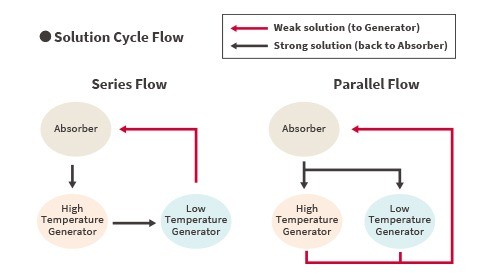 –

Innovative Design Ensures Stable Chiller Operation

Hitachi has developed an innovative parallel flow solution cycle that meets customer expectations for stable absorption chiller operation. Compared to typical serial (series) flow, this parallel flow cycle enables Hitachi chillers to operate with weaker LiBr (Lithium Bromide) solution concentration and lower HTG (high-temperature generator) pressure, resulting in stable operation that can accommodate severe conditions and changes over time. Additionally, the parallel flow design reduces the possibility of crystallization occurring during operation.
–

Two-step evaporator and absorber design guarantees safety and high efficiency.

Hitachi EXH/EXS direct-fire absorption chiller series are designed based on the "Two-step evaporator and absorber" structural concept, which divides the absorption process into two steps. This unique design enhances the absorption ability of the LiBr solution, enabling a lower solution concentration compared to a single-step process. The final result is an impressive reduction in the potential for crystallization and internal corrosion risk.
–

High efficiency and high reliability absorption chiller

One of the most remarkable accomplishments in developing the Hitachi EXE/EXW absorption chiller series was achieving 8000 hours of standard operation. The two-step evaporator and absorber designs have significantly improved the solution cycle, enabling the chiller to operate under heavy-duty conditions without requiring an upgrade to the chiller frame size.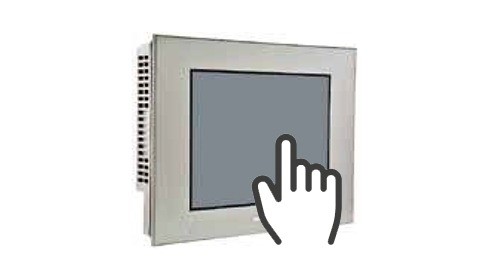 –

Easy Operation and Maintenance absorption chiller

EXH and EXHS absorption chiller series can significantly reduce chiller start-up time compared to conventional flooded-type generators.

Hitachi also offers an auto-purge unit and a self-controlled purge pump as standard features, representing a breakthrough for absorption chillers and ensuring trouble-free and comfortable operation without operator intervention.

The series features a 10.4"" LCD touch panel with a cycle flow diagram, essential operating data, a trend graph, a handling guide, and data storage capabilities. The panel also offers MODBUS communication ports and supports multiple languages. These features enhance the usability and convenience of the series for various applications.
–

Additive Proposal and Multiple Choices

Our line-up of direct-fired absorption chillers offers optional additive proposals, such as a VFD solution pump that improves partial load efficiency, reducing gas consumption compared to a constant speed pump. We recommend adding a solution pump inverter when the chiller is rarely operated at full load to improve efficiency.

Another option is our dual-fuel-fired absorption chiller, which can operate with natural gas and diesel oil. In case of a natural gas supply interruption, the chiller can be manually switched to diesel oil by adjusting the bar.
–

Brochures and catalogues: CAN/CGN Series

Catalogues, brochures and other documentation. If you need any more information, please get in touch.