–

EX / EXS Series Double Effect Steam Fired Absorption Chiller
Double Effect Steam Fired Absorption Chiller
–

EX / EXS Series Double Effect Steam Fired Absorption Chiller
Double Effect Steam Fired Absorption Chiller
The EX/EXS series is a steam-fired, double-effect absorption chiller that utilizes waste heat in the form of steam to produce chilled water. Its use of a two-stage absorption cycle to generate cooling makes it highly efficient. The Hitachi EX chiller series boasts a top-class efficiency steam absorption chiller with a remarkable COP of 1.41, marking a significant achievement in chiller technology.
–

Double-effect absorption chiller with a two-step design

The Hitachi EX/EXS Double-effect absorption Chiller Series has a unique structural concept that divides the absorption process into two steps: the two-step evaporator and absorber. This design enhances the absorption ability of the LiBr solution, enabling smaller concentrations of the solution than a single-step process. This innovation significantly reduces the potential for crystallization and inner corrosion risk, making it a safer and more efficient alternative to conventional single-step designs.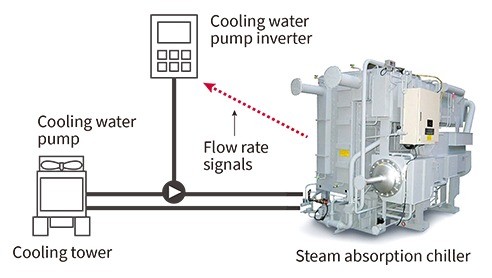 –

Heavy load chiller that offers reliable cooling

The Hitachi EX/EXS series of double-effect absorption chillers achieved a remarkable milestone with 8000 hours of standard operation. By combining a parallel flow cycle with a two-step evaporator and absorber design, it creates a margin on the solution cycle, allowing the chiller to operate efficiently under heavy-duty conditions without the need for frame size upgrades. This pioneering approach results in a highly efficient and enduring chiller that offers exceptional performance and reliability, making the Hitachi EX/EXS absorption chiller a top choice for customers seeking a dependable cooling solution.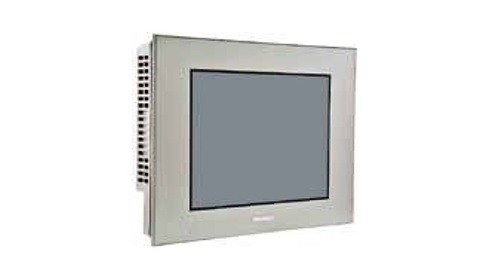 –

Easy-to-operate, multilingual LCD touch panel

The Hitachi EX/EXS chiller features a wide-type 10.4-inch full-color LCD touch panel, which provides a user-friendly interface for easy operation and maintenance. The touch panel displays a comprehensive cycle flow diagram, essential operating data, and trend graphs of chiller operation, making it easy for operators to record and monitor the chiller's performance. The touch panel displays a handling guide and stores operation, failure, and alarm histories, making failure alarm control more effective. Additionally, the LCD touch panel can download three months of operation data to a USB memory device. The chiller has RS485 and Ethernet ports for MODBUS communication as a standard feature. This multilingual LCD touch panel supports languages that include Japanese, English, original Chinese, simplified Chinese, and Arabic, making it easy for operators from different regions to handle the chiller.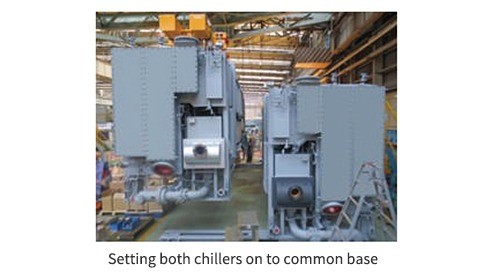 –

Easy installation with the Twin Module design

With rich experience in supplying double-effect absorption chillers to district cooling plants, Hitachi has developed a "Twin Module" structure for non-vacuum-breaking chiller design. This innovative structure allows Hitachi to deliver the chiller without cutting any vacuum parts of the main body, eliminating the need for on-site welding work and helping to shorten the project construction schedule.
–

Brochures and catalogues: EX / EXS Series Double Effect Steam Fired Absorption Chiller

Catalogues, brochures and other documentation. If you need any more information, please get in touch.