–

EX / EXS Series Double Effect Steam Fired Absorption Chiller
Double Effect Steam Fired Absorption Chiller
–

EX / EXS Series Double Effect Steam Fired Absorption Chiller
Double Effect Steam Fired Absorption Chiller
The EX series (high efficiency, heavy load type) and EXS series (standard efficiency, heady load type) are air conditioning system that functions as a double-effect steam-fired absorption chiller, using steam waste heat to generate chilled water. Drawing upon accumulated expertise and long-standing technologies, Hitachi has introduced the EX/EXS series, a model of high-efficiency absorption chillers designed to surpass customer demands and expectations.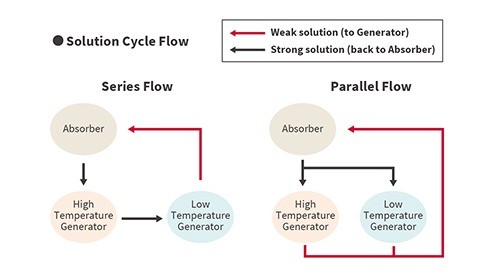 –

Innovative Parallel Design

Hitachi's innovative parallel flow cycle ensures stable chiller operation. Unlike conventional serial flow, it allows efficient function with lower LiBr concentration and reduced High Temp. Gen. pressure, ensuring stability in challenging conditions. The parallel flow design also reduces the risk of crystallization during operation.
–

Two-step evaporator and absorber

The Hitachi EX/EXS series employs a "Two-step evaporator and absorber" principle, dividing absorption into two stages. This unique approach boosts LiBr solution's absorption, enabling weaker concentration than single-step designs, significantly reducing crystallization and inner corrosion risks compared to conventional ones.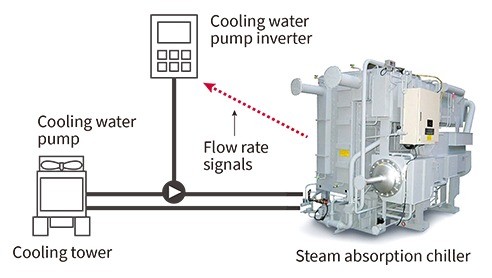 –

Standard heavy load operation (under 8000 hours)

One of the most remarkable achievements of the Hitachi EX/EXS series development was the realization of a standard 8000-hour operation. The combination of a parallel flow cycle and a two-step evaporator and absorber design provided ample margin in the solution cycle, enabling the chiller to operate under heavy-duty conditions without the need to upgrade the chiller frame size.
–

Fast start-up

The combination of a gravity-feed low-temperature generator and a water-tube high-temperature generator significantly reduces the amount of LiBr solution required in the absorption chiller. This leads to a remarkable reduction in chiller startup time compared to conventional flooded-type generators.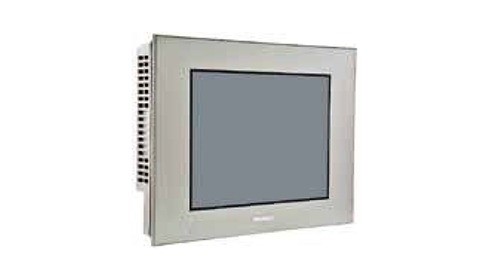 –

Clear User-friendly LCD touch Console

The Hitachi EX/EXS chiller boasts a user-friendly 10.4-inch full-color LCD touch panel. It showcases a cycle flow diagram, essential data, and trend graphs for easy operation and monitoring. For alarms, it offers handling guidance and stores histories. The touch panel can also download 3 months of data to a USB memory device. RS485 and Ethernet ports enable MODBUS communication. Supporting multiple languages like Japanese, English, original Chinese, simplified Chinese, and Arabic, it accommodates operators from various regions.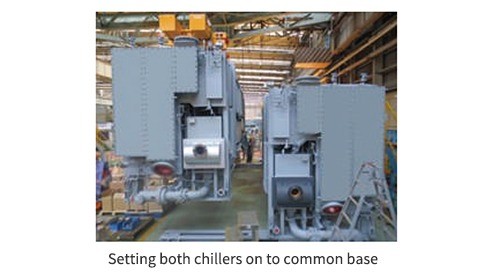 –

Twin module design concept

With rich experience in supplying absorption chillers to district cooling plants, Hitachi has developed a "Twin Module" structure for non-vacuum breaking chiller design. This innovative structure allows Hitachi to deliver the chiller without any vacuum part of the main body being cut, which eliminates the need for welding work on-site and enables the project construction schedule to be shortened.
–

Brochures and catalogues: EX / EXS Series Double Effect Steam Fired Absorption Chiller

Catalogues, brochures and other documentation. If you need any more information, please get in touch.
–

Notes:

*HAU-CW2000EXW4 and HAU-CW4000EXW4 shall be split carry-in shipment due to transportation issues. These two models requires welding work at site.