–

EX Series Single Effect Steam Fired
Single Effect Steam Fired Absorption Chiller
–

EX Series Single Effect Steam Fired
Single Effect Steam Fired Absorption Chiller
The EXE/EXW series is a type of single-effect steam absorption chiller that utilize the absorption refrigeration principle, commonly employing lithium bromide, to generate cooling. Single-effect absorption chillers are typically used in larger commercial or industrial applications, where there is a need for a high cooling capacity and a source of steam is available.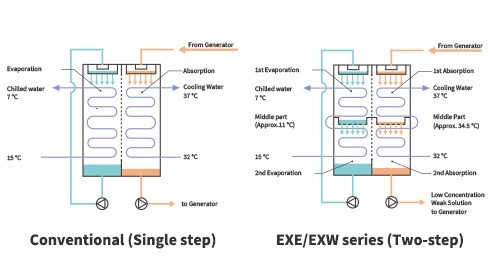 –

Lithium bromide absorption chiller with a two-step evaporator

The Hitachi EXE/EXW series chiller designs utilize a "Two-step evaporator and absorber" structure, which divides the absorption process into two stages. This innovative design improves the absorption capacity of the LiBr solution and allows for a weaker solution concentration compared to a single-step process, significantly lowering the risks of crystallization and internal corrosion as seen in conventional single-step designs.
–

Fully automatic purge pump system

Manual vacuum pump operation is vital for Steam Absorption Chiller performance. Despite automatic gas removal, the operator must still manually run the pump to release gas. Hitachi offers standard auto purge and self-controlled pump, automating purging tasks. This innovation is a breakthrough, ensuring trouble-free, operator-independent chiller operation.
–

Robustness and Durbality

For prolonged machine life, the Hitachi EXE/EXW series absorption chiller employs stainless steel generator heat exchanger tubes, preventing stress damage and enhancing reliability. Additionally, a key achievement is the standard 8000-hour operational capability. The two-step evaporator and absorber design improves the solution cycle, enabling heavy-duty operation without upsizing the frame.
–

Fast start-up

The water-tube-type temperature generator substantially decreases the required LiBr solution volume within the absorption chiller, leading to a significantly shortened start-up time compared to the conventional flooded-type generator.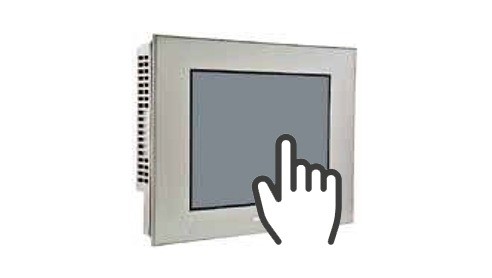 –

Clear User-friendly LCD touch Console

The Hitachi EX/EXS chiller boasts a user-friendly 10.4-inch full-color LCD touch panel. It showcases a cycle flow diagram, essential data, and trend graphs for easy operation and monitoring. For alarms, it offers handling guidance and stores histories. The touch panel can also download 3 months of data to a USB memory device. RS485 and Ethernet ports enable MODBUS communication. Supporting multiple languages like Japanese, English, original Chinese, simplified Chinese, and Arabic, it accommodates operators from various regions.
–

Brochures and catalogues: EX Series Single Effect Steam Fired

Catalogues, brochures and other documentation. If you need any more information, please get in touch.
–

Notes:

*

HAU-CxxEXE (30-500RT capacity)
HAU-CxxEXW2S (630-1000RT capacity)
HAU-CxxEXW4S (1120-2000RT capacity)