–

EX Series Single Effect Steam Fired
Single Effect Steam Fired Absorption Chiller
–

EX Series Single Effect Steam Fired
Single Effect Steam Fired Absorption Chiller
The EXE/EXW series is a single-effect steam absorption chiller that uses the principle of absorption refrigeration to produce cooling. The process begins with the introduction of steam into the generator of the chiller, which heats a solution of lithium bromide, causing it to boil and release water vapour. Then, a separate stream of chilled water absorbs the water vapour, causing the water to evaporate and produce cooling. Single-effect steam absorption chillers are typically used in larger commercial or industrial applications where there is a need for a high cooling capacity and a source of steam is available.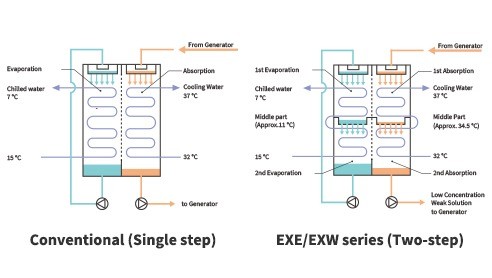 –

Two Steps Design Ensures Safety and High Efficiency

Hitachi EXE/EXW series lithium bromide absorption chiller design is based on a "Two-step evaporator and absorber" structure. This concept divides the absorption process into two stages, enhancing the absorption ability of the lithium bromide solution and enabling the solution concentration to become weaker than it would with a single step. This dramatically reduces potential crystallization and inner corrosion risks compared to a conventional single-step design.
–

Steam-fired absorption chiller with excellent durability

The Hitachi EXE/EXW series steam absorption chiller is designed to increase machine lifespan by utilizing generator heat exchanger tubes made of stainless steel. This material eliminates stress damage and enhances reliability, ensuring optimal performance over time.

EXE/EXW series chiller achieved a standard of 8000 hours of operation with a 2-step evaporator and absorber design, allowing it to operate under heavy-duty conditions without upgrading its frame size.
–

Automation and Prevention

The water-tube-type temperature generator in Hitachi's steam absorption chiller reduces lithium bromide solution charge, resulting in shorter start-up times when compared to conventional flooded-type generators.

On the other hand, Hitachi's steam-fired absorption chiller comes with a self-controlled purge pump and auto purge unit as standard, eliminating the need for manual daily vacuum pump operation and providing trouble-free and comfortable operation.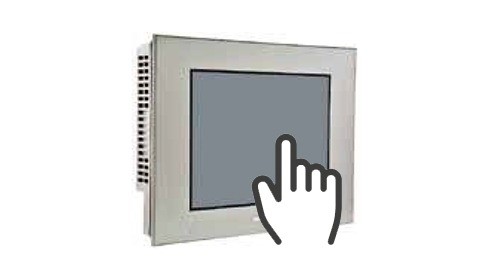 –

Chiller preventive maintenance made easy operation and maintentance

The EXE/EXW series boasts a wide 10.4-inch full-color LCD touch panel that provides easy operability of the steam absorption chiller. It displays a comprehensible cycle flow diagram, essential operating data, and a trend graph of the chiller's operation.

It also includes a handling guide for failure and alarm situations and can store operation, failure, and alarm histories. With the ability to download 3-months of operation data to USB memory, the panel offers convenient data management. Additionally, the panel features RS485 and Ethernet ports for MODBUS communication and provides multilingual options for the interface in Japanese, English, original and simplified Chinese, and Arabic.
–

Brochures and catalogues: EX Series Single Effect Steam Fired

Catalogues, brochures and other documentation. If you need any more information, please get in touch.