–

WVY Series
Water-Cooled Screw Variable Speed Drive Chill
–

WVY Series
Water-Cooled Screw Variable Speed Drive Chill
The RCUF-WVY Series, which features R134a refrigerant, offers cooling capacities ranging from 155 to 520RT. It operates with high-efficiency cooling, achieving up to EER 5.9, while being designed to meet stringent environmental standards and ensure long-term durability.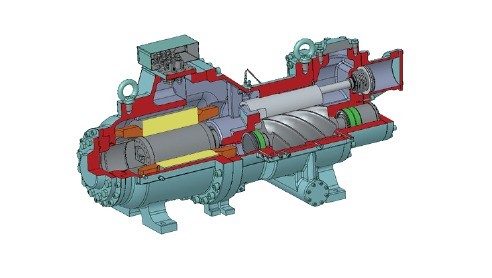 –

Hitachi proprietary G-Type Semi-Hermetic Twin-Screw Compressor and VSD

In 1979, Hitachi pioneered the first semi-hermetic twin-screw HVAC compressor. Since then, they've supplied over 200,000 units. The WVY series employs Hitachi's latest G type R134a compressor, offering enhanced value to customers.


In-house developed rotor minimizes internal refrigerant leakage during compression.


Semi-hermetic structure with built-in motor eliminates coupling design, preventing refrigerant leakage. Refrigerant-cooled motor reduces failures, extending unit life.


Adequate oil supply to compressor ensured by advanced, pressure-differential driven oil system. No need for oil pump design reduces parts, improving reliability and maintenance.


15-100% stepless capacity control via variable speed and slide valve.


The unit's variable speed drive reduces power grid impact by minimizing inrush current at startup and significantly improves part-load efficiency.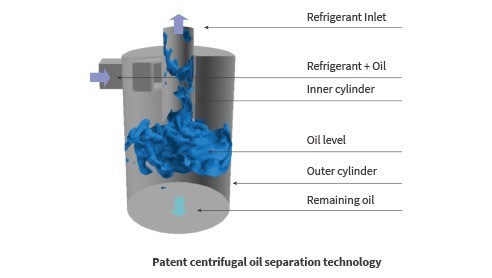 –

Oil System

The WVY series features an external oil separator for efficient oil separation from the refrigerant system, enhancing system efficiency. It incorporates a Venturi tube for an advanced pressure-differential driven oil system that returns oil from the sump to the compressor, ensuring constant oil supply. An oil filter in the pipeline prevents particles from entering the compressor.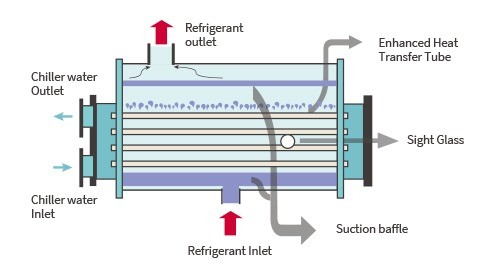 –

Evaporator

The evaporator utilizes a flooded multi-pipe design with a new heat transfer tube for higher refrigerant turbulence that enhances system efficiency.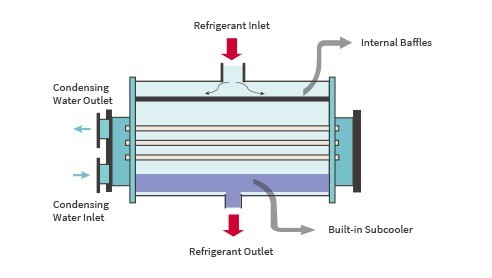 –

Condenser

The water-cooled condenser is a cleanable shell-and-tube type heat exchanger with seamless external finned copper tubes rolled into tube plates.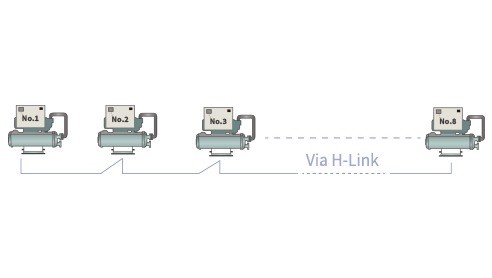 –

Multi-chiller operation

Connect up to 8 Hitachi chillers together using H-LINK wiring.
For stand-alone controls, the unit control system is equipped with remote start and stop contacts, allowing users to implement remote switch control based on their requirements.
When the option for the BAS(Building automation system) communication module is selected, users gain easy access to remote monitoring and unit operation.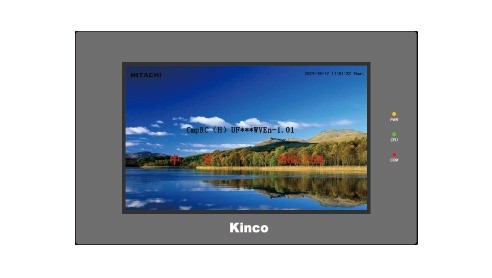 –

Clear User-friendly LCD touch Console

An integrated 7-inch true color LCD touch screen provides a simple and intuitive visual interface, enabling graphic display of the chiller, its subsystems, and system parameters. The touch screen control facilitates swift access to necessary data through component icon clicks. The alarm display can also present recent failure records to administrators.
–

Built-in protection systems

11 different protection systems built in to automatically prevent damage to the unit caused by condenser pressure or exhaust temperatures being too high, compressor motor temperature protection, discharge and suction pressure range safeguards, and protection of the compressor from incorrect power supply or current surges. In addition all units feature anti-freeze capabilities to avoid crystallization of the refrigeration liquid and an oil heater to ensure lubrication performance. Flooded Type models also have protection against a lack of chilled water flow or an oil shortage with differential pressure flow switches.
–

Brochures and catalogues: WVY Series

Catalogues, brochures and other documentation. If you need any more information, please get in touch.