–

AC Apps & Controllers for home

Enjoy greater convenience thanks to our remote controllers for AC. Thanks to their intuitive interface everyone can create a perfect atmosphere.
What it is
Free smartphone app that can be used to monitor your AC from anywhere with internet access. Also can be used for voice command by connecting with your smart speaker[1]
Access to AC Functions
Enables control of main AC settings (eg. operating modes, temperature, Frost-Wash), and access to advanced features such as Smart-fencing[2] to auto-activate your AC on your way home, as well as the Energy Cost Estimator[3]
AC Compatibility
Compatible with wifi-ready units. For other AC models, an AC wi-fi adapter can be used.
Best for…
Users who want to access AC settings on the go, access advanced features, or to integrate the AC with a smart speaker
What it is
2 Types of physical controllers:
1) Wireless hand-held remote controller that communicates with the AC unit via infrared connection. Usually supplied in the Hitachi air conditioner box.
2) Physical wall-mounted controller that communicates with the AC via wired connection, sold as an accessory.
Access to AC Functions
Enables control of all AC settings and features available in your air conditioner (eg. operating modes, temperature, AQtiv-Ion, SleepSense…)
AC Compatibility
Compatible with all purchased units; additional controllers are also available for purchase if required
Best for…
Users who only need a basic controller, and do not require other features such as on-the-go access or voice-command controls
Award-winning air conditioning controllers designed for greater convenience
Hitachi air conditioning controllers come with state-of-the-art control interface. Everyone can make their own perfect air in one touch. Home AC controls are not only about setting temperature and speed, but also about customizing the air based on their preferences and routine. For those who wants to remain connected from anywhere, apps & voice command solutions are available.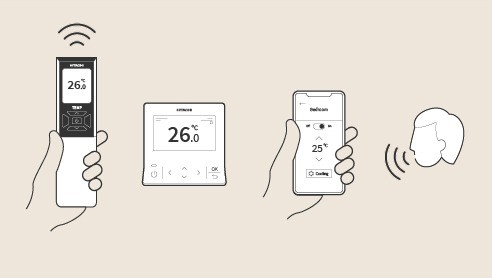 –

4 types of AC controllers

Hitachi air conditioners offer various types of controls:

• The hand-held remote controller, supplied in the air conditioner box
• (Optional) To meet specific requirements, a fixed wall wired thermostat can be used*
• Operate your AC even when you are not at home, with the free airCloud Go smartphone app
• The app can also serve as a smart speaker, compatible with Amazon Alexa and Google Home*

*Confirm model compatibility with your local Hitachi Cooling & Heating distributors.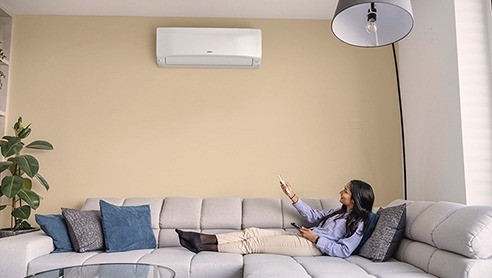 –

AC controllers you can actually use

From handheld remote controllers to wall-mounted room controls, our range of air conditioning controllers for home feature simple intuitive menus and buttons, advanced functionality, great haptics, and simple modern designs that blend into any home.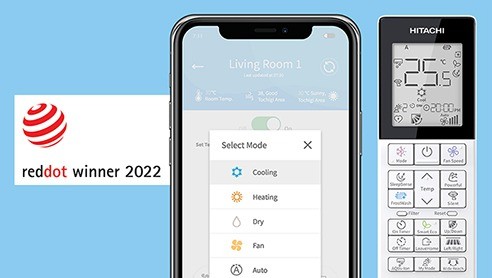 –

Aircon controllers with award-winning iconogropahy for ease of understanding

We know indecipherable symbols on remote control displays are frustrating for users. That's why we spent a year to design and test clear iconography to use on our latest generation of AC remotes and apps, winning a Red Dot Design Award for our work in 2022.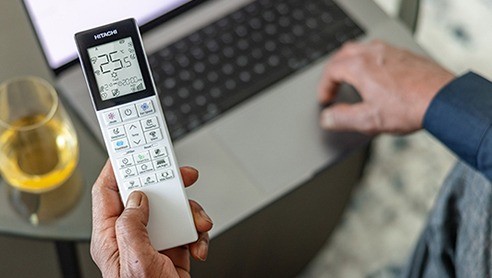 –

Program the AC to save energy and plan ahead

Hitachi air conditioning controllers comes with timers and scheduling functionalities. For example, you can pre-cool your place before arriving home, program the AC to turn off automatically during the night. In addition to enhanced comfort, it also helps you save energy.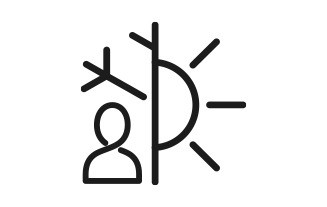 Create your personal profile
New airHome controllers enable you to save your preferred temperature, fan speed, wind direction and mode settings, and activate them with a single button.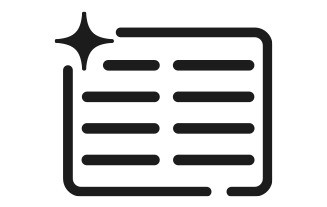 Filter cleaning reminder
The handheld remote will remind you when it is time to clean the AC filter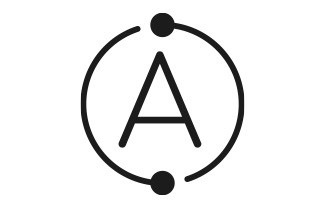 No need to keep adjusting the temperature
Input your desired room temperature and activate "auto-fan speed" and the unit will automatically adjust fan speed and Cooling/Heating output to maintain your preferred temperature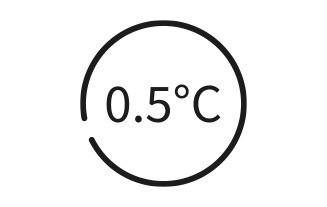 Precise temperature control
Some air conditioners enable you to input the set temperature in increments of 0.5°C, so you can achieve just the right temperature for you.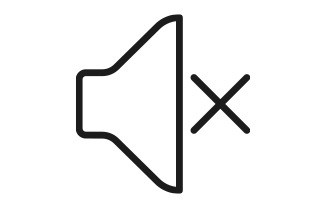 Silence or power at the touch of a button
Powerful mode (for rapid Cooling/Heating of a room) with dedicated buttons.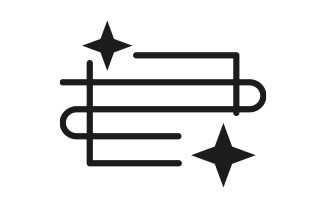 The latest Hitachi features at your fingertips
From SleepSense automated temperature control during sleep, to FrostWash automated heat exchanger cleaning and AQtiv-Ion air quality enhancement… access premium Hitachi features instantly with dedicated buttons on the handheld remote.
–
Explore our home AC controllers
–

Hitachi IoT Apps & Controllers for Residential Spaces

With over 80 years of experience, we are confident that our range of cooling and heating solutions provides households and businesses with the leading climate control technology to create and maintain the perfect indoor environment. We cater for all types of homes, including detached houses, semi-detached, flats and apartments, lofts and attics, as well as for specific spaces like garages, workshops, home offices and more. Select from wall-mounted, ducted-concealed style and ceiling cassette units, all of which are designed with your comfort in mind.

To see our ranges of home and business solutions, click here, and if you are interested in receiving more information from a professional installer, find your nearest one using our Partner Locator.