–

Ducted Split AC with Zoning Kit
Ducted with Zoning Kit Inverter Heat Pump
–

Ducted Split AC with Zoning Kit
Ducted with Zoning Kit Inverter Heat Pump
Transform your space into a haven of comfort with the Hitachi Zone controller and ducted split AC system. Each standard zoning kit includes a zone controller, interface box, and remote sensor.
–

Cost-effective multi-zone AC solution

Are you looking for an AC solution for multiple rooms in your home or in your workplace? Our commercial split system with Zoning Kit enables users to purchase an economical multi-zone AC solution that consumes less energy than installing multiple single-split systems, while also reducing up-front investment comparing with VRF system. When using a zoning system kit, a ducted-type system must be used: it conceals the indoor unit in the ceiling, minimizing the visual impact on the aesthetic style of your home or workplace.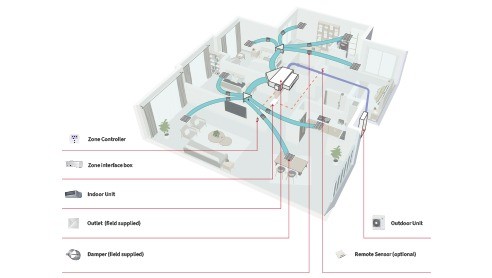 –

HVAC Zone Controlling System

Hitachi's multi-room HVAC system with zone kit allows you to achieve optimal temperature control in your space. This comprehensive system includes a zone controller, interface box, and complete zone controlling system, which work together to maximize energy efficiency. With Hitachi's system, you can enjoy customized comfort throughout your space.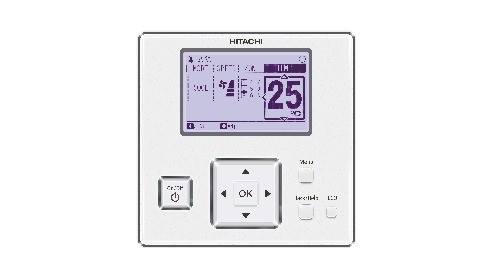 –

HVAC Zone Controller with LCD Screen

With the large LCD screen, users can easily recognize the running status of each zone. Every area can be freely renamed by zone application. Up to 8 dampers can be connected to the air conditioning zoning system. The On/Off control of each space can be set from the main display screen of the zone controller.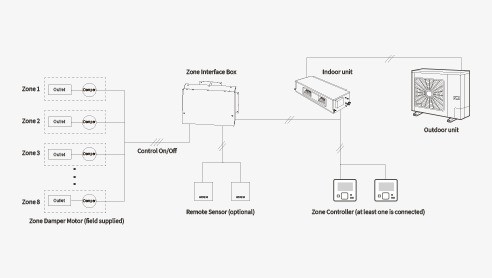 –

Zone Interface Box for HVAC System

The Zone Interface Box is configured with a built-in 32VA transformer that can supply power for 8 damper motors simultaneously. 2 zone controllers can be connected to one zoning system. Up to 5 temperature sensors can be assigned in one zoning system to optimize the temperature control of the air conditioning system.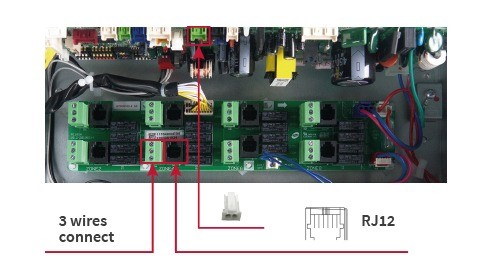 –

HVAC Zone Controlling System

Both the RJ12 plug-in connector and the 3 wires connector for dampers are compatible with the Hitachi zone interface box. The installer can connect the damper with a simple 'Click'.
The auto-fan mode will adjust the air conditioner fan depending on the number of opened outlets in the zoning system. It also makes auto-fan speed adjustments by synchronizing room temperature and temperature settings according to the field settings, to distribute air comfortably.
"Simple Timer" programs your zoning system to Run/Stop after a pre-set number of hours.
Zone on/off on schedule can be set at the specified date and time up to 5 times in one-day increments from Monday to Sunday.
–

Brochures and catalogues: Ducted Split AC with Zoning Kit

Catalogues, brochures and other documentation. If you need any more information, please get in touch.