–

Primairy Fixed Speed AC
Light Commercial Fixed Speed Heat Pump Split
–

Primairy Fixed Speed AC
Light Commercial Fixed Speed Heat Pump Split
There's always a PRIMAIRY solution suited to your needs. PRIMAIRY is an air-conditioning system created to be part of your long-term surroundings. No matter what the weather is like outside, with PRIMAIRY's excellent performance and integrated advanced technology, you control the comfort of your environment.
Learn more about the benefits of Primairy Fixed Speed AC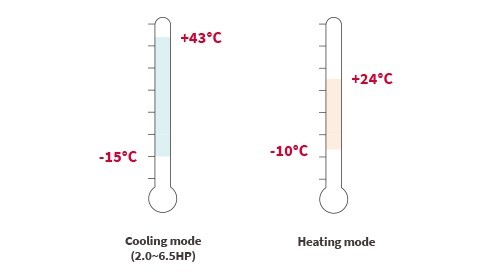 –

Geographic Universality

Equipped with high efficiency fixed speed Hitachi compressors, PRIMAIRY offers powerful cooling and heating performance within a wide ambient temperature range, so its settings can be configured to handle any local profile.


Cooling mode: -15 ~ 43℃


Heating mode: -10 ~ 24℃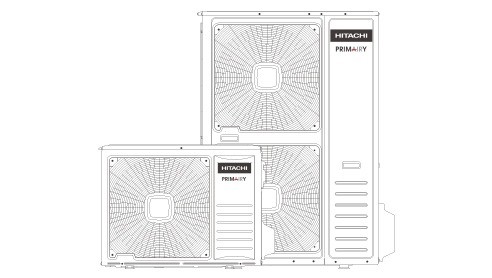 –

Excellent cooling and heating performance delivers exceptional comfort

Powerful cooling performance at standard and low ambient temperatures. High performance twin rotary compressor delivers high efficiency. Twin rotors balance out centrifugal load caused by rotation. Reduced compressor vibration, lower noise level, and increased reliability.
–

Advanced technology brings high efficiency and low energy consumption

Optimized fan speed in outdoor unit is based on actual load, that means higher efficiency and increased energy saving.
The smart defrost software and added defrost sensor precisely control the defrost time and effect, which can effectively eliminate defrost delay.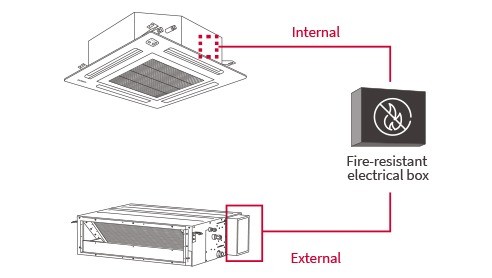 –

Reliable partners for small businesses

How to know when a product is truly safe?
Multiple features and safety functions have been added to Hitachi air-conditioning units over the years as a function of continuous research and adaptation to make us reliable partners for small businesses.
An encompassing metal box design ensures full product safety. High pressure and Low-pressure switches maintain the reliability of the system and the compressor. Temperature protection system, galvanized steel finish, durable production drainage system, and discharge temperature sensor ensure the AC systems' smooth and secure operation.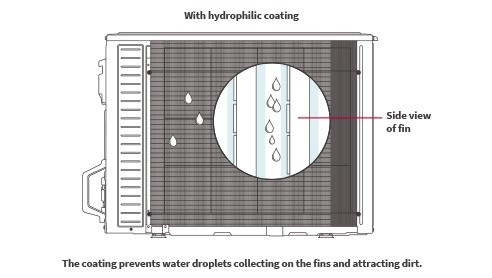 –

Prevention and Protection


A hydrophilic aluminum fin enhances heat exchanging performance by increasing water movement on fin surfaces and preventing water droplets from creating blockages between fins.


Refrigerant leakage detection: The indoor unit will stop operation automatically and show an error code when the refrigerant charging level is lower than 30%, to prevent compressor damage.


The smart defrost software and added defrost sensor precisely control the defrost time and effect, which effectively prevents defrost delay.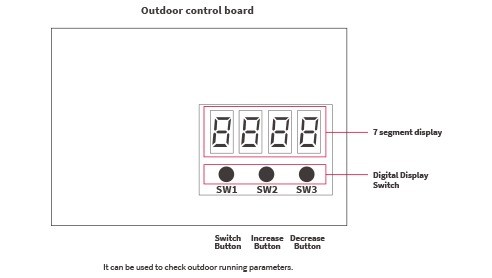 –

Think ahead and Easy Maintenance

PRIMAIRY's expansion interface enables connection to a smoke detector, key slot or other device.
When the unit stops running, the error code is clearly displayed on the diagnostic panel of the outdoor unit for quick troubleshooting and maintenance. Units can automatically return to previous operating settings after a power outage, for simplified operation.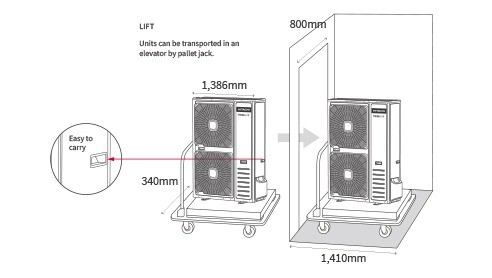 –

Flexible and Convenient

Compactness and lightness: Free of unnecessary or weighty components, each unit can be easily organized into place by the installation team.
Up to 50m piping run and 30m height applications can be installed, for high flexibility in customizing system configuration
–

Wide choice and flexibility indoor units loved by designers and installers

Light Commercial systems have a wide choice of indoor units, including Cassette, Ducted units and floor/ceiling covertable units.
Cassette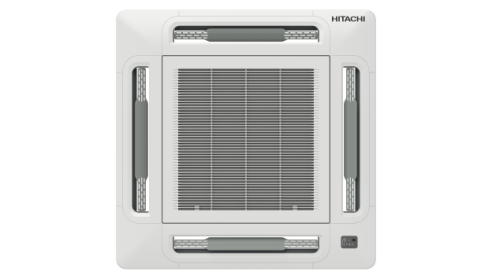 –

Inventor of the 4-way cassette

For decades, small commercial split systems used only floor-standing units, which tended to result in drafts and uneven air distribution. In 1984 Hitachi invented the 4-way cassette, enabling much improved air distribution in open-plan offices, shops, and other commercial spaces – even those with high ceilings.
–

2 different grid sizes

Today Hitachi's range of 4-way cassettes for small commercial split systems can be found in meeting rooms, restaurants, open plan offices, retail stores and galleries all over the world. Our current range come in 2 different physical sizes, each designed to fit a standard ceiling grid, and they can be easily incorporated between light panels and other overhead fixtures.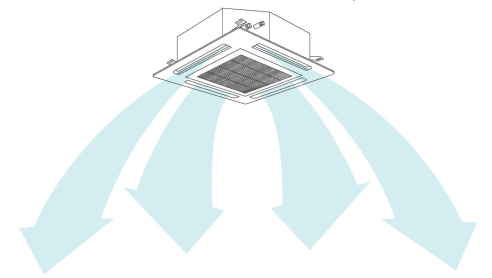 –

Wide airflow distribution & easy maintenance

Louvres can be opened up to 90° ensure a wide angle of possible air flow paths. Meanwhile, the integrated filter can be removed and washed in minutes without needing to be a qualified HVAC technician.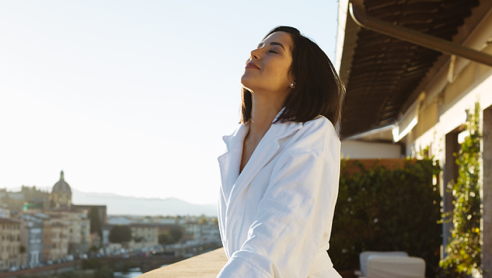 –

Affordably integrate 1-way ventilation

A Fresh Air Inlet port enables outdoor air to be sucked into the unit and mixed with the conditioned airstream; an effective and low-cost way to introduce basic one-way ventilation to a commercial space, by simply connecting piping from the unit to the outdoors.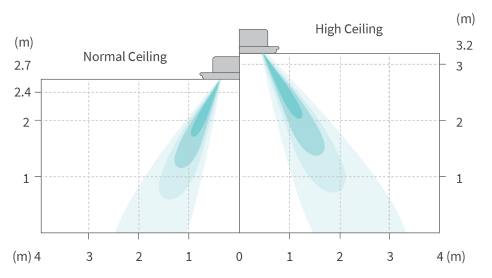 –

Temperature compensation for high ceilings

When installing in high ceilings above 2.5m, building managers can easily implement a temperature compensation mode using the optional wired room controller. This avoids the problem of inaccurate room temperature sensing when the cassette unit is high above floor level.
Ducted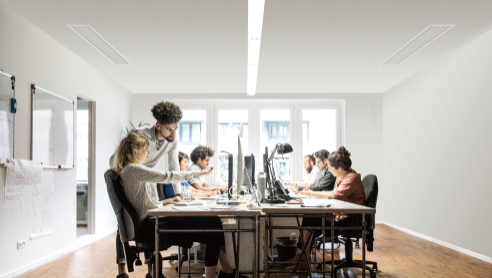 –

Integrates with the interior design of any space

Ducted units for light commercial split systems are available in a range of capacities and sizes, and are ideal for architects, interior designers, HVAC specialists and businesses looking for a way to integrate air conditioning discreetly into ceiling plenums. In fact, any space with a focus on design aesthetics – premium offices, hotels, lounges, restaurants & bars – will want to consider a ducted solution because the equipment is effectively hidden in the ceiling.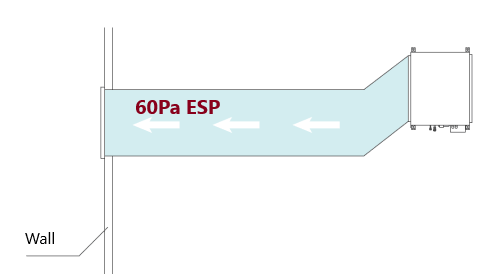 –

One unit, multiple air vents

A single ducted unit can be installed and connected to multiple air outlets, improving air distribution and potentially reducing capital investment as neighboring spaces could share a single unit with adequate capacity. Adjustable ESP (External Static Pressure) from 0-120Pa depending on model, supports multiple air outlets from a single unit, and ensures there is enough air pressure to navigate corners and turns in the ductwork.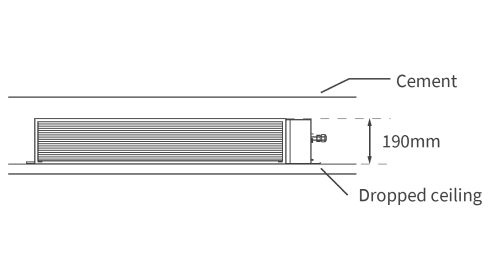 –

From just 190mm height

Compact design minimizes the space between the cement and dropped ceiling, otherwise known as the 'ceiling plenum' or a 'false ceiling', allowing more usable height space within the room. The air return port can be connected from underneath or behind the unit, further increasing flexibility for space layout and installation.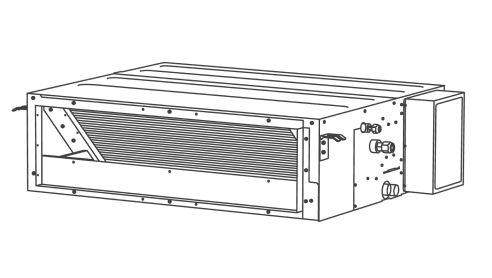 –

Drainage Protection System prevents condensation damage

The design of the integrated drain pan allows condensation water to flow smoothly without leakage and prevent rust. If the drainpipe becomes clogged the unit will be automatically disabled to prevent water leakage.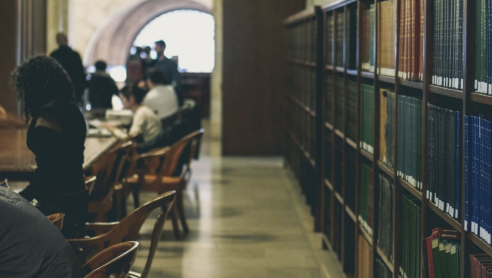 –

Silent operation

Our ultra-quiet ducted units have a noise range starting from just 26dB-33dB on our smallest units (from low to high fan speeds), meaning that even in very quiet spaces the air conditioning would be hardly audible.
Floor/Ceiling Convertible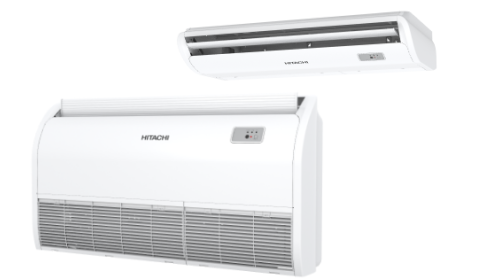 –

One unit, multiple uses

Because it can be fixed on the floor or suspended from a ceiling, it simplifies purchasing and installation by using a common unit type for different rooms and installation scenarios. Ideal for businesses looking to minimize installation costs, and don't mind having a suspended unit visible in the ceiling or mounted to the floor, or for buildings where there is no suitable ceiling cavity to install ducted or cassette units.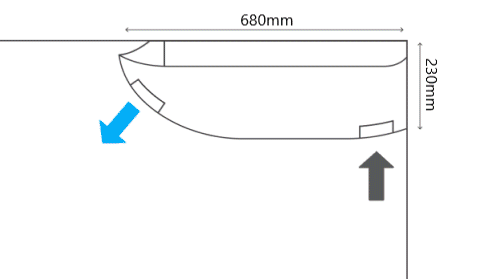 –

Ceiling installation

Ideal for med-sized open-plan offices, classrooms, restaurants, or any other open space with a lot of furniture at ground level – by distributing air from the ceiling these units can provide effective and even coverage across a room.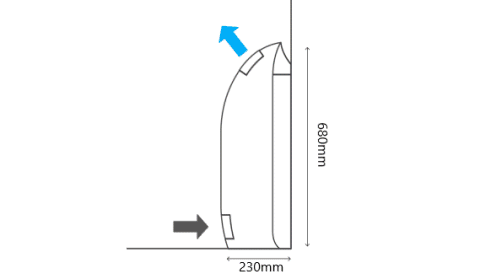 –

Floor installation

Perfect for small offices, shops and studios that lack empty wall space above waist height, in floor mode the unit projects conditioned air out of the top, while taking returned air in the side. It is also popular for loft and attic spaces converted to commercial use, where there is no available ceiling space and even wall space is limited.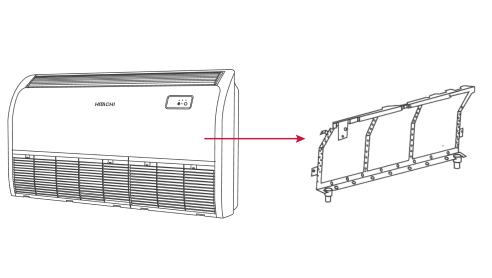 –

Protection from condensation

The integrated drain pan uses high-strength steel and a composite foam to improve the thermal insulation and anti-condensation properties of the unit.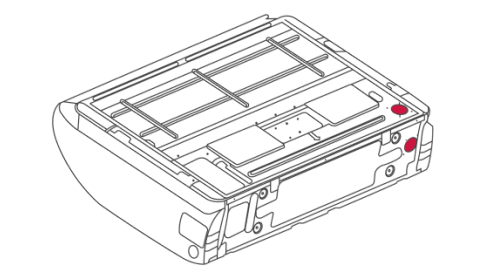 –

Affordably integrate 1-way ventilation

Fresh Air Inlet port enables a pipe to the outside of the building to be connected, sucking in outdoor air and mixing with the conditioned airstream; an effective and low-cost way to introduce basic one-way ventilation to a commercial space.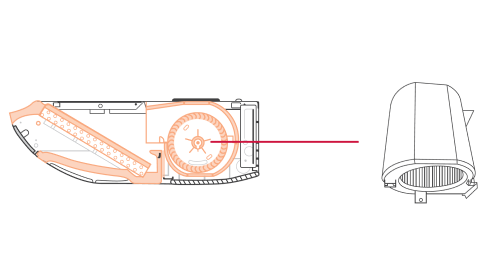 –

Low vibration & noise

Moulded plastic fan housing ensures rigidity and therefore reduces vibration and noise caused by the fan.
–

Brochures and catalogues: Primairy Fixed Speed AC

Catalogues, brochures and other documentation. If you need any more information, please get in touch.