–

4-way Cassette (DC)
VRF 4-way Cassette Unit
–

4-way Cassette (DC)
VRF 4-way Cassette Unit
Our 4-way Cassette indoor unit is the ideal solution for large, open plan areas where you demand everything: energy-efficient operation, comfort for everyone, visual aesthetics, and reasonable initial installation costs. Whether installed in a false dropped ceiling or exposed ceiling, our unit delivers maximum performance. It is perfect for use in offices, hospitals, and any setting where there is high traffic and a need for optimal comfort.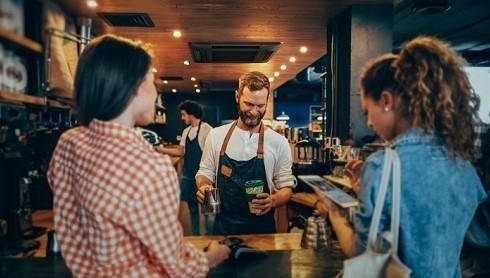 –

Variations of 4-way cassette

We offer a range of 4-way cassette indoor unit with various panel options to suits your needs.
- Normal cassette panel (White)
- Normal cassette panel with different colors (Beige, Grey, Black)
- Silent-Iconic, 4-way design panel (White and Black) to meet the best balance between visual aesthetics and installation cost
- Twin-sense panel for better comfort & energy-saving operation
- With optional ViroSense Z2 filter to help reduce the risk of secondary infection especially by SARS-CoV-2
- Standard ViroSense S filter with Ion purification feature for cleaner indoor environment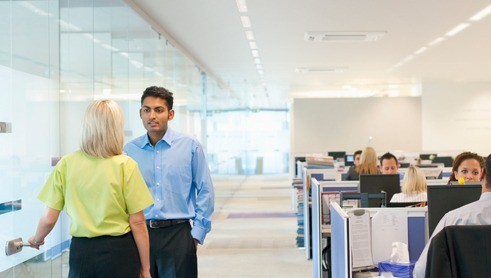 –

Comfort

Powerful yet delicate control of air is the benefit of the 4-way cassette type.
- The 4-way cassette is highly suitable for high-ceiling spaces as it can blow conditioned air up to 5.5m downward in the cooling mode.
- By using the Twin-Sense panel, you can enjoy advanced comfort options. For example, the FeetWarm feature ensures warmth remains at your feet level consistently, while the FloorSense feature controls the multi-louvers to precisely adjust the airflow and prevent cold air from sinking and overcooling the floor area.
- Hitachi's proprietary comfort feature, GentleCool, offers anti-cold draft functionality by allowing you to set your preferred air temperature rather than room temperature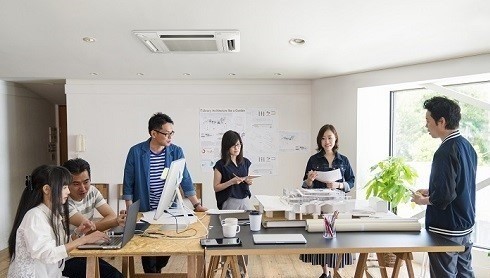 –

Energy-saving operation

The 4-way Cassette type can work in the smartest way to save your energy automatically.
- Motion sensor for better energy saving: The optional motion sensor provides a wide detection area, which can automatically take care of better energy saving by cutting wasted energy when no one is nearby the unit.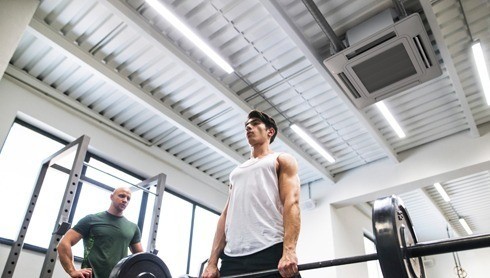 –

Ease of installation

Installers can save installation time with multiple features to ease their work.
- Standardized drain condensate pump kit with 850mm lift: Even in tough installation conditions, you can install the condensate piping more easily with the DC motor pump with 850mm lift from the surface of a false dropped ceiling. Additionally, the transparent drainage piping allows for visible water flow.
- Easy fresh air intake: The unit has a prepared hole with a diameter of φ75mm for duct connection.
Compatible with round and square ducts: Both round and square ducts can be attached to the unit.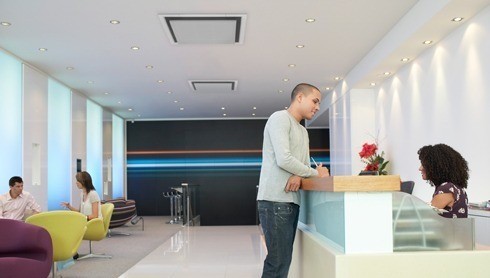 –

Silent-Iconic (Design Panel)

The Silent-Iconic panel is a multiple world-famous design-award winning product that offers a new option for design-orientated buildings.
- Traditionally, ducted-concealed style indoor units have been preferred as they are visually less disruptive and easier to integrate. However, the Silent-Iconic cassette offers a ""visually silent"" option that does not interfere with the look and feel of the interior.
- This innovative design adjustment of flaps and air-inlet has been recognized with the iF Design Award 2020 in the Product discipline, which is one of the most prestigious competitions held by iF International Forum Design GmbH that recognizes design excellence
–

Brochures and catalogues: 4-way Cassette (DC)

Catalogues, brochures and other documentation. If you need any more information, please get in touch.