–

Advanced-Color controller PC-ARFG1-*

With an award-winning ergonomic design, the Advanced-Color Controller is the most complete controller of its kind, enabling thorough customization of indoor comfort. Professionals can also benefit from faster equipment configuration via the airCloud Tap mobile app, which allows installation & commissioning settings to be programmed from their smartphone using NFC technology.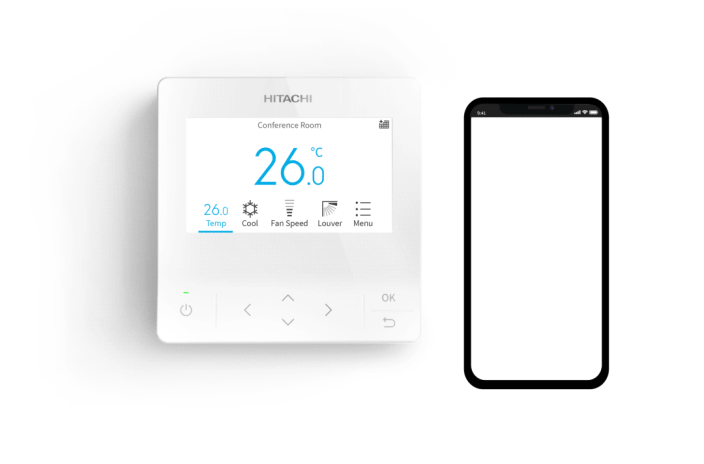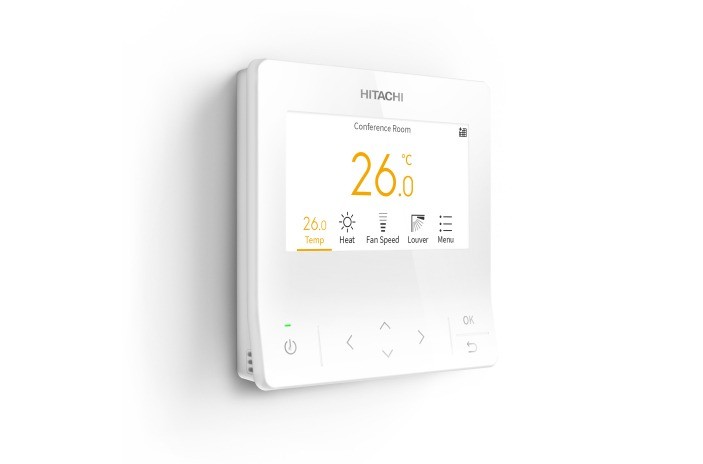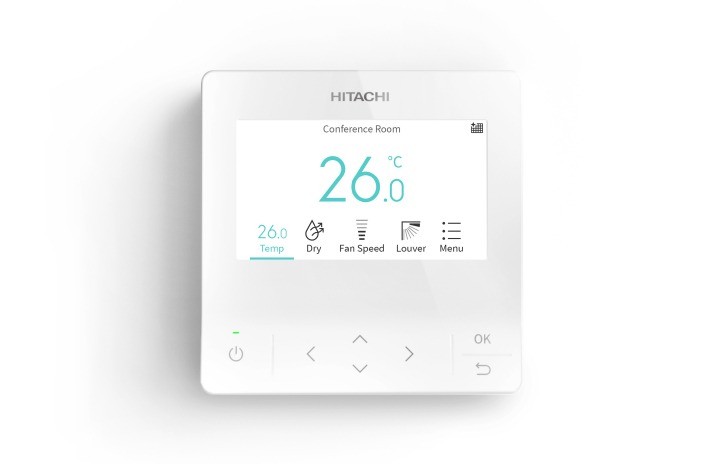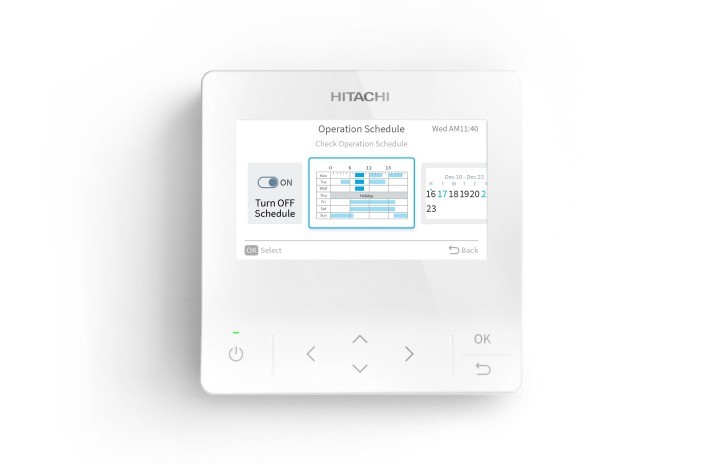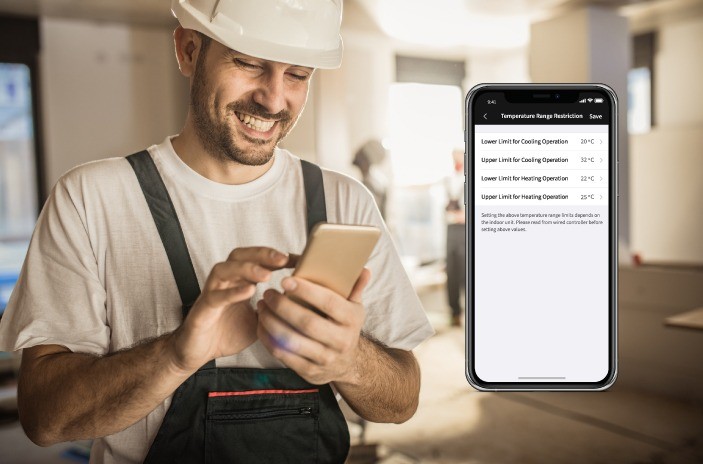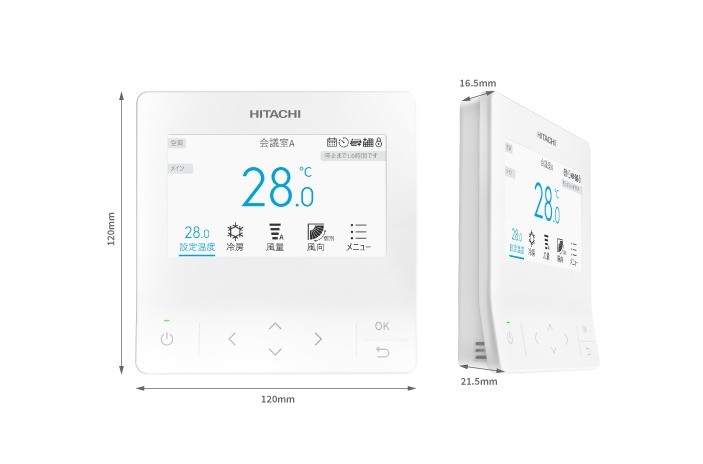 Our most complete award-winning controller, coming with contactless settings via smartphone airCloud Tap app (NFC technology).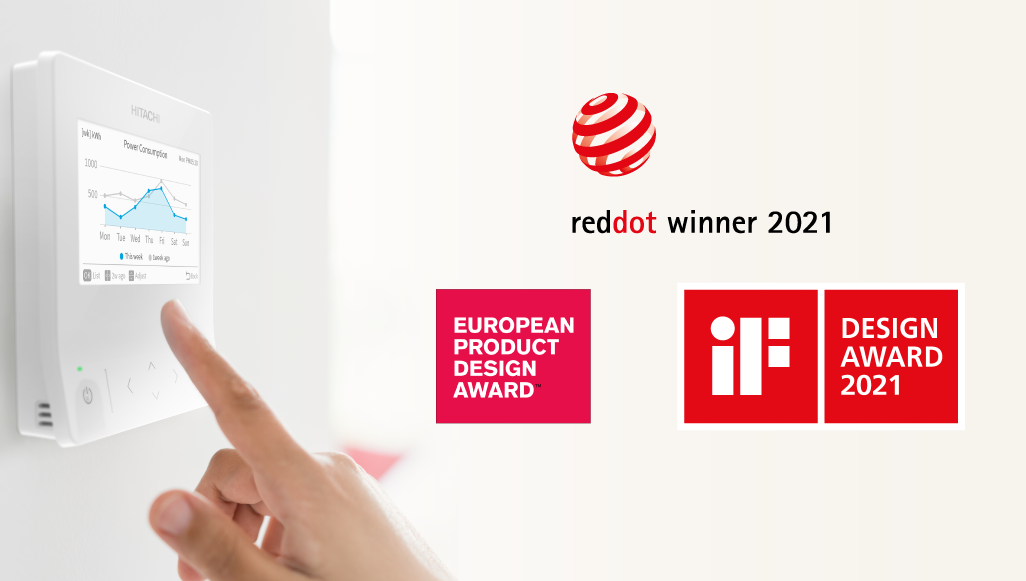 –

Award-winning design

Combining the best of form and function, this premium room controller is the recipient of numerous design awards including IF Design award, RedDot winner, European Design Award, Australia Good Design, USA Good Design Award.

The curved control surface helps to avoid accidentally double-tapping buttons.

The pearl white casing offers a premium look, designed to blend into any indoor environment.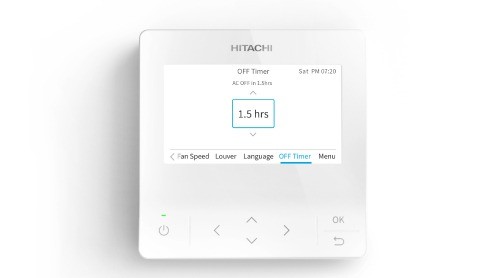 –

Super intuitive

The 4.3 inch large screen includes 5 colors, each reflecting the on-going operation mode of your indoor unit (cool/heat/auto/dry/fan).

Along with modern pictograms and various diagrams, users can easily visualize every feature. The control menu has been simplified for more intuitive navigation.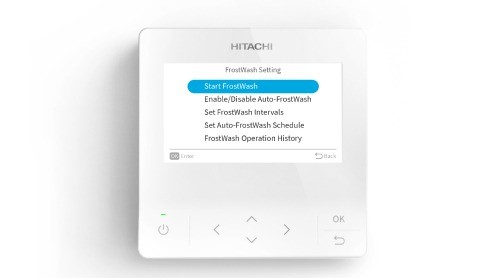 –

Total control over comfort & equipment

Beyong the usual air conditioning controls, the controller also gives access to complete customization features..:
● GentleCool limits the temperature of conditioned air, preventing cold drafts for optimal comfort.
● AutoBoost automatically activates for 30 minutes every time the AC is turned on, helping the room reach the desired temperature faster.
● Night Quiet operation (with schedulable option) reduces the noise level of the outdoor unit, to prevent disturbance to the neighbourhood
● FrostWash exclusive self-cleaning technology freezes and washes away dust and dirt inside the heat exchanger of connected indoor units [1]

[1] Available for selected indoor units when connected to single-module outdoor unit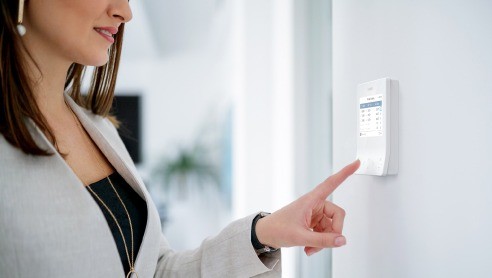 –

Flexible scheduling

Building managers can easily schedule the air conditioning based on the building's opening hours. Access a calendar view and up to 5 schedule slots per day of the week.

Plan up to 7 days ahead for holidays settings, enabling a different temporary operation schedule to be put in place when the building is not in normal use.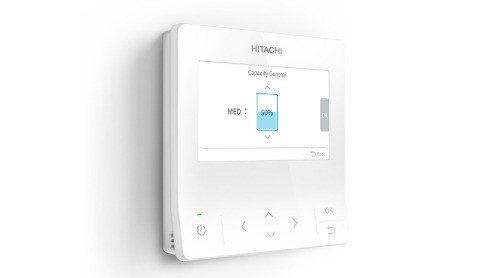 –

Monitor the power consumption

Automatically schedule power-saving mode during peak energy pricing hours, enabling lower energy bills.

Building managers can also visualize the estimated energy consumption of the controlled indoor units with daily, weekly or monthly comparison options.

To prevent excessive cooling/heating settings being enabled by room occupants, professionals can choose to restrict the range of the set temperature or lock certain settings. This is particularly useful for classrooms or places welcoming temporary visitors.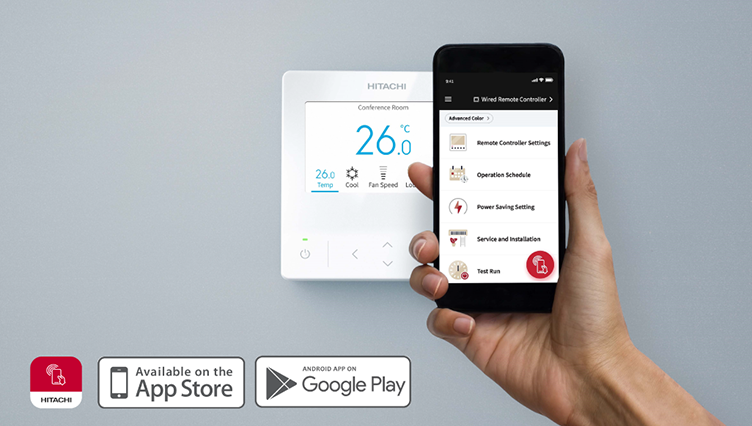 –

Configure settings faster using your smartphone

Access all controller settings via your mobile phone, for faster data entry during initial configuration and troubleshooting, or any time controller settings need to be modified.
Simply download our airCloud Tap mobile app and tap your phone with the Advanced-Color Controller using NFC (Near-Field Communication) for contactless settings.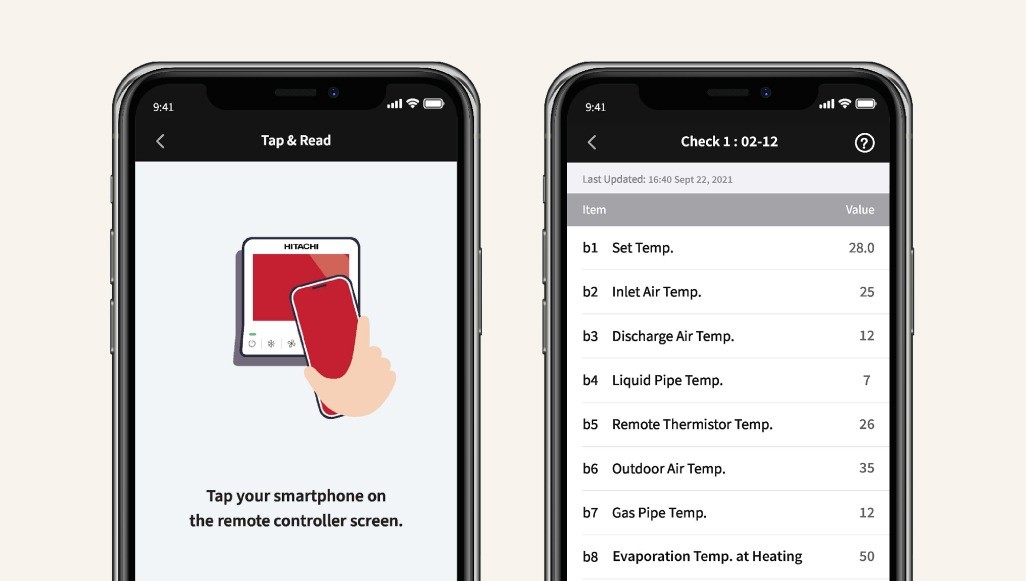 –

Greater convenience with airCloud Tap

The app offers illustrations, complete description text and rapid features browsing, saving significant time compared to manual settings via controller buttons.

Note: manual settings via the controller physical interface remain available as an alternative to airCloud Tap.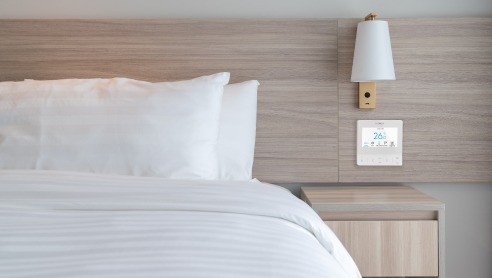 –

Special features for hotel guestrooms

The controller has been designed with hotel needs in mind:
● Dedicated Hotel Mode modifies the home screen to enable instant access to the functions demanded most by hotel guests (temperature settings, language change... etc), hiding the advanced control menu. At guest check-out, housekeeping can reset the controller to initial settings in one touch.
● When interlocked with hotel key cards, the energy-saving setback temperature is automatically activated when guests leave the room. The setback temperature can be configured to protect the room from excessive temperature fluctuations when empty, whilst still saving energy.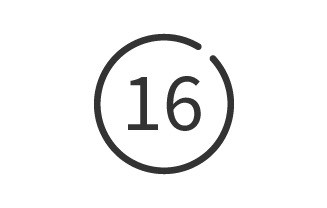 Up to 16 indoor units
The Advanced-Controller can connect up to 16 indoor units in one remote control group, ideal for simutaneous control of a large single zone.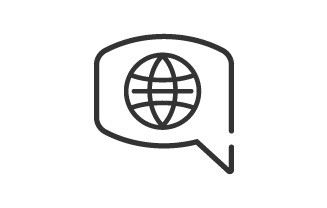 Multi-language interface
Available languages: Japanese, English, Chinese (Traditional & Simplified), French, Spanish, Portuguese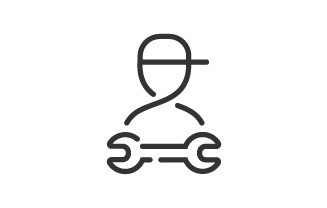 Dedicated menu for professionals
4-digit passcode to access the service & installation menu can be removed for a selectable time, ideal during commissioning and maintenance procedures.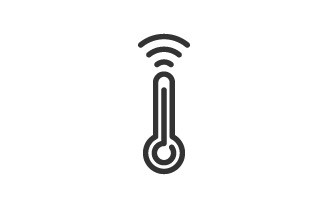 Adjustable room temperature sensing
For an accurate room temperature sensing, the controller lets you to choose between the thermostat inside the controller or those in the indoor unit(s), then to calibrate it for more optimization. The room temperature can be displayed on the screen.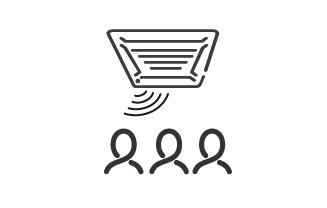 For indoor units with sensing features*
Access intelligent sensing features* via the Advanced-Color controller including:
> Choice of direct or indirect air flow
> FeetWarm & FloorSense Cool
> Crowd-Sense

*Confirm indoor unit model with sensing features.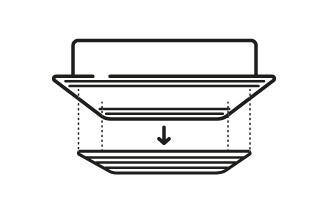 For cassette with elevating grille
In case of connection to a ceiling cassette with elevating grille option, the Advanced-Color controller is the right controller to activate the descent of the grille and ease the filter cleaning maintenance.

| | | |
| --- | --- | --- |
| NFC functionality | airCloud Tap | |
Hardware
Dimensions
Weight
Power supply
Installation Method
Installation conditions
Temperature Condition
Humidity Conditions
Communication
Communication Object
Communication Line
Communication Method
Synchronization Method
Communication Speed
Wiring Distance
Number of Connectable Units
Japanese, English, Chinese (Traditional), Chinese (Simplified), French, Spanish, Portuguese
Yes
W 120 × H 120* × D 16.5(thinnest part) (mm) W 120× H 120* × D 21.5(thickest part) (mm)
180g approx
Powered by indoor unit, 15V DC±10%
Installed on the wall or switch box
Indoor
0-40°C
35-90% (non condensation)
Indoor unit
Non-polar 2-wire
Half-duplex transmission
Asynchronous
9600bps
500m (total length) ▲Use twist pair cable
Up to 16 indoor units (with the same wired remote controller)
–

List of available setting by NFC per WRC model
–

Brochures and catalogues: Advanced-Color controller PC-ARFG1-*

Catalogues, brochures and other documentation. If you need any more information, please get in touch.

| | | |
| --- | --- | --- |
| NFC functionality | airCloud Tap | |
Hardware
Dimensions
Weight
Power supply
Installation Method
Installation conditions
Temperature Condition
Humidity Conditions
Communication
Communication Object
Communication Line
Communication Method
Synchronization Method
Communication Speed
Wiring Distance
Number of Connectable Units
Japanese, English, Chinese (Traditional), Chinese (Simplified), French, Spanish, Portuguese
Yes
W 120 × H 120* × D 16.5(thinnest part) (mm) W 120× H 120* × D 21.5(thickest part) (mm)
180g approx
Powered by indoor unit, 15V DC±10%
Installed on the wall or switch box
Indoor
0-40°C
35-90% (non condensation)
Indoor unit
Non-polar 2-wire
Half-duplex transmission
Asynchronous
9600bps
500m (total length) ▲Use twist pair cable
Up to 16 indoor units (with the same wired remote controller)
–

List of available setting by NFC per WRC model