–

air365 Max (Heat Recovery type)
Modular Top Flow High Efficiency Heat Recovery VRF
–

air365 Max (Heat Recovery type)
Modular Top Flow High Efficiency Heat Recovery VRF
air365 Max, in its heat recovery configuration, is an end-to-end VRF solution designed for buildings with highly variable internal temperatures, providing simultaneous cooling and heating for greater comfort and reduced energy costs year-round.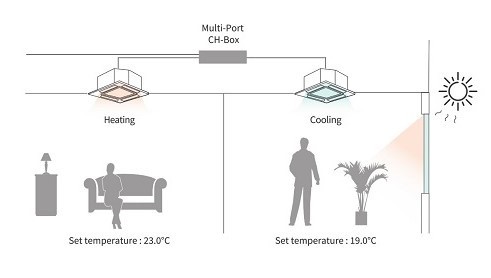 –

Heat Recovery operation

Heat Recovery type VRF systems use a three-pipe configuration suitable for both ducted and non-ducted applications. They achieve simultaneous heating and cooling by transferring excess heated or cooled air between zones, offering several benef


Enhanced Energy Efficiency: Heat Recovery improves energy efficiency by redistributing excess heated or cooled air to zones requiring additional cooling or heating.


Consistent Zone Temperatures: This system ensures a consistently comfortable temperature in each zone by seamlessly switching between cooling and heating modes.


Flexible Cooling Solutions: You can employ a cooling-only indoor unit without requiring a CH-Box, making it ideal for smaller room for a network server unit.


Hot-Water Generation: The system can utilize excess heat to generate hot water through Hydro Free VRF indoor unit, all year around.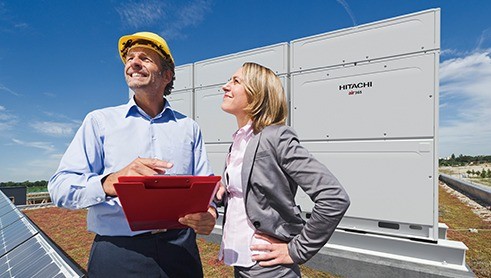 –

Best in class HVAC efficiency

Offers significant improvements in energy consumption thanks to the high Cooling EER up to 5.50 and Heating COP up to 5.12. As VRF systems operate most of the time under part load conditions, (at 50% or less of full capacity), air365 Max features SmoothDrive 2.0. This unique technology controls the output of by precisely controlling the compressor speed and measuring the gap in room vs set temperature with an accuracy of 0.1C. This reduces wear and tear on the compressor by reducing compressor start/stop events, improves temperature stability, and reduces energy consumption at part load by up to 39% (1).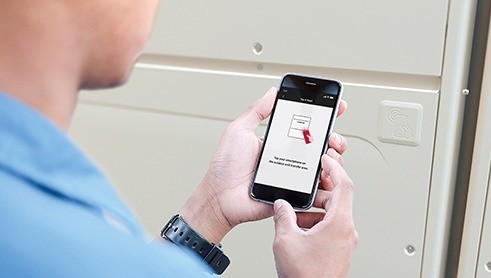 –

VRF that is easy to work with

A complete solution that saves time and money at every stage of your project, from Design to Maintenance. Our complete ecosystem of indoor & outdoor units, smart apps and hardware features work together as a complete solution.
Highlights include…
- Design VRF systems using fewer outdoor units with single unit capacity up to 28HP (maximum combination up to 112HP) and 200% indoor unit connection capacity
- Engineers can configure VRF outdoor units up to 4X faster using the airCloud Tap application(2). Simply tap a smart phone near an outdoor unit or wired controller to access more than 200 setting parameters via NFC. For complex installations settings may be copy-pasted to multiple units in just a few clicks.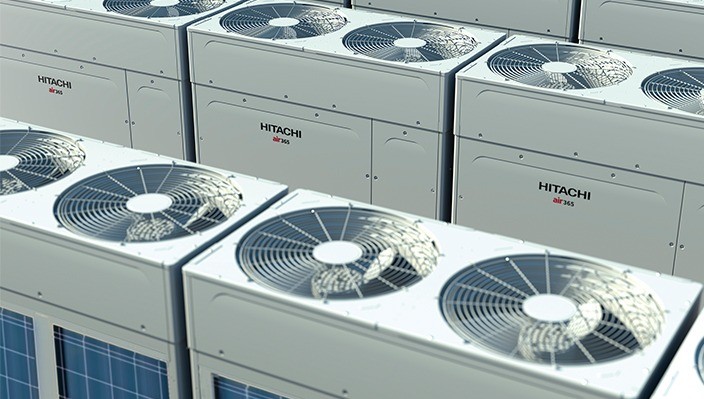 –

Seamless comfort

Seamless comfort for building occupants, anytime, anywhere, addressing common HVAC challenges like temperature fluctuations and direct airflow issues:


Auto changeover ensures consistent comfort, regardless of external conditions or changes in occupancy.


Maintains steady indoor temperatures, even during part-load operation with SmoothDrive 2.0.


Incorporates pioneering technologies like GentleCool and CrowdSense for enhanced occupant well-being.


Outdoor unit designed with neighborhood comfort in mind, averaging 3dB(A) lower noise output during Night Shift mode.


Elevate indoor air quality affordably with our IAQ solutions, featuring ViroSense filters and the AQtiv-Ion ionizer kit.


–

Brochures and catalogues: air365 Max (Heat Recovery type)

Catalogues, brochures and other documentation. If you need any more information, please get in touch.
–

Notes:

[1] (at Cooling Operation, Load Factor: Approx. 33%). Without SmoothDrive; average power consumption 2.46kW. With SmoothDrive; average power consumption 1.49kW. VRF ODU:(RAS-AP280DG3 = RAS-10FSNS). VRF IDU: 4-way cassette indoor units (RCI-AP140K5 = RCI-5.0FSRP). Indoor Unit Inlet Temperature: 27°C (Dry Bulb) / 19°C (Wet Bulb). Ambient Temperature at Air Volume "High": 23°C (Dry Bulb). Piping Length between Indoor Unit and Outdoor Unit: 15m. Testing Location: Environment Testing Facility at Kansai Denryoku

[2] Conventional way to open and close the cover and manipulate dip/power switch takes 40min 40sec. By using airCloud Tap without opening the cabinets: takes 9min 40 sec. [Simulation scenario] total 4 ODUs initial setting. total 5 items setup; ODU number, Refrigerant cycle number, Higher ESP setting, Power Supply setting, and Compressor manual-off setting.