–

Set Free Mini (Efficiency type)
Mini Side Flow High Efficiency Heat Pump VRF
–

Set Free Mini (Efficiency type)
Mini Side Flow High Efficiency Heat Pump VRF
With enhanced design and performance, Hitachi meets the requirements of buildings when it comes to scale and construction spaces, as well as heating, ventilation, and air-conditioning needs. The path to a comfortable and energy-efficient life begins with the mini VRF, SET FREE mini.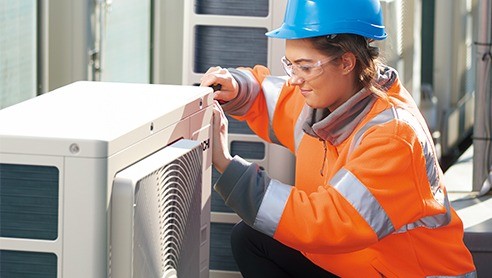 –

Compact VRF with large nominal cooling capacity

Because of the large capacity of the outdoor unit, it is possible to install a whole range of indoor units in various rooms using one outdoor unit. The largest outdoor unit has an amazing 33.5kW nominal cooling capacity.
Plus, it offers a higher degree of freedom in HVAC system installation since the HNRQ Series adopts a more compact outdoor unit compared to the top-blowing type large capacity outdoor unit.
SET FREE mini VRF outdoor units incorporates advanced features to ensure a more peaceful environment with less disturbance to the outside environment.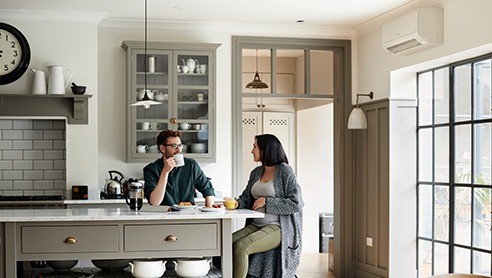 –

Energy-saving design with high performance

The SET FREE Mini (HNRQ series) offers better energy-saving results with newly improved indoor and outdoor AC units and control systems.
» DRED - Demand Response Enabling Device Ability
» Higher performance in both EER and COP
» Low Standby Power Consumption design
These energy-efficient VRF units have excellent environmental credentials, with energy efficiency ratios (EER) of up to 4.50 and COPs of up to 4.59, for the highest-performing models.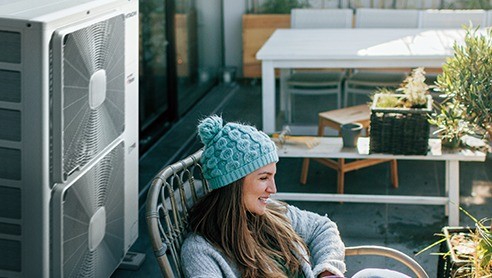 –

Inverter driver with improved heating capability

The inverter driver features a superior fresh air intake and trapezoid heat sink design, improving heat emission and stabilizing operation in high ambient conditions up to 52.0°C for cooling.
The remarkable 3-row coil design and larger coil area enhance the heating capability, enabling operation in cold regions with ambient temperatures as low as -20.0°C, and are available in 3/3.5/6/6.5/10/11/12 HP classes.
–

Brochures and catalogues: Set Free Mini (Efficiency type)

Catalogues, brochures and other documentation. If you need any more information, please get in touch.