–

Wall Mounted
VRF Wall Mounted Unit
–

Wall Mounted
VRF Wall Mounted Unit
The wall-mounted VRF indoor unit has a slim, low-profile design that blends into any interior. Available in two sizes, from 0.6 to 4.0 HP, it is suitable for residences, small offices, hotel rooms, or hospital rooms where a simple yet effective heating and cooling solution is required.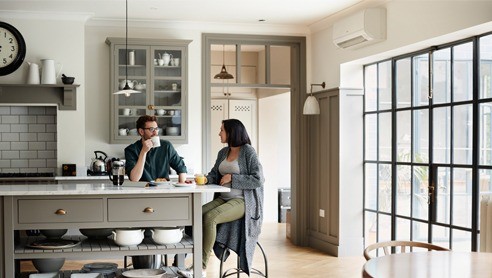 –

VRF HVAC System with full comfort features

- Hitachi's wall-mounted HVAC system air outlet is equipped with an auto-louvre that can automatically control the airflow to blow downwards or horizontally.
- Our proprietary comfort feature, GentleCool, is also available, which prevents cold drafts by allowing users to set their preferred air temperature instead of room temperature.
- An external expansion-valve type (available from 0.6 to 1.5HP) is also available to meet the need for a more peaceful indoor environment, such as in hotel guest rooms."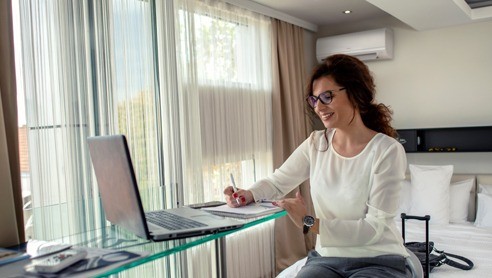 –

VRF wall unit installation made easy

- Optional drain condensate pump kit with a 1000mm lift: Even under tough installation conditions, the DC motor pump with a 1000mm lift from a false dropped ceiling surface allows for easier installation of the condensate piping. Condensate drain piping can be installed on both the left and right sides as desired.
- Piping can be extracted from six different directions (right side, left side, right bottom, left bottom, right rear side, and left rear side), providing flexibility in the installation at the site.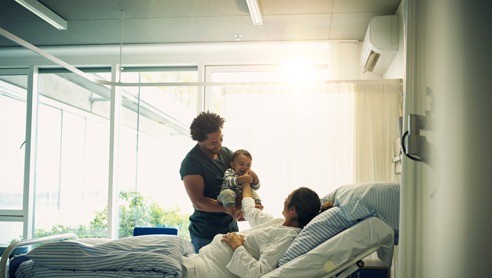 –

Indoor VRF system for an efficient performance

- Interlock the unit with a hotel key card to activate Setback mode and set an eco temperature during room vacancy. This SETBACK mode is specially designed for hotel air conditioning applications and helps the hotel owner save energy while ensuring guest comfort.
- Compatible with outdoor unit capacity control feature. You have two options for energy-saving operation: peak cut control, where you set a limit on the power consumption range, and moderate control, which keeps power consumption within a proper range (40-90%).
–

Brochures and catalogues: Wall Mounted

Catalogues, brochures and other documentation. If you need any more information, please get in touch.