–

Airside Systems

Hitachi offers airside solutions for buildings where air treatment and purification is required or chiller-conditioned air needs to be distributed.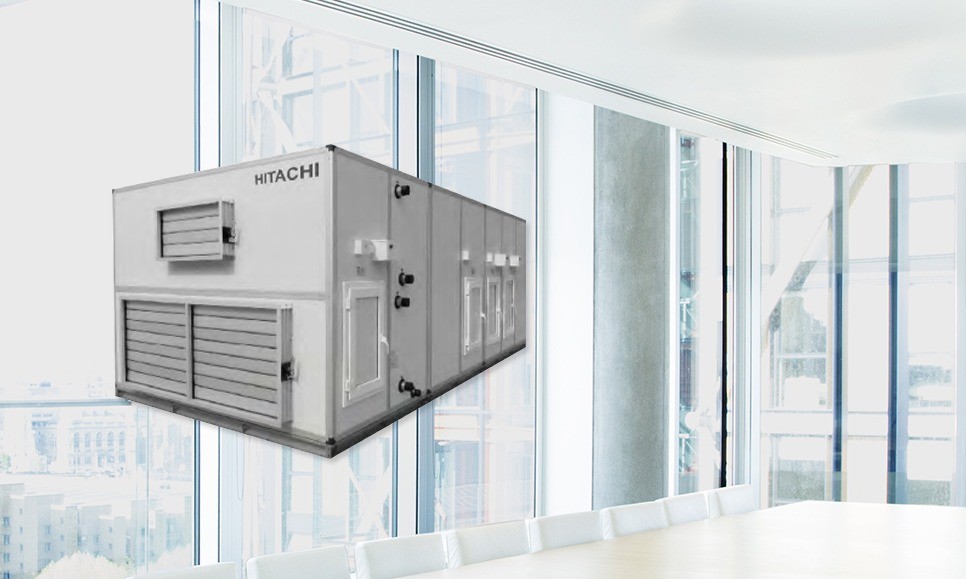 What is it
Fan coils use a fan to blow air over integrated water coils and can be used for cooling and heating.
Types
Cassette
Ceiling concealed
Cabinet
Functionality
Cooling and Heating
Precise indoor climate control for individual rooms.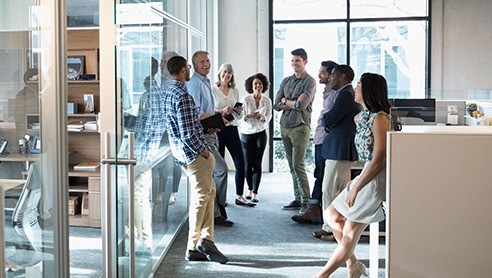 –

Improve indoor air quality and distribution

Hitachi airside solutions include modular air handling units that can be configured for different indoor air quality requirements, plus a range of efficient fan coils to quickly heat or cool spaces of different sizes.

Fan coils use a fan to blow air over integrated water coils which are connected to a chiller, and can be used for cooling and heating (with a compatible Chiller that supports heating operation). Hitachi fan coil units come in a variety of sizes and formats including cassette, ducted, ceiling suspended and wall mounted.

Air Handling Units come in a wide variety of sizes with different modules to enable air treatment and purification. They are normally connected to ductwork to distribute the treated air around a building.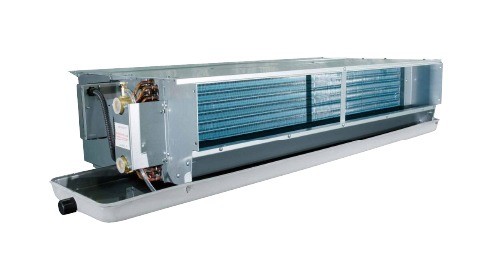 –

Ceiling Concealed Fan Coil Units

Ceiling Concealed have an ultra-thin structure to meet almost any space limitation with unit height starting from just 243mm. Multiple ESP (external static pressure) choices: 12pa, 30pa, 50pa and a choice of capacities from 2.43-14.34kW (cooling) and 3.95-22.91kW (heating with air volume ranging from 340m3/h to 2380m3/h. Both 2-pipe and 4-pipe models available; a Hitachi reversible chiller with 2-pipe fan coil units are a cost-efficient solution for seasonal cooling and heating, while for simultaneous cooling and heating in mid-season or larger, well-insulated buildings, 4-pipe systems are recommended.

In such cases, a Hitachi chiller and boiler or multiple Hitachi reversible chillers with 4-pipe fan coil units are advised. The air return box comes with a heat recovery function that allows for the recovery of indoor return air, resulting in reduced energy consumption.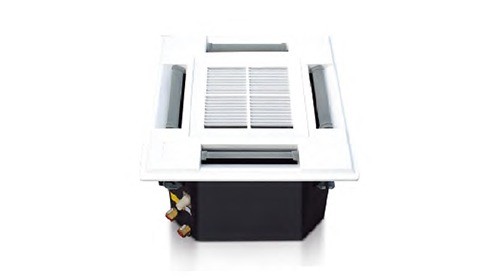 –

Cassette Fan Coils Units

Cassette for mounting in a ceiling at the centre of a room allowing for four-way air distribution with 3 levels of of airflow adjustment. Suitable for 2-pipe systems and available in a range of capacity from cooling 2-15.3kW (heating 2.8-23.7kW) with air volume ranging from 340m3/h to 2380m3/h.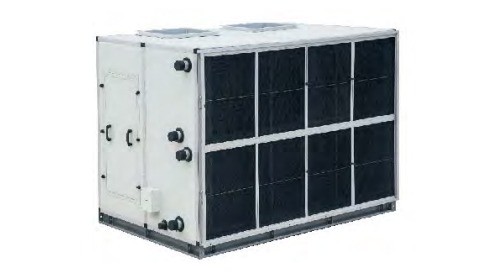 –

Cabinet Fan Coils

Cabinet Fan Coils for installation on the floor or suspended in the ceiling. 4 types of cabinet are available; KWG Series wardrobe cabinets, KLG Series floor-standing cabinets, KDG Series standard suspended ceiling cabinets, and KBG Series slim suspended ceiling cabinets. These cabinets offer a very wide range of airflow volume ranges from 1000-50000m3/h with cooling capacity ranges from 6-795kW.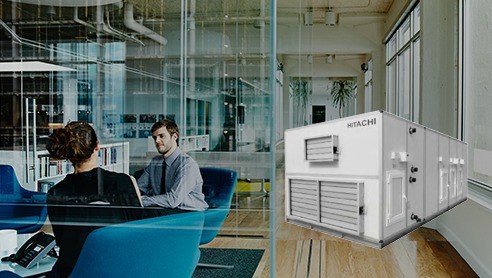 –

ZK Series Modular Air Handling Unit for flexible air quality solutions

ZK Series modular air handling units (AHUs) include a wide range of functions related to indoor air quality. They can process air volumes from 1000-250000m3/h with 42 standard specifications and thousands of possible combinations, making it suitable for applications including hotels, theaters, shopping malls, office buildings, as well as more specialist industry applications.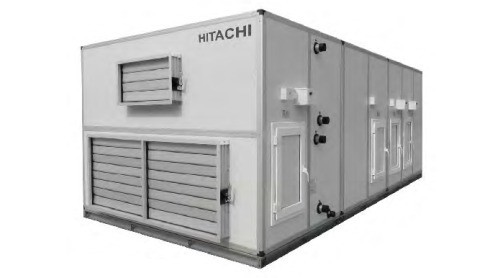 –

ZK Series Modular Air Handling Unit: Multiple functions

Multiple functions including a fresh air and return air mixing module that helps achieve heat recovery and increased energy efficiency, electronic purification module, exhaust air mixing module, humidification module, secondary return air module, silencing module, medium and high-efficiency filtration modules, sterilization module, and many more besides.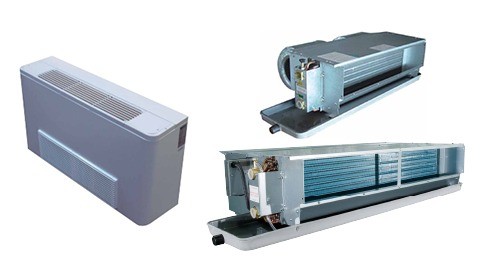 –

ZK Series Modular Air Handling Unit: Specialist unit combinations

Specialist unit combinations available to meet the needs of industries such as electronics, chemical, medical, pharmaceutical, tobacco, food, and general light industry.
–

ZK Series Modular Air Handling Unit: Easy delivery and installation

Units can be delivered to the site in disassembled parts for installation, which reduces the complexity of transportation and on-site hoisting of large air handling units, and allows for more flexible installation, even in restricted machine rooms.
–
See which Airside System matches your needs
–

Airside Systems for Commercial Spaces

With over 80 years of experience, we are confident that our range of cooling and heating solutions provides households and businesses with the leading climate control technology to create and maintain the perfect indoor environment. Meeting the evolving requirements of our clients means that we are constantly innovating our systems, resulting in a collection of elegant and efficient options that are designed to adapt to you and the spaces that they inhabit. We cater for all types of projects and offer an extensive range of solutions so that you can find the system right for the job.

To see our ranges of residential and commercial solutions, click here, and if you are interested in receiving more information from a professional installer, find your nearest one using our Partner Locator.