–

Yutaki Heat Pumps for your Home

Our range of Yutaki heat pumps provide you with efficient heating and hot water from renewable technologies
Energy efficient air source heat pump solutions
With the ever increasing awareness of climate change, Hitachi Cooling & Heating has launched a range of renewable heating and refreshing solutions for homes called Yutaki.
It's clear that our planet is changing and changes need to be made to the way we heat our homes. Our range of air to water pumps can provide that alternative.
With the support of government schemes, changes in the way we build homes and homeowners wanting a better solution to high fossil fuel prices, there is clearly a need for something different. Something renewable. With a variety of outputs and water temperatures the Yutaki range can provide the optimal solution no matter the type of property or heating emitters. Whether new build or renovation Hitachi Heating & Cooling's innovative aerothermal heat pump range is the perfect partner.
Hitachi Cooling & Heating has developed simple to install, simple to comission and most importantly simple to operate units that are of the highest quality, efficiency and have very low noise levels.
–

Air-to-Water Heat Pumps for Year-Round Comfort with Hitachi

Hitachi offers a comprehensive range of air-to-water solutions, including both regular and high-temperature heat pumps, monobloc heat pumps that don't require installation of indoor equipment, combi heat pumps that integrate a water storage tank, and hydro-split solutions designed especially for boiler technicians to install without needing to handle refrigerant.

Connect to existing or newly-installed under-floor heating and radiators to deliver heat, or use our range of fan coils for a year-round integrated heating and cooling solution.

Hitachi's complete portfolio is easy to integrate, set up and maintain, and offers remote management via a smartphone app.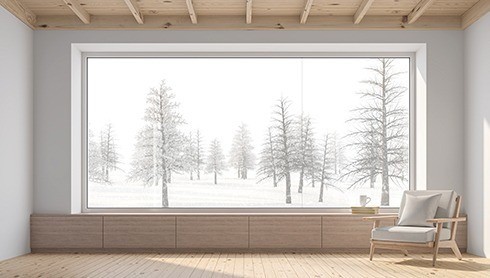 –

Hitachi's Air-to-Water Heat Pumps have a wider ambient operating temperature

Continued operation in the harshest of winters, supporting hot water outlet temperatures of 52°C in outdoor temperatures down to -25°C, or maintaining 60°C hot water output in conditions as low as -10°C. High-temperature heat pump models can maintain 80°C hot water output in ambient conditions down to -20°C.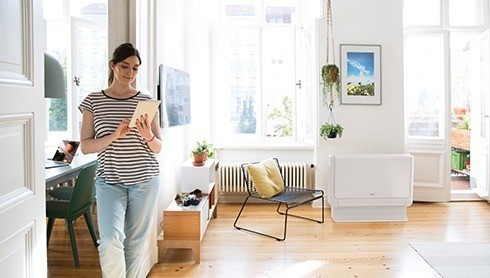 –

Efficient space heating & cooling with fan coil units

Homes without existing pipework or underfloor heating, or where it may be difficult to install underfloor heating, can deliver space heating and cooling through our range of fan coil units which blow air over water pipes. Unlike radiators they can be used for both cooling and heating and are effective for heating without need for a high-temperature heat pump.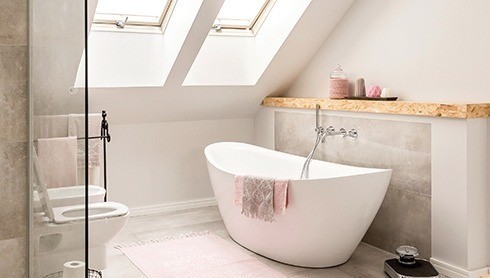 –

Just 3hrs to heat a full tank of water

One of the fastest water heaters on the market - heat a complete tank of water at up to 55°C (75°C with electrical back-up) in just 3hrs[1]. Supports water output temperatures from 30- 75°C.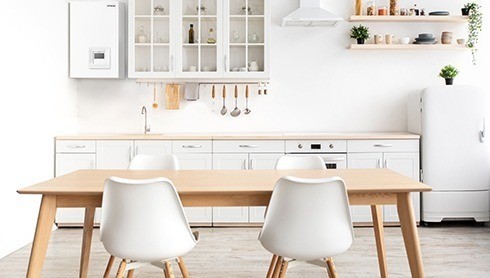 –

Silent and compact designs that fit in a standard kitchen cupboard

Our portfolio includes hot water tanks that operate silently and are only 60cm wide, enabling placement in a standard kitchen cabinet.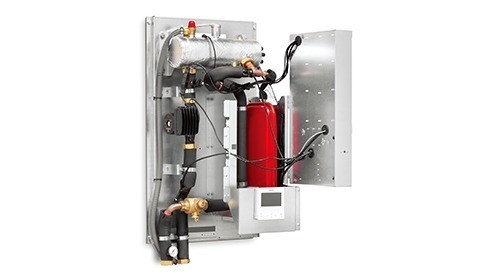 –

Easy installation & maintenance access with simplified pipe layout

The filter valve allows quick cleaning without draining the installation. All the water and refrigerant piping connections are perfectly aligned in the upper section, while most components can be accessed from the front.
–
Explore our range of Yutaki heat pumps
–

Hitachi Air to Water Heat Pumps for Residential Spaces

Our range of air to water heat pump solutions provide households with the leading climate control technology to create and maintain the perfect indoor environment. Our advanced Yutaki solutions for home heating offer the versatility that each project requires, as well as unbeatable efficiency and reliability. Our collection of elegant and efficient options are designed to adapt to you and the spaces that they inhabit.

To see more of our ranges, click here, or find your nearest installer by using our Partner Locator.
FAQ
What is an aerothermal heat pump?
Air-to-water heat pumps are a renewable, low-carbon way of heating your home. They can substantially reduce your carbon footprint as well as significantly reduce energy bills.
How does an air to water heat pump work?
A heat pump takes energy from the outside air, even at very low temperatures, and transfers it into heat that is then circulated around a heating and hot water circuit. A heat pump uses electricity to power a compressor that boosts the temperature of the water so that is hot enough to warm your home through under-floor heating or radiators as well as fulfill your hot water needs.
What are the main benefits of heating with heat pumps?
Heat pumps extract up to 70% of their energy freely from the air meaning they only use a fraction of the electricity other systems use.
Heat pumps are up to 500% efficient, compared to a traditional boiler that is 92% efficient, so significant energy savings are made which reduces energy bills.
Heat pumps are a renewable energy source so are a great option for households looking to reduce their carbon footprint.
Ideal for off-gas areas as users will see considerable running cost savings against oil boilers.
Heat pumps don't use any fossil fuels or generate any fumes so won't affect the air quality in the local area.
Maintenance is simple and low cost
What size air source heat pump do I need for my house?
It depends on the difference between the outside temperature and the water temperature required to heat the house. A heat pump will use more electricity the bigger the gap between the outside temperature and the water temperature needed to heat the home. It will always be more efficient to use the lowest flow temperature possible as this reduces this difference. Contact an installer and get further information.
Can a heat pump heat a whole house?
Heat pumps are designed to cover the full thermal requirements of your home at a design temperature that is unique to the geographical area you live in. This will ensure that even in the coldest winters the heat pump will ensure the comfort of all occupants. Heat pumps can continue to provide their full capacity even at temperatures as low as -20c.