–

Air Conditioning for Home

Hitachi Cooling & Heating split and multi-split air conditioners create indoor environments that are comfortable and efficient all year round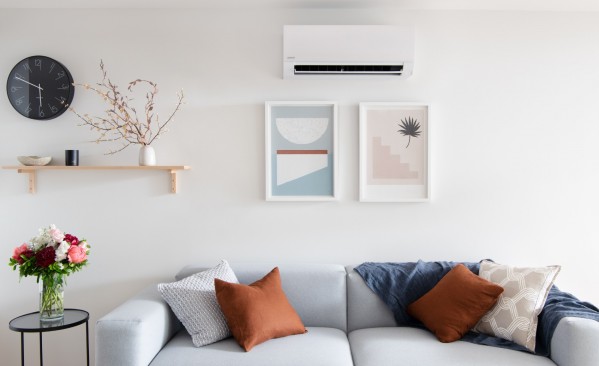 Premium residential air conditioning
Hitachi Cooling & Heating's split and multi-split home solutions use the latest climate control technology to improve the quality of the air you breathe.
Our advanced AC systems make it easier to maintain a healthier indoor atmosphere, and intuitive climate control settings keep your home as comfortable as it is energy efficient.
To increase efficiency, innovative functions like Powerful Mode and Sleep Mode respond to your activity, and a selection of preloaded modes make it easy to customise the air around you and suit the needs of all. Even when on the move, stay in control of your home's air conditioning unit via our specialised series of apps that make remote management simple.
We understand that every household has a unique set of requirements, and our range of residential air conditioning systems has a solution suitable for each home: Whether heating, cooling or dehumidification choose from our modern wall-mounted, console, cassette or ducted systems. Also, discover features such as Frostwash that can reduce bacteria and mould in the air by up to 91% and 87%* respectively, which provide you with a cleaner atmosphere.
All Hitachi Cooling & Heating air conditioning units and systems are built to the highest standards to minimise any inconveniences, so nothing stops you from enjoying the ideal indoor climate throughout the year.
Used model: RAK-35RPE / RAC-35WPE
*Tested by Kitasato Research Center of Environmental Science.
Test No. 2019_0154: Reduction effects of Bacteria and Mold were observed by operating Frost Wash once.
–
Choose your Hitachi Cooling & Heating air conditioner
–

Hitachi Air Conditioners for Residential Spaces

With over 80 years of experience, we are confident that our range of cooling and heating solutions provides households and businesses with the leading climate control technology to create and maintain the perfect indoor environment. Meeting the evolving requirements of our clients means that we are constantly innovating our systems, resulting in a collection of elegant and efficient AC options that are designed to adapt to you and the spaces that they inhabit. We cater for all types of homes, including detached houses, semi-detached, flats and apartments, lofts and attics, as well as for specific spaces like garages, workshops, home offices and more. Select from wall-mounted, ducted-concealed style and ceiling cassette units, all of which are designed with your comfort in mind.

To see more of our products click here, and if you are interested in receiving more information from a professional installer, find your nearest one using our Partner Locator.