–

SET FREE SIGMA

Flexible climate control for large-scale projects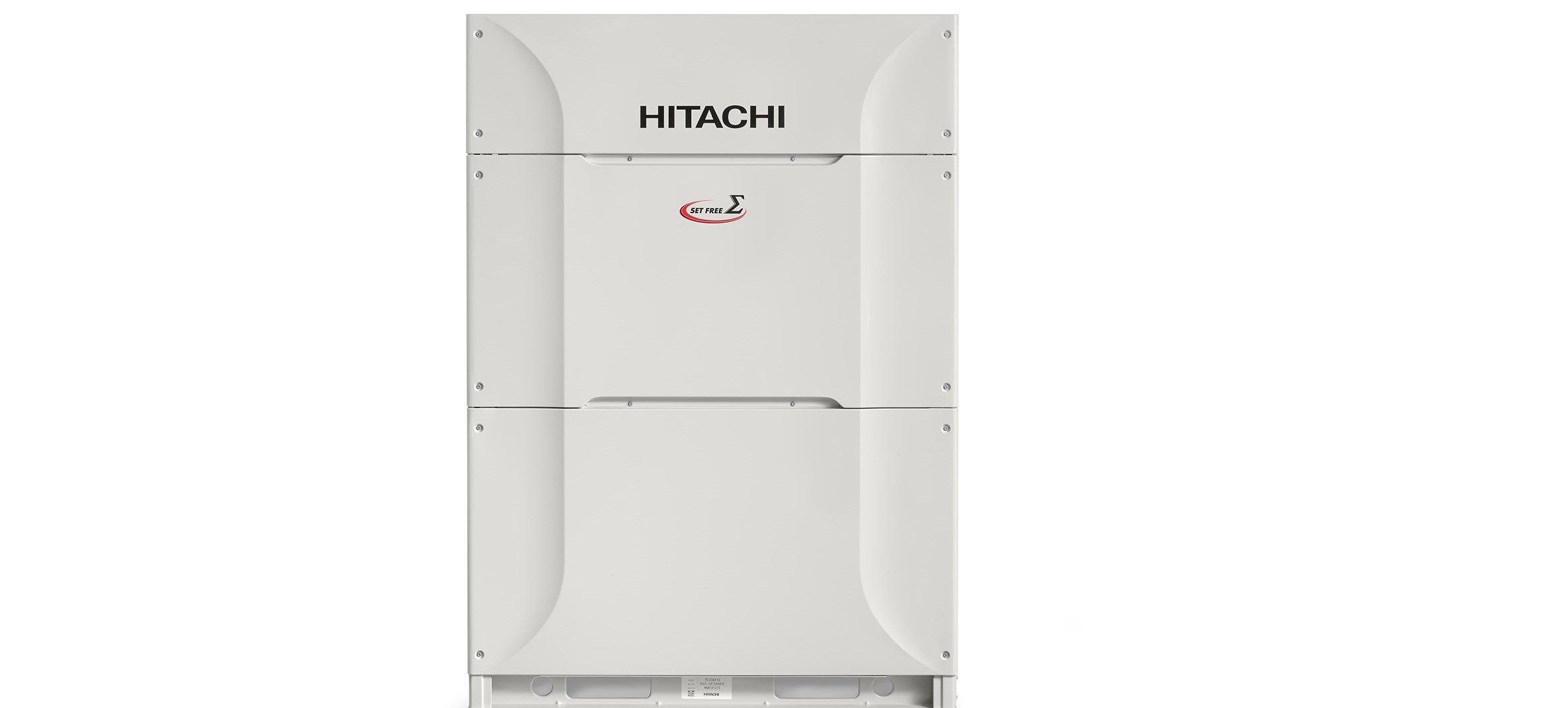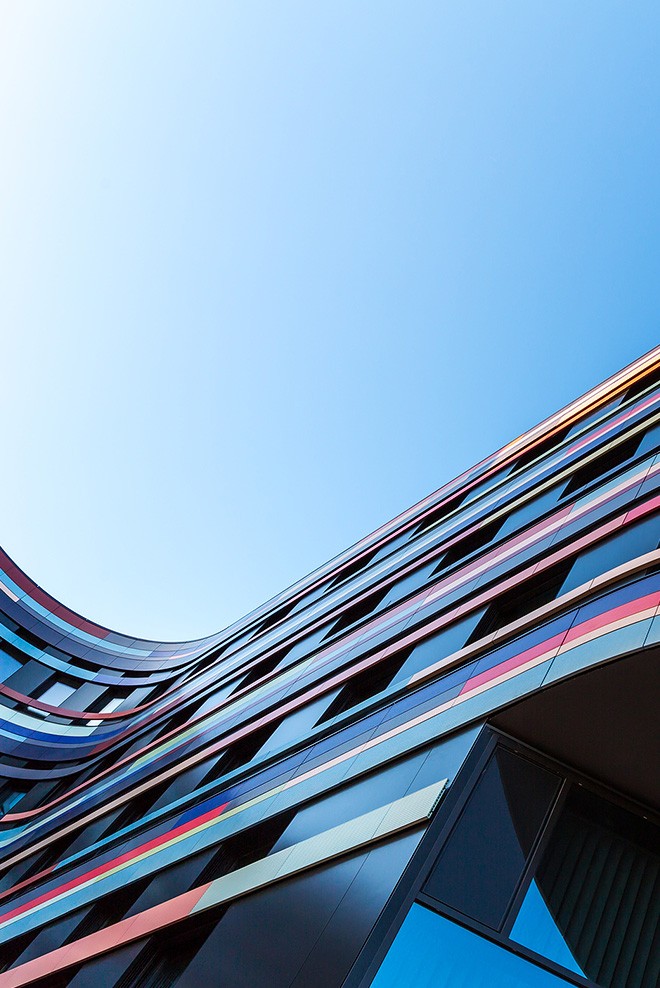 –

Energy efficiency and comfort

These energy-efficient units have excellent environmental credentials, with seasonal efficiency ratios (SEER) of up to 8.33 and (SCOP) 5.06 for the highest performing models.

All Hitachi's units exceed effiency requirements of Ecodesign Drirective (2009/125/EC) and our High Efficiency models deliver a sustainaible climate control solution with heat recovery units offering individual comfort control across sites.
–

Flexible installation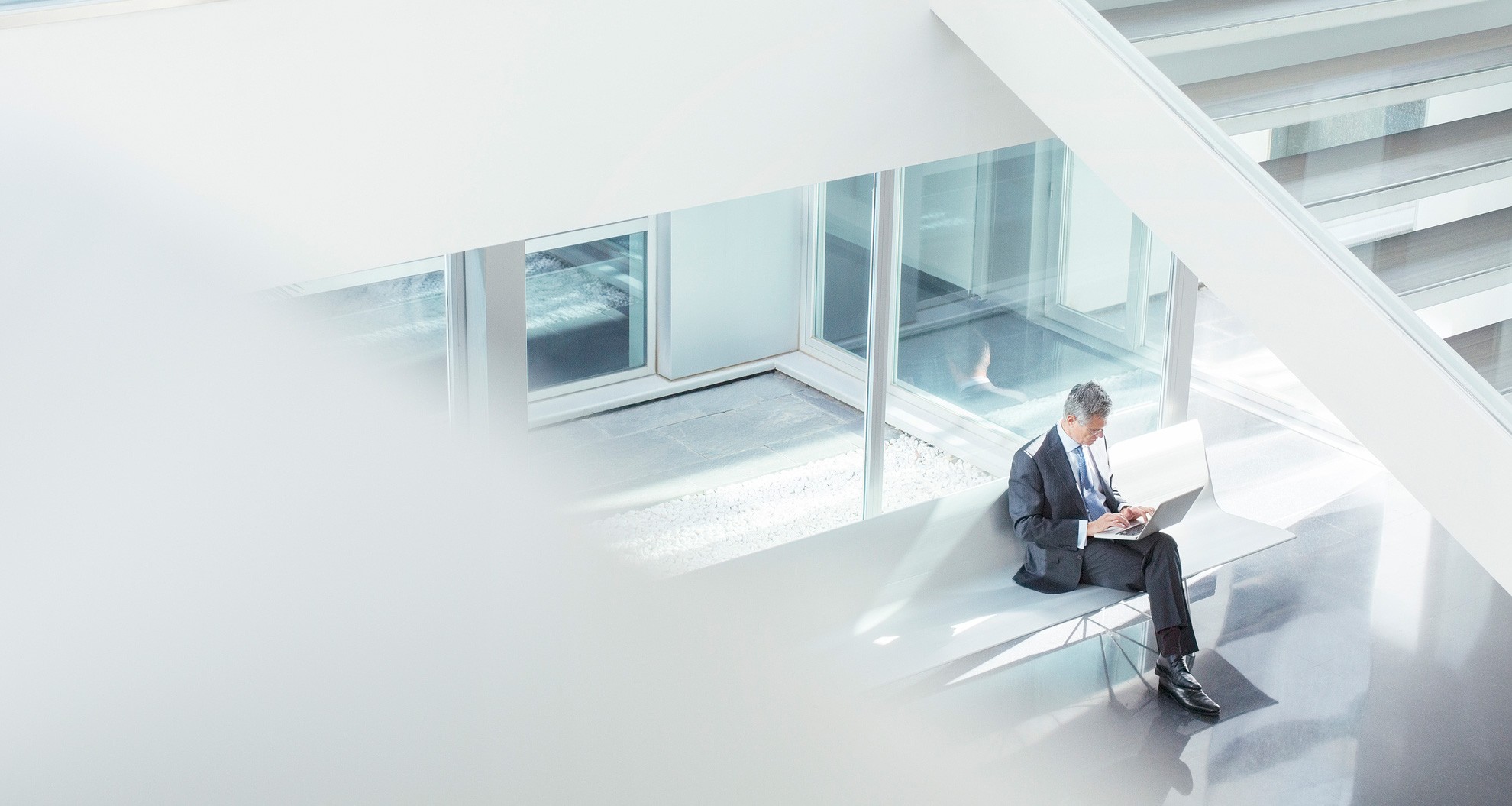 –

Compact and quiet

With single module units up to 24hp Hitachi delivers market leading power to footprint ratio, and the lightweight, compact units can be installed without a crane.

The large range of single module condensers combined with the market's smallest 0.4hp indoor units means Hitachi can deliver the quietest systems with the lowest refrigerant charge available.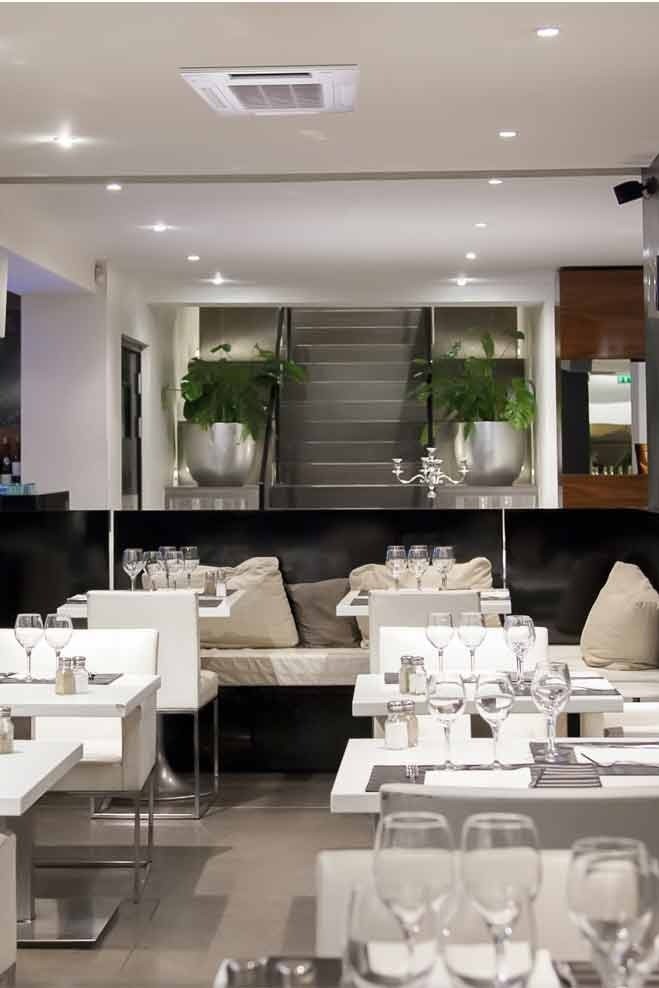 –

Perfect comfort for every user

Hitachi exclusive GENTLECOOL feature enables every occupant to customise their own air off temperature control for unparalleled comfort and user productivity. Individual air off control can be set differently for every fan coil even on the same system, unlike most market offerings which set the air off control for the whole system. Actionable from both central controls and local wall mounted control means complaints about cold drafts will be a thing of the past.

Smooth Drive Control increases performance at low load by operating down to 10% of system capacity with 0.1hz incremental control of the compressor. This ensures temperatures within conditioned spaces stay at the desired set point and units don't cycle on and off yielding a 39% reduction in power consumption and reducing stress on the compressor for enhanced longevity and reliability.
–

High Efficiency Outdoor Unit
Standard Outdoor Unit
| RAS-8FSXNSE | RAS-10FSXNSE | RAS-12FSXNSE | RAS-14FSXNSE | RAS-16FSXNSE | RAS-18FSXNSE | RAS-20FSXNSE | RAS-22FSXNSE | RAS-24FSXNSE | RAS 26FSXNSE | RAS 28FSXNSE | RAS 30FSXNSE | RAS 32FSXNSE | RAS 34FSXNSE | RAS 36FSXNSE | RAS 38FSXNSE | RAS 40FSXNSE | RAS 42FSXNSE | RAS 44FSXNSE | RAS 46FSXNSE | RAS 48FSXNSE | RAS 50FSXNSE | RAS 52FSXNSE | RAS 54FSXNSE |
| --- | --- | --- | --- | --- | --- | --- | --- | --- | --- | --- | --- | --- | --- | --- | --- | --- | --- | --- | --- | --- | --- | --- | --- |

| | | |
| --- | --- | --- |
| Nominal Cooling capacity | | kW |
| | | |
| --- | --- | --- |
| Nominal Heating capacity | | kW |
| | | |
| --- | --- | --- |
| Power consumption | Cooling | |
| | | |
| --- | --- | --- |
| Power consumption | Heating | |
Operating range
Cooling
C°
Heating
C°
| | | |
| --- | --- | --- |
| External static pressure | | Pa |
| | | |
| --- | --- | --- |
| Sound pressure level | | dB(A) |
Refrigerant pipe size **
Liquid
mm (Inch)
Gas Low
mm (Inch)
Gas High
mm (Inch)
| | | |
| --- | --- | --- |
| Maximum operating current | | A |
3-ph, 400 V, 50Hz
22.4
25
5.3975903614458
5.2631578947368
4.15
4.75
7.5
4.17
-10 ̴ + 48
-20 ̴ + 15
165
80
1
80
58
1725x959x784
210
1
26
R410A
5
9.52 (3/8)
19.05 (3/4)
15.88 (5/8)
15.5
3-ph, 400 V, 50Hz
28
31.5
7.2727272727273
6.8927789934354
3.85
4.57
7.17
4.11
-10 ̴ + 48
-20 ̴ + 15
170
80
1
82
60
1725x959x784
210
1
32
R410A
5
9.52 (3/8)
22.2 (7/8)
19.05 (3/4)
21.5
3-ph, 400 V, 50Hz
33.5
37.5
8.8859416445623
9.1463414634146
3.77
4.1
6.97
4.29
-10 ̴ + 48
-20 ̴ + 15
190
80
1
82
59
1725x959x784
233
1
39
R410A
7.2
12.7 (1/2)
28.58 (1' 1/8)
22.2 (7/8)
24
3-ph, 400 V, 50Hz
40
45
12.121212121212
12.032085561497
3.3
3.74
7.47
4.48
-10 ̴ + 48
-20 ̴ + 15
239
80
2
85
63
1725x1219x784
289
1
45
R410A
8.9
12.7 (1/2)
28.58 (1' 1/8)
22.2 (7/8)
29.5
3-ph, 400 V, 50Hz
45
50
13.846153846154
14.836795252226
3.25
3.37
7.3
4.42
-10 ̴ + 48
-20 ̴ + 15
256
80
2
85
63
1725x1219x784
332
2
52
R410A
9.9
12.7 (1/2)
28.58 (1' 1/8)
22.2 (7/8)
33
3-ph, 400 V, 50Hz
50
56
14.925373134328
17.021276595745
3.35
3.29
6.96
4.18
-10 ̴ + 48
-20 ̴ + 15
256
80
2
86
65
1725x1219x784
333
2
58
R410A
10.7
15.88 (5/8)
28.58 (1' 1/8)
22.2 (7/8)
37.5
3-ph, 400 V, 50Hz
56
63
18.604651162791
18.805970149254
3.01
3.35
6.29
4.14
-10 ̴ + 48
-20 ̴ + 15
329
80
2
86
65
1725x1609x784
382
2
64
R410A
11.3
15.88 (5/8)
28.58 (1' 1/8)
22.2 (7/8)
44.5
3-ph, 400 V, 50Hz
61.5
69
20.431893687708
21.630094043887
3.01
3.19
6.76
4.43
-10 ̴ + 48
-20 ̴ + 15
329
80
2
84
64
1725x1609x784
396
2
64
R410A
11.3
15.88 (5/8)
28.58 (1' 1/8)
28.58 (1' 1/8)
45
3-ph, 400 V, 50Hz
67
77.5
22.408026755853
22.794117647059
2.99
3.4
6.2
4.43
-10 ̴ + 48
-20 ̴ + 15
348
80
2
86
66
1725x1609x784
397
2
64
R410A
11.6
15.88 (5/8)
28.58 (1' 1/8)
28.58 (1' 1/8)
53
3-ph, 400 V, 50Hz
73
82.5
23.397435897436
21.153846153846
3.12
3.9
7.3
4.39
-10 ̴ + 48
-20 ̴ + 15
429
80
3
87
64.5
1725x2198x784
528
2
64
R410A
16,1
19.05 (3/4)
31.75 (1' 1/4)
28.58 (1' 1/8)
53
3-ph, 400 V, 50Hz
77.5
90
22.463768115942
24.657534246575
3.45
3.65
7.1
4.35
-10 ̴ + 48
-20 ̴ + 15
446
80
3
87
64.5
1725x2198x784
565
3
64
R410A
17,1
19.05 (3/4)
31.75 (1' 1/4)
28.58 (1' 1/8)
56.5
3-ph, 400 V, 50Hz
85
95
24.216524216524
26.610644257703
3.51
3.57
7.11
4.22
-10 ̴ + 48
-20 ̴ + 15
446
80
3
87
66
1725x2198x784
466
3
64
R410A
17,9
19.05 (3/4)
31.75 (1' 1/4)
28.58 (1' 1/8)
61
3-ph, 400 V, 50Hz
90
100
29.605263157895
28.735632183908
3.04
3.48
7.36
4.3
-10 ̴ + 48
-20 ̴ + 15
495
80
4
89
67
1725x2458x784
622
3
64
R410A
19,6
19.05 (3/4)
31.75 (1' 1/4)
28.58 (1' 1/8)
66.5
3-ph, 400 V, 50Hz
95
106
28.787878787879
31.831831831832
3.3
3.33
7.18
4.28
-10 ̴ + 48
-20 ̴ + 15
512
80
4
89
67
1725x2458x784
665
4
64
R410A
20,6
19.05 (3/4)
31.75 (1' 1/4)
28.58 (1' 1/8)
70.5
3-ph, 400 V, 50Hz
100
112
29.850746268657
34.042553191489
3.35
3.29
7.2
4.18
-10 ̴ + 48
-20 ̴ + 15
512
80
4
89
68
1725x2458x784
666
4
64
R410A
21,4
19.05 (3/4)
38.1 (1' 1/2)
28.58 (1' 1/8)
75
3-ph, 400 V, 50Hz
106
118
36.678200692042
33.522727272727
2.89
3.52
6.63
4.45
-10 ̴ + 48
-20 ̴ + 15
587
80
4
89
68
1725x2848x784
587
4
64
R410A
20,5
19.05 (3/4)
38.1 (1' 1/2)
31.75 (1' 1/4)
82.5
3-ph, 400 V, 50Hz
112
125
35.555555555556
38.699690402477
3.15
3.23
6.93
4.3
-10 ̴ + 48
-20 ̴ + 15
585
80
4
88
67.5
1725x2848x784
729
4
64
R410A
22
19.05 (3/4)
38.1 (1' 1/2)
31.75 (1' 1/4)
82
3-ph, 400 V, 50Hz
118
132
37.699680511182
39.402985074627
3.13
3.35
6.57
4.31
-10 ̴ + 48
-20 ̴ + 15
604
80
4
89
68.5
1725x2848x784
730
4
64
R410A
22,3
19.05 (3/4)
38.1 (1' 1/2)
31.75 (1' 1/4)
90.5
3-ph, 400 V, 50Hz
122
140
40.531561461794
43.887147335423
3.01
3.19
6.75
4.43
-10 ̴ + 48
-20 ̴ + 15
658
80
4
87
67
1725x3238x784
792
4
64
R410A
22,6
19.05 (3/4)
38.1 (1' 1/2)
31.75 (1' 1/4)
89.5
3-ph, 400 V, 50Hz
128
145
42.666666666667
43.939393939394
3
3.3
6.45
4.43
-10 ̴ + 48
-20 ̴ + 15
677
80
4
88
68
1725x3238x784
793
4
64
R410A
22,9
19.05 (3/4)
38.1 (1' 1/2)
31.75 (1' 1/4)
98
3-ph, 400 V, 50Hz
136
150
45.484949832776
44.117647058824
2.99
3.4
6.19
4.43
-10 ̴ + 48
-20 ̴ + 15
696
80
4
89
69
1725x3238x784
794
4
64
R410A
23,2
19.05 (3/4)
38.1 (1' 1/2)
31.75 (1' 1/4)
106
3-ph, 400 V, 50Hz
140
155
44.444444444444
45.454545454545
3.15
3.41
7.3
4.26
-10 ̴ + 48
-20 ̴ + 15
756
80
6
90
69
1725x3697x784
955
5
64
R410A
30,3
19.05 (3/4)
38.1 (1' 1/2)
31.75 (1' 1/4)
104
3-ph, 400 V, 50Hz
145
160
43.674698795181
48.33836858006
3.32
3.31
7.18
4.25
-10 ̴ + 48
-20 ̴ + 15
768
80
6
90
69
1725x3697x784
998
6
64
R410A
31,3
19.05 (3/4)
38.1 (1' 1/2)
31.75 (1' 1/4)
108
3-ph, 400 V, 50Hz
150
165
44.776119402985
50.151975683891
3.35
3.29
7.2
4.18
-10 ̴ + 48
-20 ̴ + 15
768
80
6
91
70
1725x3697x784
999
6
64
R410A
32,1
19.05 (3/4)
38.1 (1' 1/2)
31.75 (1' 1/4)
112
High Efficiency Outdoor Unit
| RAS-5FSXNPE | RAS-6FSXNPE | RAS-8FSXNPE | RAS-10FSXNPE | RAS-12FSXNPE | RAS-14FSXNPE | RAS-16FSXNPE | RAS-18FSXNPE | RAS-20FSXNPE | RAS-22FSXNPE | RAS-24FSXNPE | RAS-26FSXNPE | RAS-28FSXNPE | RAS-30FSXNPE | RAS-32FSXNPE | RAS-34FSXNPE | RAS-36FSXNPE | RAS-38FSXNPE | RAS-40FSXNPE | RAS-42FSXNPE | RAS-44FSXNPE | RAS-46FSXNPE | RAS-48FSXNPE | RAS-50FSXNPE | RAS-52FSXNPE | RAS-54FSXNPE |
| --- | --- | --- | --- | --- | --- | --- | --- | --- | --- | --- | --- | --- | --- | --- | --- | --- | --- | --- | --- | --- | --- | --- | --- | --- | --- |

| | | |
| --- | --- | --- |
| Nominal Cooling capacity | | kW |
| | | |
| --- | --- | --- |
| Nominal Heating capacity | | kW |
| | | |
| --- | --- | --- |
| Power consumption | Cooling | |
| | | |
| --- | --- | --- |
| Power consumption | Heating | |
Operating range
Cooling
C°
Heating
C°
| | | |
| --- | --- | --- |
| External static pressure | | Pa |
| | | |
| --- | --- | --- |
| Sound pressure level | | dB(A) |
Refrigerant pipe size **
Liquid
mm (Inch)
Gas Low
mm (Inch)
Gas High
mm (Inch)
| | | |
| --- | --- | --- |
| Maximum operating current | | A |
3-ph, 400 V, 50Hz
14
25
2.9045643153527
4.3706293706294
4.82
5.72
8.33
5.06
- 10 ̴ + 52
-20 ̴ + 15
150
80
1
75
54
1725x959x784
210
1
16
R410A
4,7
9.52 (3/8)
15.88 (5/8)
15.88 (5/8)
15.5
3-ph, 400 V, 50Hz
16
25
3.3684210526316
4.8828125
4.75
5.12
8
4.58
- 10 ̴ + 52
-20 ̴ + 15
170
80
1
78
56
1725x959x784
210
1
19
R410A
5,0
9.52 (3/8)
19.05 (3/4)
15.88 (5/8)
15.5
3-ph, 400 V, 50Hz
22.4
25
5.045045045045
5.0813008130081
4.44
4.92
7.97
4.55
- 10 ̴ + 52
-20 ̴ + 15
185
80
1
77
55
1725x959x784
274
1
26
R410A
8,5
9.52 (3/8)
19.05 (3/4)
15.88 (5/8)
15.5
3-ph, 400 V, 50Hz
28
31.5
6.1810154525386
6.6455696202532
4.53
4.74
8.06
4.73
- 10 ̴ + 52
-20 ̴ + 15
219
80
2
82
59
1725x959x784
278
1
32
R410A
8,5
9.52 (3/8)
22.2 (7/8)
19.05 (3/4)
21.5
3-ph, 400 V, 50Hz
33.5
37.5
8.4382871536524
8.0128205128205
3.97
4.68
7.91
4.81
- 10 ̴ + 52
-20 ̴ + 15
219
80
2
83
60
1725x959x784
282
1
39
R410A
9,3
12.7 (1/2)
28.58 (1' 1/8)
22.2 (7/8)
24
3-ph, 400 V, 50Hz
40
45
11.527377521614
10.843373493976
3.47
4.15
7.69
4.63
- 10 ̴ + 52
-20 ̴ + 15
243
80
2
85
62
1725x1219x784
292
1
45
R410A
9,3
12.7 (1/2)
28.58 (1' 1/8)
22.2 (7/8)
29.5
3-ph, 400 V, 50Hz
45
50
11.50895140665
12.919896640827
3.91
3.87
7.76
4.84
- 10 ̴ + 52
-20 ̴ + 15
326
80
2
85
65
1725x1219x784
369
2
52
R410A
10,0
12.7 (1/2)
28.58 (1' 1/8)
22.2 (7/8)
33
3-ph, 400 V, 50Hz
50
56
12.787723785166
14.973262032086
3.91
3.74
7.6
4.81
- 10 ̴ + 52
-20 ̴ + 15
326
80
2
86
65
1725x1219x784
384
2
58
R410A
10,6
15.88 (5/8)
28.58 (1' 1/8)
22.2 (7/8)
37.5
3-ph, 400 V, 50Hz
56
63
12.362030905077
13.291139240506
4.53
4.74
8.06
4.74
- 10 ̴ + 52
-20 ̴ + 15
438
80
4
85
62
1725x2458x784
556
2
64
R410A
17,0
15.88 (5/8)
28.58 (1' 1/8)
22.2 (7/8)
38
3-ph, 400 V, 50Hz
61.5
69
14.608076009501
14.649681528662
4.21
4.71
7.97
4.71
- 10 ̴ + 52
-20 ̴ + 15
438
80
4
86
62.5
1725x2458x784
560
2
64
R410A
17,8
15.88 (5/8)
28.58 (1' 1/8)
28.58 (1' 1/8)
42
3-ph, 400 V, 50Hz
67
77.5
16.876574307305
16.559829059829
3.97
4.68
7.91
3.68
- 10 ̴ + 52
-20 ̴ + 15
438
80
4
86
63
1725x2458x784
564
2
64
R410A
18,6
15.88 (5/8)
28.58 (1' 1/8)
28.58 (1' 1/8)
46
3-ph, 400 V, 50Hz
73
82.5
17.675544794189
19.784172661871
4.13
4.17
7.92
4.17
- 10 ̴ + 52
-20 ̴ + 15
545
80
4
87
66
1725x2458x784
647
3
64
R410A
18,5
19.05 (3/4)
31.75 (1' 1/4)
28.58 (1' 1/8)
51.5
3-ph, 400 V, 50Hz
77.5
90
19.670050761421
21.531100478469
3.94
4.18
7.71
4.18
- 10 ̴ + 52
-20 ̴ + 15
545
80
4
87
66
1725x2848x784
651
4
64
R410A
19,3
19.05 (3/4)
31.75 (1' 1/4)
28.58 (1' 1/8)
55.5
3-ph, 400 V, 50Hz
85
95
21.628498727735
23.341523341523
3.93
4.07
7.43
4.07
- 10 ̴ + 52
-20 ̴ + 15
581
80
4
88
66
1725x2848x784
666
4
64
R410A
19,9
19.05 (3/4)
31.75 (1' 1/4)
28.58 (1' 1/8)
57
3-ph, 400 V, 50Hz
90
100
24.324324324324
25.575447570332
3.7
3.91
7.62
3.8
- 10 ̴ + 52
-20 ̴ + 15
605
80
4
89
67
1725x2848x784
676
4
64
R410A
19,9
19.05 (3/4)
31.75 (1' 1/4)
28.58 (1' 1/8)
62
3-ph, 400 V, 50Hz
95
106
24.296675191816
27.894736842105
3.91
3.8
7.83
3.74
- 10 ̴ + 52
-20 ̴ + 15
688
80
4
89
68
1725x3238x784
753
4
64
R410A
20,6
19.05 (3/4)
31.75 (1' 1/4)
28.58 (1' 1/8)
67
3-ph, 400 V, 50Hz
100
112
25.575447570332
29.946524064171
3.91
3.74
7.6
4.64
- 10 ̴ + 52
-20 ̴ + 15
724
80
4
89
68
1725x3238x784
768
4
64
R410A
21,2
19.05 (3/4)
38.1 (1' 1/2)
28.58 (1' 1/8)
68.5
3-ph, 400 V, 50Hz
106
118
28.116710875332
26.398210290828
3.77
4.47
7.67
4.74
- 10 ̴ + 52
-20 ̴ + 15
681
80
6
89
65.5
1725x3697x784
856
3
64
R410A
27,9
19.05 (3/4)
38.1 (1' 1/2)
31.75 (1' 1/4)
73.5
3-ph, 400 V, 50Hz
112
125
31.111111111111
29.137529137529
3.6
4.29
7.67
4.68
- 10 ̴ + 52
-20 ̴ + 15
705
80
6
89
66
1725x3697x784
866
3
64
R410A
27,9
19.05 (3/4)
38.1 (1' 1/2)
31.75 (1' 1/4)
78.5
3-ph, 400 V, 50Hz
118
132
34.005763688761
31.807228915663
3.47
4.15
7.67
4.63
- 10 ̴ + 52
-20 ̴ + 15
729
80
6
90
67
1725x3697x784
876
3
64
R410A
27,9
19.05 (3/4)
38.1 (1' 1/2)
31.75 (1' 1/4)
83
3-ph, 400 V, 50Hz
122
140
32.36074270557
34.229828850856
3.77
4.09
7.64
4.68
- 10 ̴ + 52
-20 ̴ + 15
824
80
6
90
67.5
1725x4087x784
958
4
64
R410A
29,2
19.05 (3/4)
38.1 (1' 1/2)
31.75 (1' 1/4)
85
3-ph, 400 V, 50Hz
128
145
35.261707988981
36.43216080402
3.63
3.98
7.64
4.63
- 10 ̴ + 52
-20 ̴ + 15
848
80
6
90
68
1725x4087x784
968
4
64
R410A
30,5
19.05 (3/4)
38.1 (1' 1/2)
31.75 (1' 1/4)
89.5
3-ph, 400 V, 50Hz
136
150
34.69387755102
38.071065989848
3.92
3.94
7.61
4.68
- 10 ̴ + 52
-20 ̴ + 15
943
80
6
90
68.5
1725x4477x784
1050
5
64
R410A
30,5
19.05 (3/4)
38.1 (1' 1/2)
31.75 (1' 1/4)
91
3-ph, 400 V, 50Hz
140
155
37.135278514589
40.25974025974
3.77
3.85
7.61
4.64
- 10 ̴ + 52
-20 ̴ + 15
967
80
6
90
69
1725x4477x784
1060
5
64
R410A
30,5
19.05 (3/4)
38.1 (1' 1/2)
31.75 (1' 1/4)
96
3-ph, 400 V, 50Hz
145
160
37.084398976982
42.328042328042
3.91
3.78
7.75
4.7
- 10 ̴ + 52
-20 ̴ + 15
1050
80
6
90
70
1725x4867x784
1137
6
64
R410A
31,2
19.05 (3/4)
38.1 (1' 1/2)
31.75 (1' 1/4)
101
3-ph, 400 V, 50Hz
150
165
38.363171355499
44.117647058824
3.91
3.74
7.6
4.6
- 10 ̴ + 52
-20 ̴ + 15
1086
80
6
91
70
1725x4867x784
1152
6
64
R410A
31,8
19.05 (3/4)
38.1 (1' 1/2)
31.75 (1' 1/4)
103