–

IAQ (Indoor Air Quality) solutions

Breathe easy with our range of air renewal and air quality solutions. With our range of upgrades for existing or newly-installed AC systems, plus easy to use ventilation options, you'll find a solution to suit the needs of almost any business or commercial space.
Integrate Air Handling Units with a VRF system for improved air quality
Use the Hitachi DX kit to connect a 3rd party DX air handling unit to an Hitachi VRF system, enabling seamless control of both the VRF indoor units and an AHU containing high-capacity air filters or other air purification equipment.
Our solutions put the health and comfort of our customers at the forefront, improving the safety of indoor environments to deliver the optimal experience, whatever the weather.
*Check for availability in your region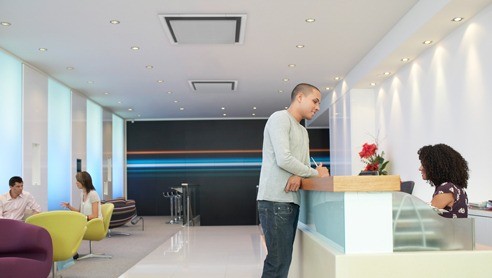 –

Ventilation solutions that help to cut energy bills by up to 36%

Hitachi's range of 1-way and 2-way ventilation solutions are compatible with VRF and commercial split systems(1). The Dedicated Outside Air System (DOAS) unit is a 1-way solution which brings fresh air into outdoor spaces pre-treating it using the refrigerant loop, while a 2-way energy recovery ventilation (ERV) solution is provided by Energy Recovery Ventilator which recovers energy from exhaust air to bring fresh air closer to the indoor temperature, thereby reducing loading on the AC system and lowering energy consumption.(2)
–

Footnotes

1. The 1-way ventilation solution - Dedicated Outside Air System (DOAS) - is not compatible with commercial split systems because it integrates with the VRF refrigerant loop
2. Simulation; Tokyo, operation 8am-18pm, office, 135m2, Indoor temperature 25C, based on weather data Feb 16, 2020, Cooling/Heating operation

–
IAQ (Indoor Air Quality) solutions
–

Hitachi Air Conditioners and Ventilation technology for Residential and Commercial spaces

With over 80 years of experience, we are confident that our range of cooling and heating solutions provides households and businesses with the leading climate control technology to create and maintain the perfect indoor environment. We cater for all types of homes, including detached houses, semi-detached, flats and apartments, lofts and attics, as well as for specific spaces like garages, workshops, home offices and more. Select from wall-mounted, ducted-concealed style and ceiling cassette units, all of which are designed with your comfort in mind.

To see more of our ranges, click here, and if you are interested in receiving more information from a professional installer, find your nearest one using our Partner Locator.