–

Commercial IoT Solutions & Controllers

Explore our range of controllers & digital tools. From Eco-Compact remote controllers to airCloud Pro app, you'll find the right solution!
There's a Hitachi Commercial IoT solution for every aspect of HVAC management
Hitachi Cooling & Heating's award-winning range of apps and controllers offer a complete suite of integrated technologies for all aspects of HVAC management from design and specification selection to operation, commissioning to maintenance. Our portfolio includes simplified controllers for occupants to centralized control systems for building managers and professionals. Phone apps and web-based software for remote management and monitoring, to a dedicated commissioning and maintenance app for HVAC engineers to configure and service systems.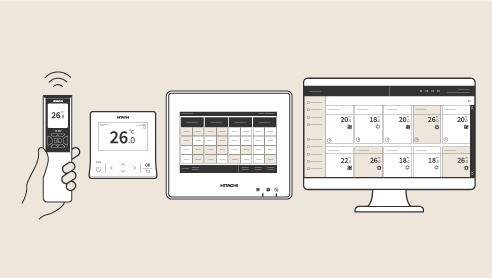 –

Individual and/or centralized air conditioning controller for end-users

To operate the AC and control the indoor temperature, we offer two types of commercial AC controllers:

• Individual controllers for building's occupants: hand-held or wired remote controllers can control the AC of one zone (up to 16 indoor units simultaneously)

• Centralized controls for facility managers and building owners: our exclusive Central Stations enable you to monitor and control up to 2,560 units from one central point

(For cloud-based control: check out our

airCloud Pro monitoring tool

)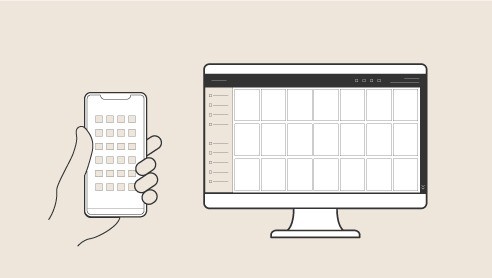 –

AC IoT & Digital tools for business and professionals

Game-changing airCloud suite of digital tools provides end-to-end support for HVAC professionals:

• System design & unit selection with airCloud Select

• Commissioning & configuration with

airCloud Tap

• Daily operation & temperature control with

airCloud Pro

• Maintenance, error detection and troubleshooting with

airCloud Tap

&

airCloud Pro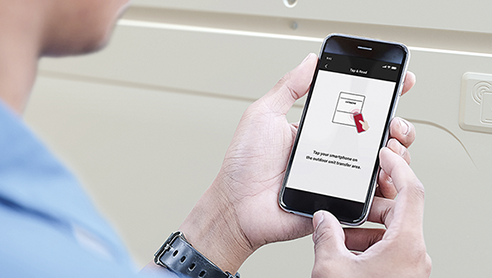 –

Award-winning interfaces, connecting HVAC to humans

Whether for a first-time building visitor or a trained professional, our new-generation controllers & apps offer simplicity. Available in multiple languages, the interfaces of each product also embeds modern graphs and intuitive visual icons.

Scroll down to see the list of awards obtained by our control solutions.
–

Awarded for design excellence

UX Design Awards obtained for the airCloud Tap app, for enabling the reading & writing of HVAC equipment by NFC technology. (more info here)

RedDot Award obtained for the Advanced-Color controller & airPoint Room 700, for its sleek design with curved front panel (more info here).

IF Design Award obtained for the Advanced-Color controller & airPoint Room 700, for its sleek design with curved front panel (more info here)
–

Footnotes

[¹] Availability varies on controllers and/or connected air conditioning unit models
[²] Requires additional accessory
–
Choose your Hitachi Cooling & Heating controller:
–

Hitachi IoT Apps & Controllers for Commercial Spaces

With over 80 years of experience, we are confident that our range of cooling and heating solutions provides households and businesses with the leading climate control technology to create and maintain the perfect indoor environment. We cater for all types of homes, including detached houses, semi-detached, flats and apartments, lofts and attics, as well as for specific spaces like garages, workshops, home offices and more. Select from wall-mounted, ducted-concealed style and ceiling cassette units, all of which are designed with your comfort in mind.

To see our ranges of home and business solutions, click here, and if you are interested in receiving more information from a professional installer, find your nearest one using our Partner Locator.