–

VRF Top Flow

Large capacity VRF systems for projects that require high standards of energy efficiency, and easy installation, commissioning and maintenance.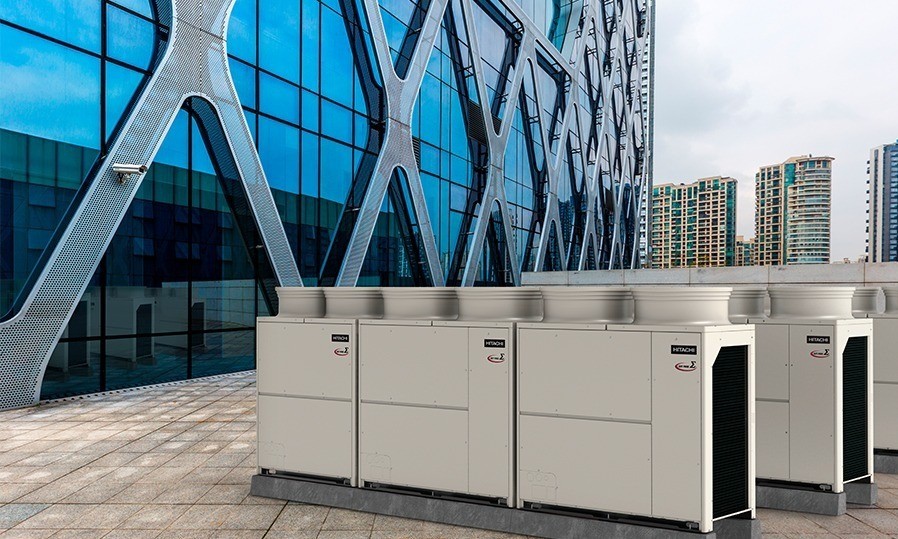 –

Choose from 2 different system types

Heat Pump systems can operate in either Heating or Cooling mode – suitable for new builds and refurbs replacing fossil fuel heating with renewables. Heat Recovery systems allows simultaneous cooling and heating in different zones by transferring waste heat from a zone being cooled to a zone that requires heating. Ideal for buildings where spaces have different levels of sun exposure especially during seasonal changes, and those with unequal occupancy in different zones – for example meeting rooms, public areas, classrooms, etc.
–

Create efficient & reliable VRF systems up to 96HP capacity

The proprietary Sigma-shaped heat exchanger and gas injection scroll compressor enable efficiency up to Cooling EER 5.21 and Heating COP up to 5.34. Combine up to 4 outdoor units to create a modular system of up to 96HP capacity with individual modules from 8HP to 28HP. Compressor rotation control manages equal loading on multi-ODU configurations, ensuring equal lifespan. In rare cases of compressor failure, emergency operation mode auto activates enabling compressors from other outdoor units to take up the workload and ensure continued operation.
–

Save space and lower delivery & installation costs

Enables more rooftop space for on-site renewables or greening by using fewer and smaller outdoor units, with each outdoor unit easily fitting inside an elevator. The use of fewer outdoor units is possible because you can connect indoor unit capacity totaling up to 130% of the outdoor capacity. Flexibility to install outdoor units out of sight with support for piping lengths of up to 165m and 110m height difference. Multiple steps of External Static Pressure enable installation in well-ventilated plant or machine rooms which have open louvres to the outside, reducing impact on the external façade of buildings.
–

Configure indoor units 2x faster[1] with airCloud Tap

2X faster[1] to configure indoor units using the airCloud Tap mobile app and NFC technology embedded in compatible wired remote controllers. All settings are available with convenient descriptions inside the phone app. Installers and building operators can 'copy and paste' settings for one indoor unit to multiple other units using their phone, making it ideal for hotels, classrooms and large buildings.
–

Easy to operate & automate with airCloud Pro

Remote monitoring and energy optimization using airCloud Pro web-based software or smartphone app. Group indoor units into custom zones to control with a single touch, visualize and compare energy consumption of different rooms or zones at different times of the day, helping to identify opportunities for energy savings. Automate operation based on business hours with advanced timers, automatically notify a HVAC professional in the event of a system failure, and much more besides.
–

Sigma-shaped (Σ) heat exchanger – 100 years in the making

With more than 100 years expertise in heat exchanger design, our latest high-performance sigma-shaped (Σ) version has around 6000 pieces of aluminum fins, each with a complex surface structure, around 350 copper tubes with textured inner structure, and a new 3-way path structure through the entire HEX. These designs all work together to increase the heat-transfer area and therefore the efficiency of the unit.
–

39% more efficient under part load conditions[2]

Hitachi's direct capacity control technology SmoothDrive 2.0 utilizes precise temperature monitoring and control of the scroll compressor frequency to reduce compressor on/off cycles under part-load conditions. SmoothDrive 2.0 is up to 39% more energy efficient under the part-load conditions that regulatory energy efficiency ratings do not account for.
–

Enhance occupant comfort

With CrowdSense[3] technology, select units can determine how many people are in a space and adjust the cooling or heating capacity accordingly, so the room will never get too hot or cold, whether it's crowded or almost empty.

In room heating scenarios, it's common to hear users complain of cold feet because heat naturally rises. FeetWarm[4] helps to solve this problem by optimizing airflow in heating mode to ensure that the leg zone is consistently heated. In cooling scenarios, FloorSense Cool[5] can prevent the floor area from overcooling by controlling airflow and cooling capacity so that the air at floor level does not get as cool as air above knee height.
2x FASTER
Configure indoor units using the airCloud Tap mobile app without opening the unit case. Copy & paste settings from one unit to another[1].
6000
aluminum fins, each with a complex surface structure, inside the sigma-shaped (Σ) heat exchanger
39%
more energy efficient under the part-load conditions that regulatory energy efficiency ratings do not account for with SmoothDrive 2.0 technology[2]
96HP capacit
create modular systems of up to 96HP capacity
–

Footnotes

[1] Conventional way takes 103min 16sec. By using airCloud Tap: takes 47min 40 sec. [Simulation scenario] Total 20 controller setting. Total 7 items of setup: Room name, Time, Language, Temperature unit, Backlight of the screen, Operation schedule from Monday to Friday 08:30~18:30 28°C , Upper and lower limit of setting temperature for both cooling and heating.
[2] Testing Condition (at Cooling Operation, Load Factor: Approx. 33%) Without SmoothDrive; average power consumption 2.46kW / With SmoothDrive; average power consumption 1.49kW. VRF ODU:(RAS-AP280DG3 = RAS-10FSNS) & VRF IDU: 4-way cassette indoor units (RCI-AP140K5 = RCI-5.0FSRP) & Indoor Unit Inlet Temperature: 27°C (Dry Bulb) / 19°C (Wet Bulb) Ambient Temperature at Air Volume "High": 23°C (Dry Bulb) / Piping Length between Indoor Unit and Outdoor Unit: 15m / Testing Location: Environment Testing Facility at Kansai Denryoku (power supply company).
[3] Requires optional motion sensor kit available for many Cassette and Suspended Ceiling models.
[4] Available on select Cassette models. Requires optional cassette panel with Motion Sensor & Radiant Temperature Sensor.
–
Choose your Hitachi Cooling & Heating System
–

Hitachi VRF systems for multi zone climate control

Our range of cooling and heating solutions provides households and businesses with the leading climate control technology to create and maintain the perfect indoor environment. Our advanced VRF solutions for multi-zone cooling and business applications offer the versatility that each project requires, as well as unbeatable efficiency and reliability. Our collection of elegant and efficient options are designed to adapt to you and the spaces that they inhabit.

To see more of our ranges, click here, and if you are interested in receiving more information from a professional installer, find your nearest one using our Partner Locator.